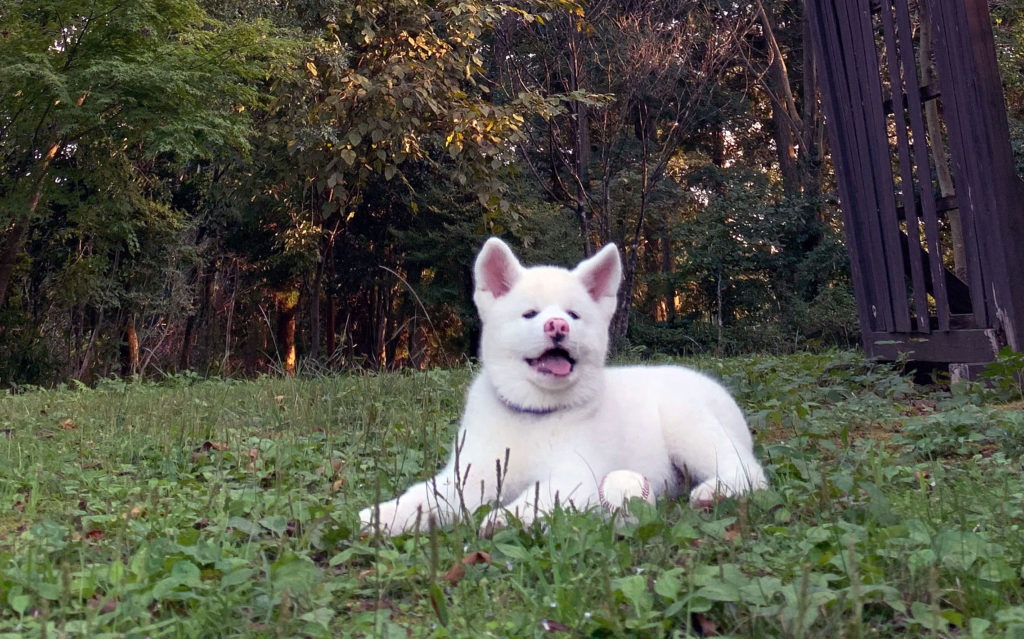 Pepeekeo, a two month-old-male white-haired Akita dog, was transported from Odate, Akita, to a Japanese cultural experience center at the foot of Mt. Aso in Kumamoto Prefecture late last month. This is the story of his journey told by Hazawa Asami, breeder of Pepeekeo.
Chinese businessman Su Qing runs the Japanese cultural experience center "Meihodo Aso" in Aso City, Kumamoto Prefecture. Mr. Su wished to introduce Akita dogs as part of the Japanese cultural experience at Meihodo Aso to people in Japan and visitors from abroad. Mr. Su's dream was conveyed to the City of Odate through his acquaintance, Takamatsu Kazuo, a former member of the House of Representatives and now visiting professor at Taisho University. Odate City's Tourism Division contacted Mrs. Hazawa about the request for an Akita dog, and she suggested a puppy born recently on July 23rd. That puppy was Pepeekeo, thus marking the beginning of his journey to Mt. Aso.
Mrs. Hazawa has raised Akita dogs for the past five years ever since she married her husband, who initially raised Akita dogs. Currently, Mrs. Hazawa and her husband have about ten dogs in their kennel in Odate, Akita.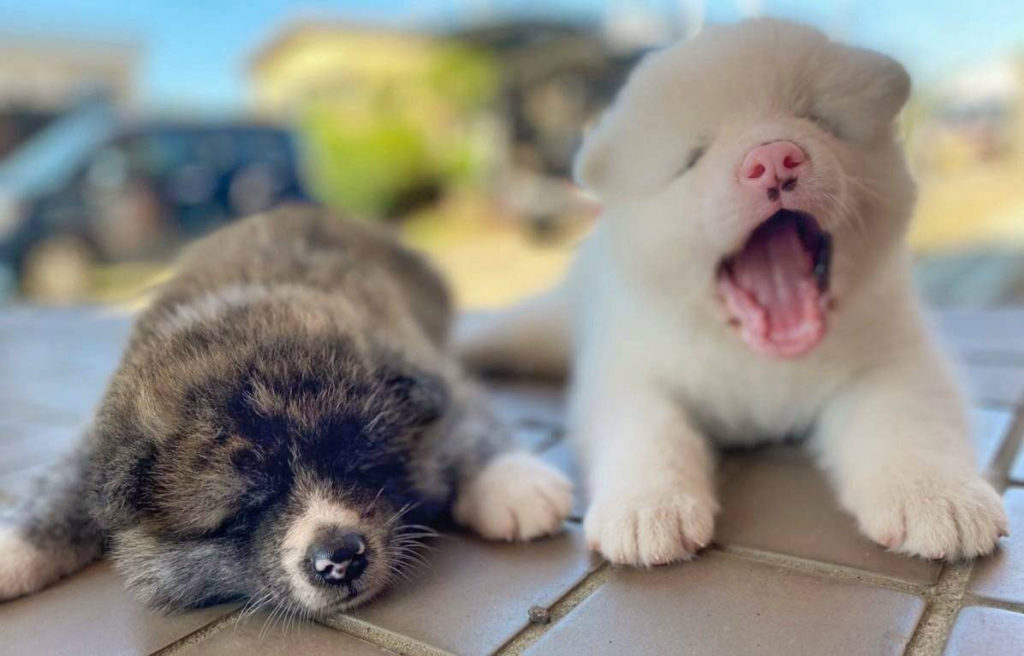 Pepeekeo is one of three siblings born in the kennel on July 23rd, coincidentally also Mrs. Hazawa's birthday. Mrs. Hazawa laughed and said, "I had a feeling that dogs would be born on my birthday. But it became tough to take care of them once they started walking."
Puppies usually spend the summer inside the kennel protected from the heat. However, this year was terribly hot, so Mrs. Hazawa decided to occasionally allow the three puppies to stay in an air-conditioned room in her house. While not sure of the reasoning, potentially the intense summer heat, the mother dog could not give enough milk to feed the puppies. Since the puppies were not getting enough milk from their mother, they often whimpered and begged for more food. Mrs. Hazawa helped feed the puppies with supplemental food. Once the puppies reached full strength, the kennel became their playground every night. Mrs. Hazawa often needed to stay the night in the kennel to keep an eye on the rambunctious puppies.
Thanks to Mrs. Hazawa's hard work, the three healthy Akita puppies had their owners decided about a week after their birth. Mrs. Hazawa sends the pedigree of the dog only after having the expected owner determine their name. She also takes videos and photos of the dogs regularly to record their well-being until handing them over to their respective owners. This digital record is to have the new owners understand the responsibilities of caring for Akita dogs before keeping them. Mr. Su named his puppy, Pepeekeo, after the location of his business in Hawaii.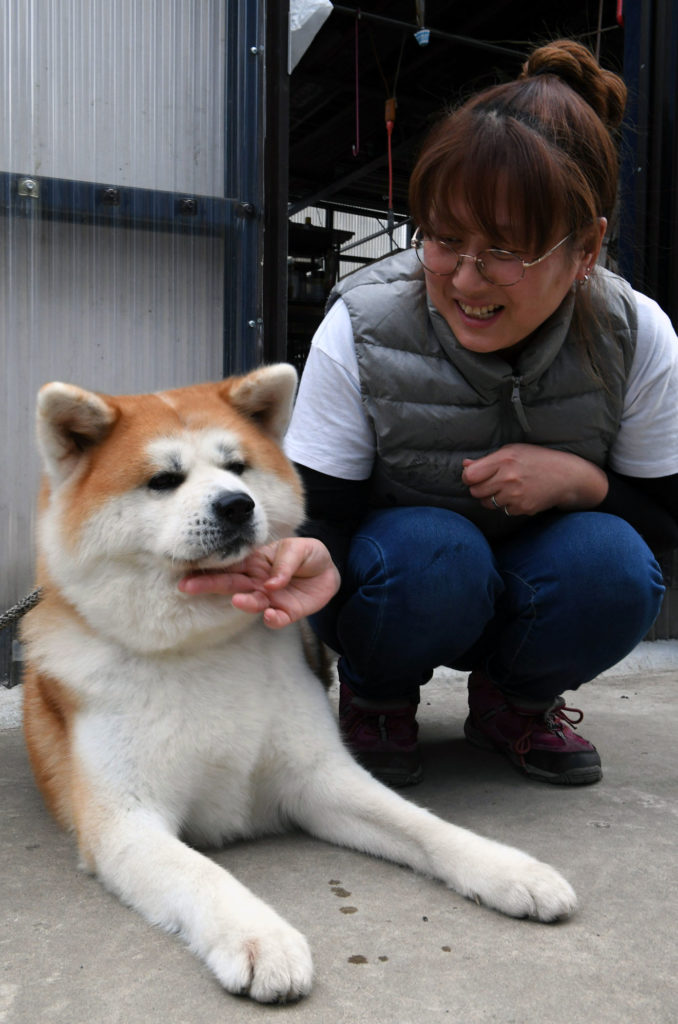 The three puppies spent time with their senior dogs in the kennel until they left for their respective owners. While some senior dogs are strict on younger one's behavior, other senior dogs warmheartedly watch them. By interacting with older dogs of various personalities, Pepeekeo and the other two dogs seemed to learn dog society's rules.
On September 27th, Pepeekeo departed for Mt. Aso. Mr. Su traveled to Odate himself to pick up Pepeekeo and was extremely delighted to see his adorable face. Mr. Su thanked Mrs. Hazawa, saying, "Thank you for raising Pepeekeo so strong and healthy." It seemed that Pepeekeo quickly became familiar with Mr. Su , probably because Mrs. Hazawa had said to him a few days prior that his new father would be coming to pick him up soon.
Pepeekeo, Energetic in His New World, Trained to Debut as a Mascot Dog
Meihodo Aso, Pepeekeo's new home, is located at the foot of Mt. Aso and surrounded by abundant nature. Huge houses imitating samurai residences of the Edo period line the vast premises. Visitors can participate in various Japanese cultural experiences, such as tea ceremony, Japanese stage dance, and budo (martial arts practiced by samurai.)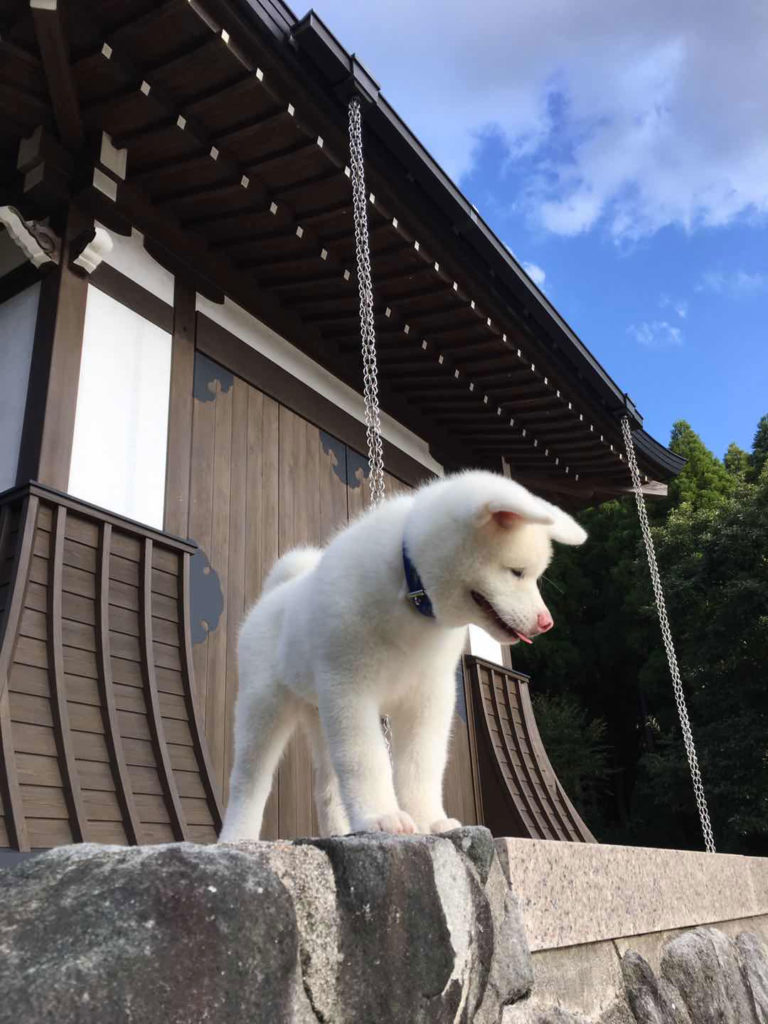 According to Pepeekeo's caretaker, Masumoto Daishi, Pepeekeo seemed lonely on the day of his arrival, but now he seems accustomed to his new environment. Mr. Masumoto said, "Now when I call Pepeekeo's name, he quickly comes to me. I get the impression that he's an intelligent dog."
When Mr. Masumoto and Pepeekeo visited a dog training center for the first time, Pepeekeo barked fiercely at a dozen large dogs, including Labrador Retrievers and German Shepherds. Mr. Masumoto said, "Pepeekeo was just two months old at the time. I was surprised to see just how brave he was to face a dog much bigger than himself."
When Mr. Masumoto told the breeder Mrs. Hazawa about the incident, she laughed and said, "He did not hesitate because he grew up with a variety of big senior dogs." Soon Pepeekeo will interact with guests at Meihodo Aso and play an active role as a symbol of Japanese culture and history.