Ani Ski Resort in Mount Moriyoshi, near Kitaakita City, Akita Prefecture, has a special autumn program called "Autumn Leaves Gondola," which opens every year on October 1st. The gondola operates daily and carries passengers from the base station to the summit station of Mt. Moriyoshi. Though the trees at the foot of the mountain are lush, leaves start to change more as you approach the summit.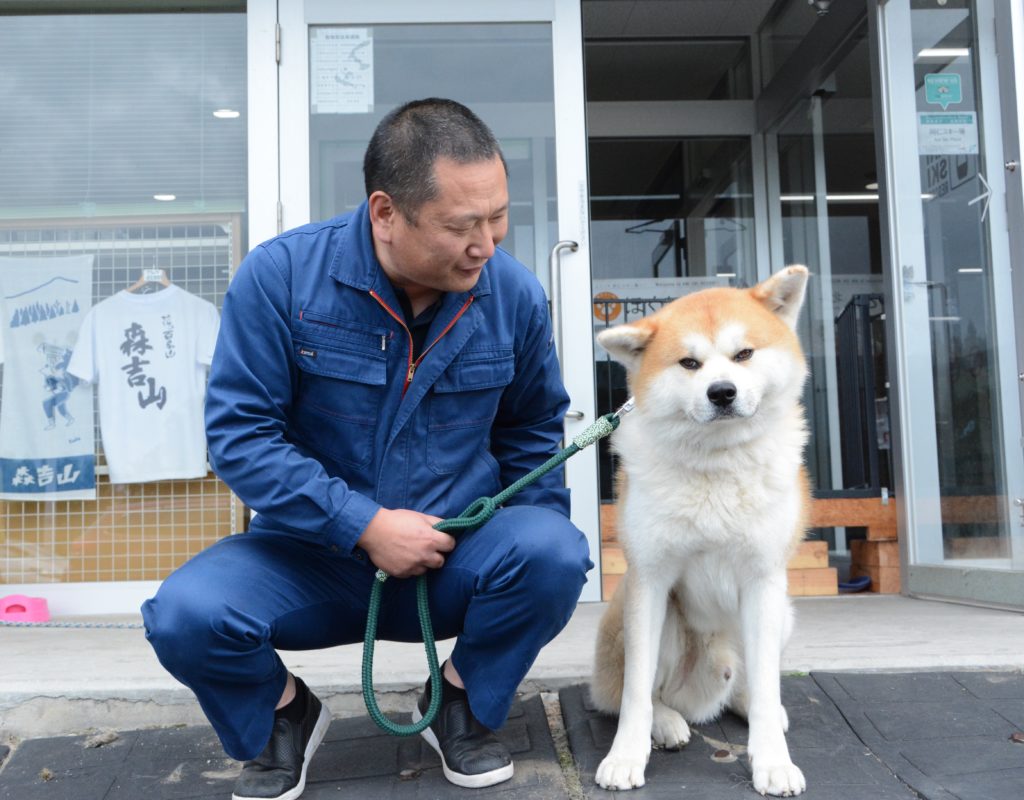 Ani Ski Resort has a mascot Akita dog named Hokuto, who welcomes visitors, tourists, and mountaineers. Hokuto is a male red-haired Akita dog who will turn four years old at the end of November 2020. His curly tail, standing ears, triangular eyes, beautiful fur, and stature are majestic and outstanding and always brings a smile to people's faces. In 2018, Hokuto won first place in Akita Dog Preservation Society's prefectural north branch exhibition. Fifty-year-old Yoshida Shigehiko, the manager of Ani, is Hokuto's owner.
Mr. Yoshida has been a dog lover since he was young. While Mr. Yoshida has kept various dogs over the years, he never had an Akita dog. His longing for an Akita dog was exceptional.
In February 2017, Akita Dog Preservation Society introduced a man from Noshiro City, who showed Mr. Yoshida some Akita puppies. Out of the four or five sibling dogs, Mr. Yoshida held Hokuto first. He immediately decided to keep him, telling the man from Noshiro, "I like this dog. I think it is destiny." Mr. Yoshida said, "I decided to keep Hokuto, as I thought considering my age that this might be the last chance, I can provide all the necessary care for keeping it."
The day starts at 6:00 am every morning with Mr. Yoshida and Hokuto going for a walk. At 7:30, they drive thirty minutes to the ski resort to begin their workday. Hokuto greets people at the base station entrance, which also includes restaurants, shops, and offices.
After visitors have left for the evening, the ski resort becomes Hokuto's playground. Thirty minutes before going home, he follows Mr. Yoshida for a walk around the slopes or enjoys running freely without a leash. From the moment the sun rises to when the stars cover the night sky, Hokuto is by Mr. Yoshida's side.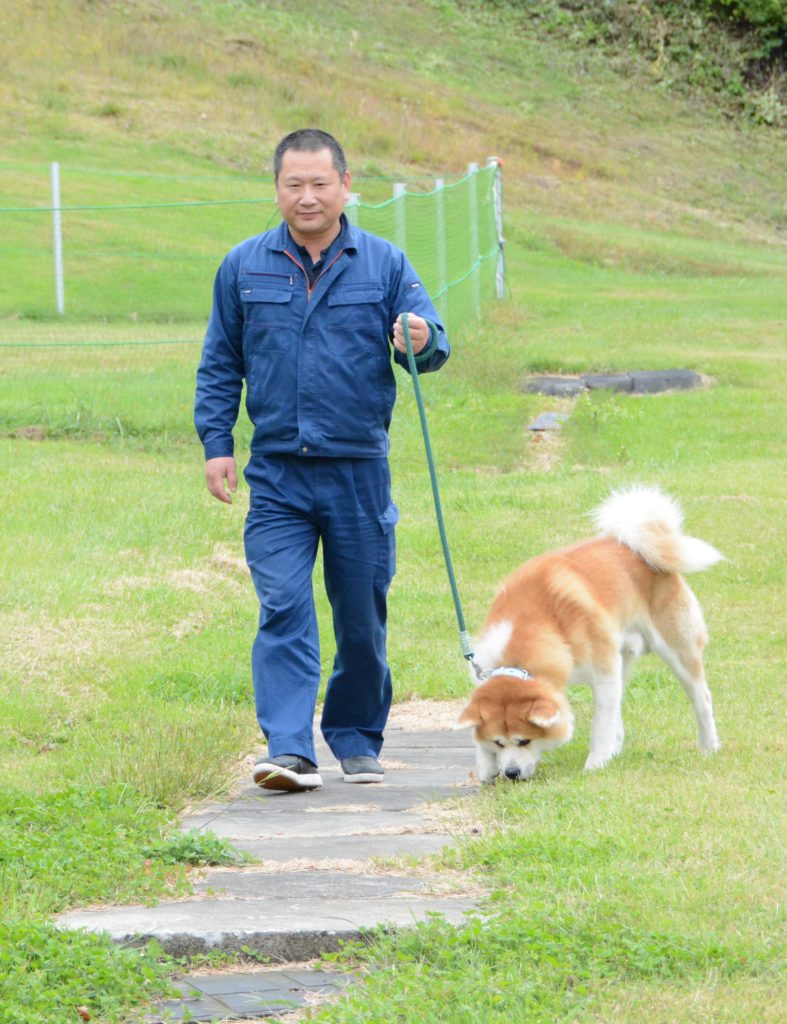 Since Mr. Yoshida started keeping Hokuto, he has expected him to be the mascot Akita dog for Ani Ski Resort and interact with visitors upon their arrival. For Mr. Yoshida's dream to come true, he needed the Japan Kennel Club to certify him as a qualified "pet dog breeding manager." Mr. Yoshida took the required classes lectured by a veterinarian in Sendai City, which is over 200 km away from his home. His hard work and effort finally paid off. Mr. Yoshida obtained permission from Akita Prefecture to work with Hokuto, and now, many dog lovers return to Ani to see Hokuto.
Hokuto has a gentle and loyal personality. He is friendly and is not stressed when touched by visitors throughout the day. On the other hand, it seems difficult for Hokuto to get along with other Akita dogs. When he encounters another male Akita dog, they always get motivated to fight.
When Hokuto encounters a bear or rabbit while walking with Mr. Yoshida, he often faces them fearlessly. This act of bravery is perhaps due to Akita dogs' instinctive nature once being the loyal hunting dogs of Matagi (hunter). While Hokuto rarely barks at people, he surprisingly violently barks at Mr. Yoshida's acquaintance, who is a Matagi.
Mr. Yoshida said that not until he started caring for Hokuto did he understand Akita dogs for the first time. Mr. Yoshida continued, "Taking a walk twice a day is necessary for a dog's bathroom break, but other care is not as difficult as I had imagined. Though I am not certain about other Akita dogs, the expenses to care for Hokuto, including food, is not as expensive as I thought it would be."
What surprises Mr. Yoshida the most is Hokuto's affection. When Hokuto cannot sense Mr. Yoshida's presence, he soon becomes restless or lonely. It is said that Akita dogs are a "one-owner dog" and are faithful to only one person throughout their life. Hokuto's attitude to Mr. Yoshida is distinctively different from his affection for Mr. Yoshida's wife and three children.
Mr. Yoshida said, "we are always together on holidays, except when I go bike-riding. Hokuto is like another child of mine." Mr. Yoshida continued affectionately, "I have kept various dogs in the past, but Akita dogs have different charms. I hope that by interacting with Hokuto, more people will be interested in keeping Akita dogs."
The name "Hokuto" comes from Hokuto Shichisei (The Big Dipper), which has long been a guiding star for travelers. Mr. Yoshida hopes that Hokuto will be the bright star welcoming tourists as they find their way to Ani Ski Resort.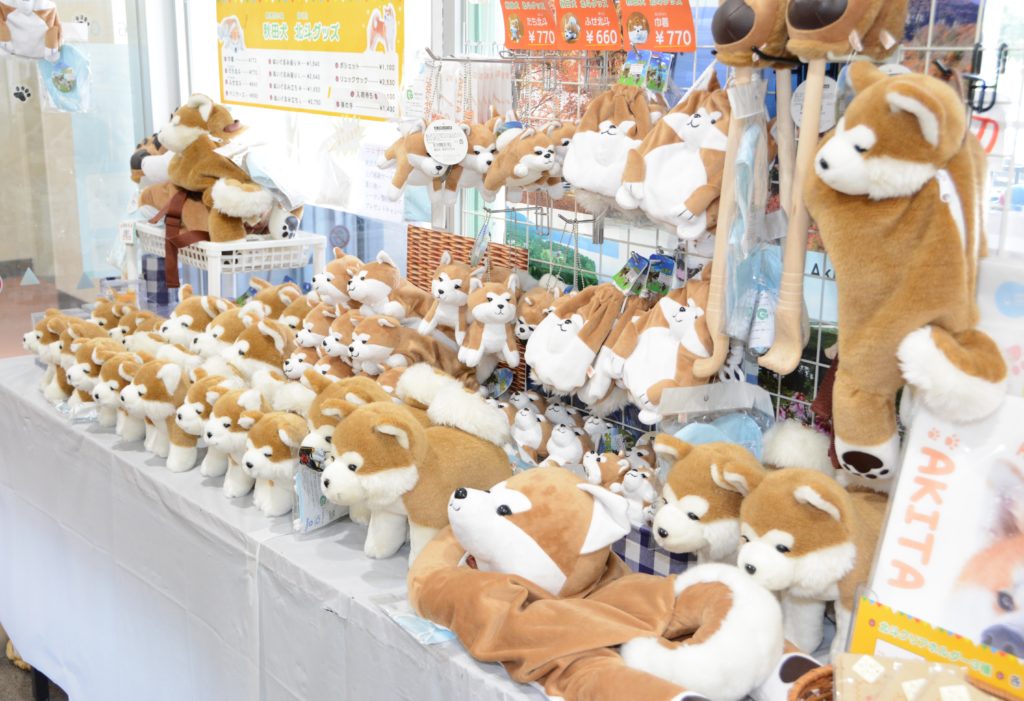 [Information] The exceptional service of "Autumn Leaves Gondola" is available every day from October 1st through November 1st. The first train from the base station starts at 8:45 am, and the last train from the summit station is at 3:30 pm. The round-trip fee is 1,800 yen for junior high school students and older, 800 yen for elementary school students, and free for preschoolers. "Hokuto" welcomes tourists at the base station entrance during the gondola's operational hours, EXCEPT ON MR. YOSHIDA'S DAYS OFF. For more information, please call Ani Ski Resort: 0186-82-3311