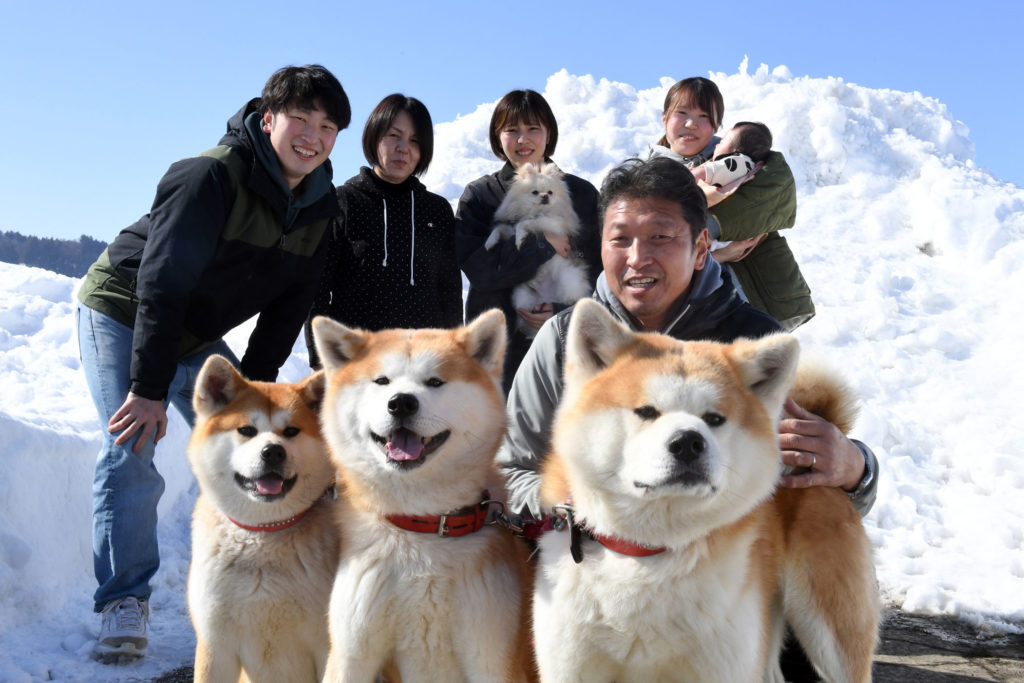 Five-year-old Gonta and four-year-old Torajiro are two male siblings living in Yuzawa City, Akita. They once modeled for a photo book and attracted many people at various events in Akita Prefecture. But with record snowfall this winter in Yuzawa and coronavirus restrictions still in place, the two Akita dogs have had decreased opportunities to interact with people. So, how do they spend their lives now? This article will highlight a recent visit to the Yamada district to see how Gonta and Torajiro spend their days in snow-covered Yuzawa.
After exiting the Yuzawa-Yokote Highway at the Yuzawa interchange, a 10-minute drive will take you to the Yamada district. On the day of the interview, the sky was clear without a single cloud, and a rice field covered with snow dazzled as it reflected the bright sun.
Mr. Sato Shigeyuki is the owner of Gonta and Torajiro. Now, one more cheerful Akita dog lives with them, and her name is Koto. Koto was born in January 2020 and is raised as a younger sister of Gonta and Torajiro.
Since the three dogs have no current events to attend, they spend their time relaxing every day. They also walk for about 30 – 60 minutes regularly to stay healthy. The interviewer followed the three dogs on one of their walks.
There were snow walls on both sides of the walking route. Gonta loves snow and rushed to climb up one of the snow walls. Seeing how much fun Gonta was having, Torajiro followed suit and started climbing. On the other hand, Koto looked unconcerned with the boys frolicking and seemed content to follow her way. The three dogs' actions brought a smile to everyone's face.
According to Mr. Sato, Gonta is laid-back, while Torajiro is friendly and desires attention.  Koto is relatively smaller than the two boys, but her spirited personality is luminous like a queen. Mr. Sato has three children of his own and laughed as he said, "I feel they have similarities to each of my children."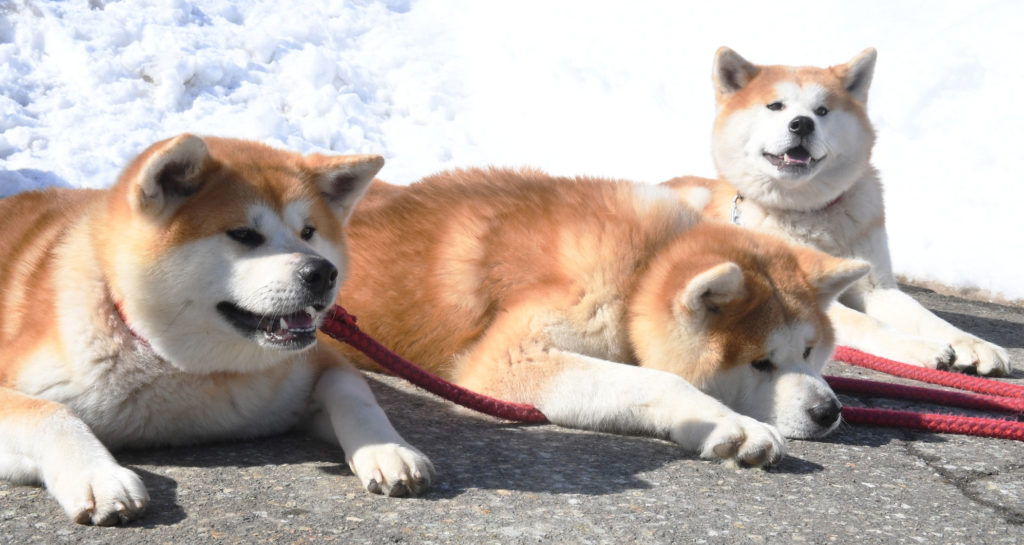 Gonta was the first dog to join the Sato family soon after he was born. When Mr. Sato's second daughter, Nao, was a high school student, she heard that her classmate's acquaintance was looking for an owner of a puppy.
Nao had long wanted a dog and thought this would be an excellent opportunity to keep a dog. Nao talked with her older sister Yui and her brother Ryo to implement a plan. She brought the puppy home, took care of him temporarily, and waited for the right timing to get her parents' approval to become the new owner.
Initially, Mr. Sato did not agree to have a dog since he was worried about the sadness his children may face after the dog dies. Furthermore, his wife Miyoko was not very fond of animals. However, while Gonta stayed with the family, they began to fall in love with his adorable personality. Nao's plan was a success. Gonta became a proper member of the Sato family.
One year later, the Sato family learned that Gonta's brother was born. It was perfect timing for them as they planned to get one more dog to make Gonta's life more joyful. All the family members agreed to welcome their second dog, Torajiro.Torajiro was three months old and very playful at that time. Nao said, "He was always excited. Gonta seemed a little puzzled when watching Torajiro, but he acted like a nice brother. They became best friends from the very beginning.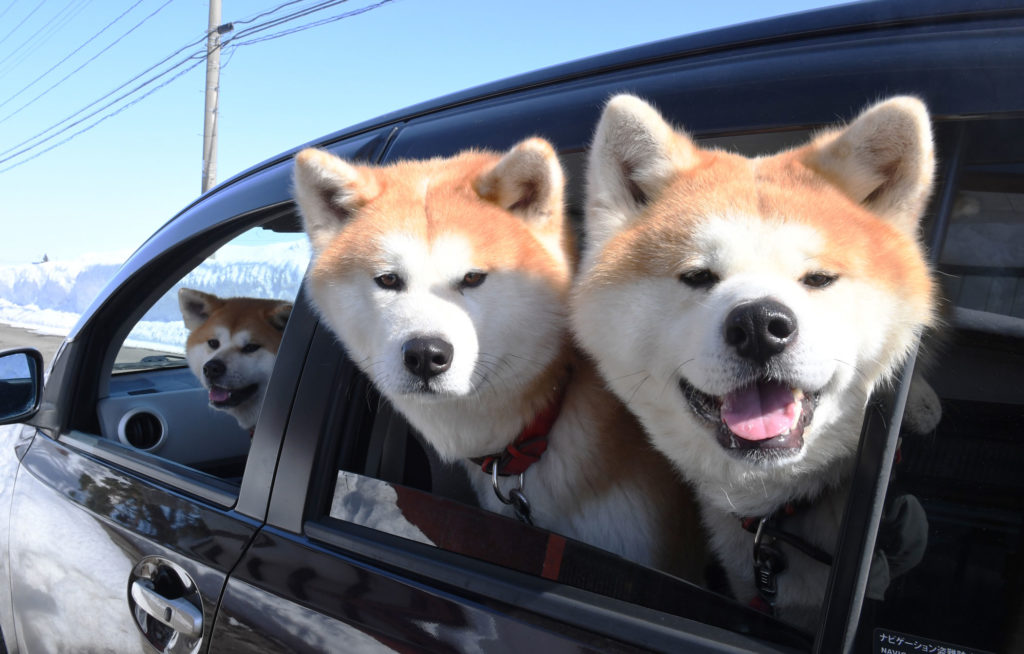 Mr. Sato said, "Our lives revolve around our three dogs. Whenever I go out, I think I have to hurry home so that I am not late for their regular walk."
Now with three beautiful Akita dogs, Mr. Sato has a dream. "I would like to build a dog run on my farmland someday. Thanks to my dogs, I have many friends nationwide. It would be great to create a place where we can all meet and enjoy time together with our dogs in Yuzawa."
Akitainu Gon And Tora – A Photo Book That Made the Siblings Famous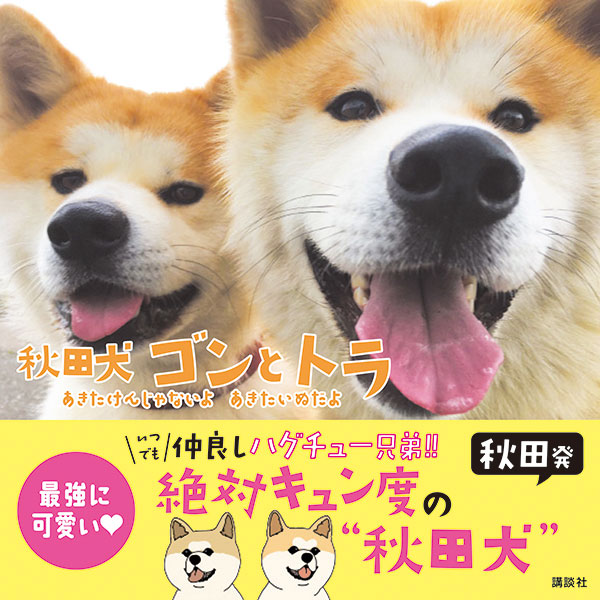 The photo book Akitainu Gon And Tora all started from Nao's pictures of the two dogs. She began posting them to Instagram in 2017 without any intention of making Gonta and Torajiro famous.
The pictures depicted the siblings' daily lives, including scenes of lying comfortably on the front porch or peeking happily out of the window of their favorite car. The pictures showed their brotherly relationship and gained many fans. Finally, the photos of Gonta and Torajiro caught the attention of a Tokyo-based publishing producer. Akitainu Gon And Tora was published in 2018 by Kodansha.
The photo book made Gonta and Torajiro famous in Yuzawa City. That same year, they were appointed as "Tourism Product Ambassadors" of the city's Tourism and Product Association and were in high demand for events such as the Inukko Matsuri (Dog Festival.)
One of Mr. Sato's most memorable experiences with Gonta and Torajiro was welcoming a cruise ship at Akita Port in Akita City. They were invited inside the ship and enjoyed interacting with the people on board.
Due to the coronavirus crisis, all the events they regularly attended have been canceled since last year. Mr. Sato said, "It is a shame that events were canceled.  My dogsmiss interacting with other people."  He hopes the coronavirus pandemic will end soon, and things return to normal.