A cute Akita dog is "sitting" on top of stylish sweets. In the west of Akita City, there is a craft center called Akita Araya Glass Studio, where budding glass artisans can freely express their creativity, and visitors can experience the fun of glass blowing. Inside the center, there is a cafe called Cafe Tasha, and they make cookies in the shape of a sitting Akita dog and decorate them on top of parfaits and cakes.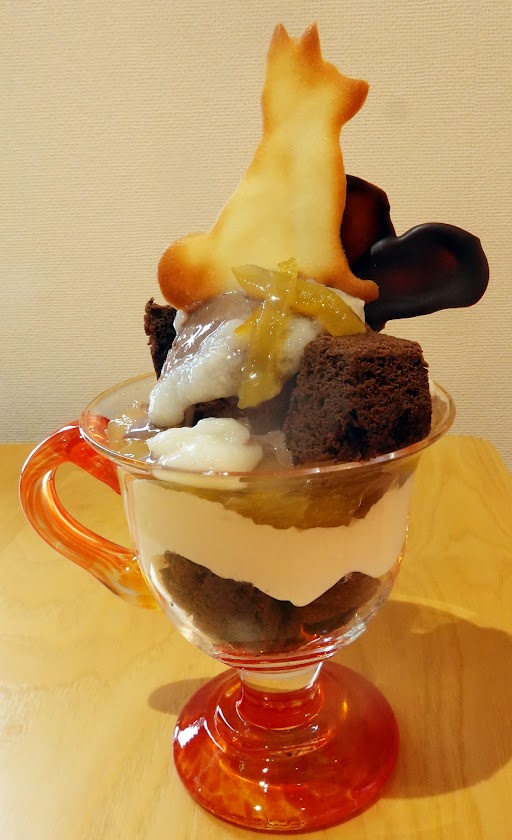 The parfait decorated with Akita dog cookies is the "Yuzu and Amazake Chocolate Parfait" (880 yen including tax), available until the end of February. The parfait is a blend of Japanese and Western styles inspired by winter festivals such as the Kamakura Snow Festival in Yokote City and the Inukko Dog Festival in Yuzawa City.
Cafe Tasha has been using Akita dog cookies as a topping for about two years. Previously, they had a part-time employee who was a student from the Akita University of Art. They asked the student to help them draw the illustration of an Akita dog and then created the mold based upon their drawing.
Sakai Miyuki, who runs the cafe, is a big fan of Akita dogs. She said, "When I put Akita dog cookies on top of the sweets, they look better instantly, and it also makes our customers happy."
After February, Akita dog cookie toppings will continue to appear irregularly throughout the year.
Cafe Tasha opens at 11:30 a.m., with the last order at 4:00 p.m. (closed on Tuesdays).