Two top-level teams of the Men's professional basketball league in Japan, Akita Northern Happinets (Akita City) and Sunrockers (SR) Shibuya (Shibuya Ward, Tokyo), are promoting a project together with Hachifull, an Akita dog-themed shop operated by Akita Cable Television. This project features Hachiko, an Akita dog born in Odate City, Akita, whose famous statue symbolizes Shibuya Station.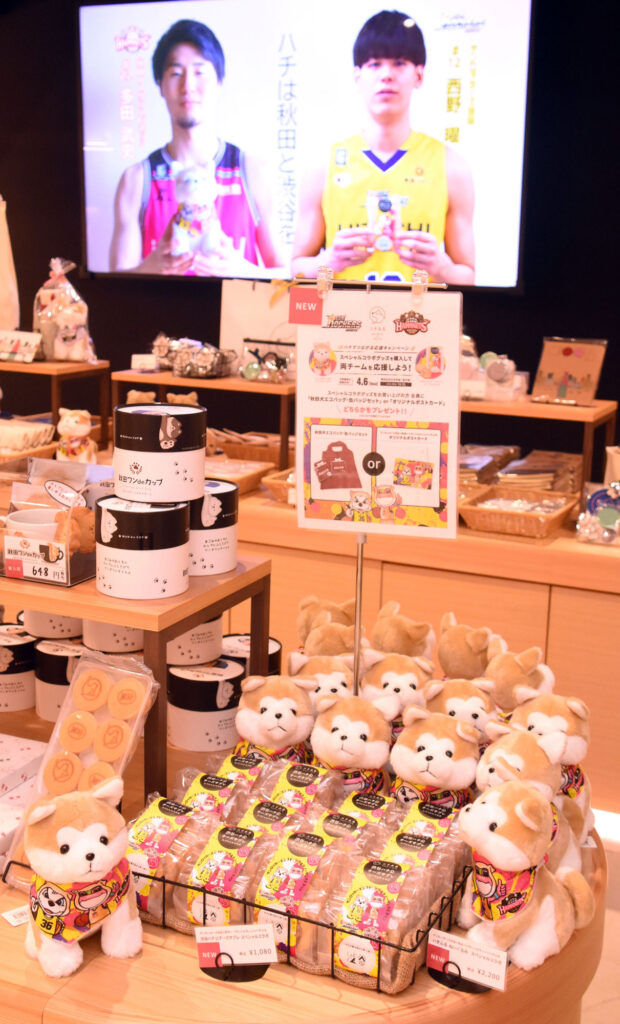 The three parties all share a connection with Hachiko and plan to work together to boost the B-League, promote interaction among fans, and contribute to regional Public Relations (PR). Akita Prefecture and the Shibuya Tourism Association also cooperated in the project. At first, they will sell jointly designed goods online, at related facilities, and both teams' home games in Akita and Shibuya. The Shibuya Tourism Association officially endorses the goods, and they will donate a part of the proceeds to the preservation and protection activities for Akita dogs.
The base design for the project incorporates both teams' mascots and team colors. The Happinets' "Vicky" and SR Shibuya's "Sandy" stand together in front of a yellow and pink spray art background, with a droopy left ear wearing Hachiko headgear. The design also features the Hachifull logo and a basketball.
The first collaboration items are an 18-centimeter-high stuffed Akita dog wearing a bandana with the base design around its neck (2,200 yen per one doll) and cheese sablé cookies (1,080 yen for six pieces) with Vicky and Sandy on the surface of the sablé made with rice flour produced in Akita Prefecture. Each sablé is usually uncolored, but a full-colored piece is included one-in-ten chance.
These goods are available at Hachifull on the 14th floor of Shibuya Scramble Square, a large complex directly connected to Shibuya Station, and at the shop Akita Inu Station on the first floor of Area Nakaichi in Akita City. On a first-come, first-served basis, buyers will receive an eco-bag and an original postcard.
They are also available at the Happinets and SR Shibuya home games. The official online stores of both teams and Hachifull will begin selling the products on April 7th.
Details of the joint project can be found on the official website of the Happinets.