A light truck with two kennels in the back came to appear in front of "Akita Inu no Sato," a tourist exchange center in Odate City, Akita, in early April 2022. Inside the kennels were two red-haired Akita dogs, Taiga (eight-year-old male) and Reika (two-year-old female). Wakamatsu Shoma, a second-year junior high school student living in the city, took over the primary role of looking after the dogs from his late grandfather Wakamatsu Masao. Masao died on August 10th, 2021, at the age of 73.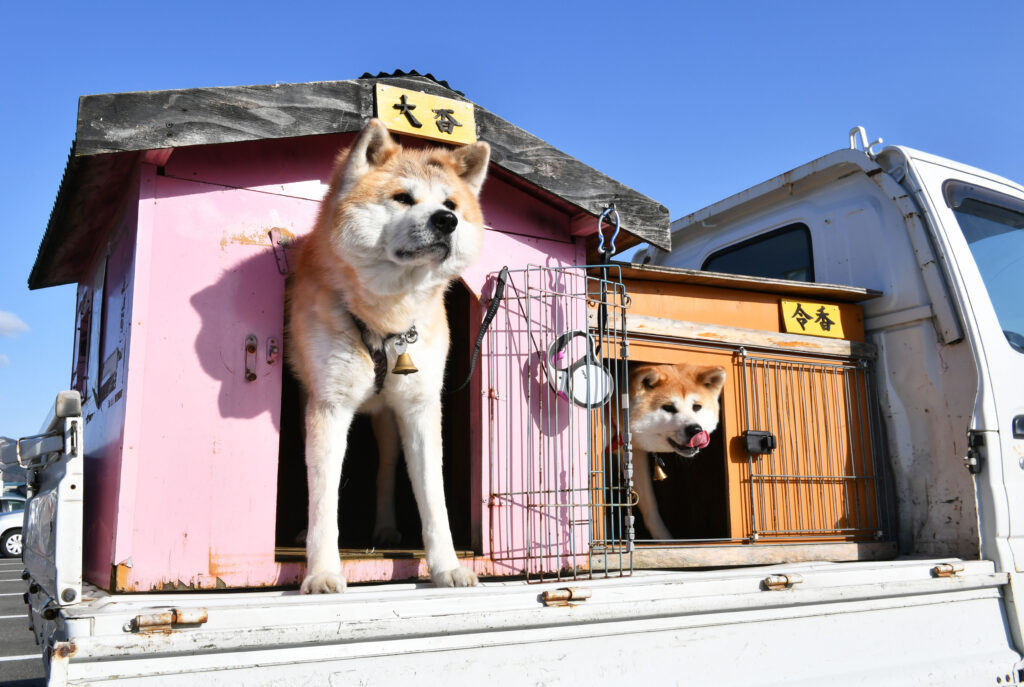 Masao built the two kennels, each with a name tag and a small window for the dogs to pop their head out. The two dogs sometimes appear in the exhibition room of Akita Inu no Sato. Whenever they need to go somewhere, they ride in the kennels in the back of the truck. This outing is widely known in the city and has even been featured on a TV program.
When Shoma opened the kennel door, Reika, a joyful dog, jumped on the ground with great energy. While Taiga, who is mild and composed, got off the truck in a relaxed manner. The two dogs' distinguished figures stood out beautifully under the clear blue sky.
Taiga joined the Wakamatsu family in the winter of 2013. Shoma said he does not remember much about those days since he was young. According to family members, one day, Masao suddenly called his family to the parking lot in front of their house, and there they found a newborn Akita puppy. His name was Taiga.
Since then, Masao was always with Taiga. In the summer of 2019, Masao brought Reika to join the family.
After Reika joined the Wakamatsu family, Masao invited Shoma to walk the dogs with him. During their walks, Masao taught Shoma how to treat the Akita dogs when they felt sick, which is still helpful today when he takes care of them.
Shoma called Masao "Grandpa" and admired him. He still vividly remembers Masao sitting on the back of the truck, playing the guitar, and singing to the two dogs. "He was knowledgeable, and he could do anything he had to do or wanted to do. He was my cool grandfather," Shoma recalls respectfully.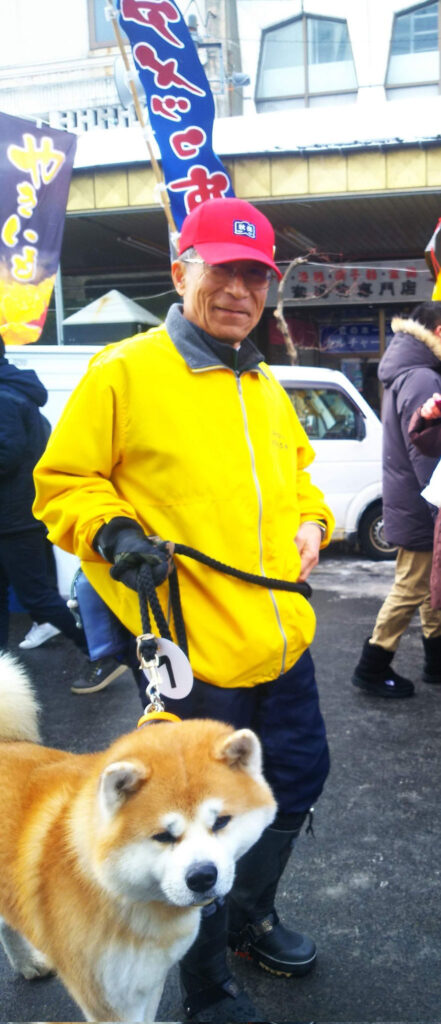 Masao's chronic illness hospitalized him last July, which initially was only supposed to be for about five days. Everyone in the family had expected that Masao would return home soon, though his stay in the hospital was prolonged. Unfortunately, they could not see face to face because of COVID-19 prevention measures. Shoma and other family members once brought Taiga and Reika to a place where Masao could see them from the hospital room. They say Masao smiled exuberantly.
About a month after his hospitalization, Masao passed away without seeing his two dogs again.
The family discussed what to do with Grandpa's two dogs, wondering if they would be able to raise them on their own. At first, they considered looking for foster parents for the dogs out of anxiety, but they also strongly hesitated to lose them.
The deciding factor came from Masao's words just before being hospitalized, "Please, take care of Taiga and Reika." So, the family decided to honor Grandpa's wish.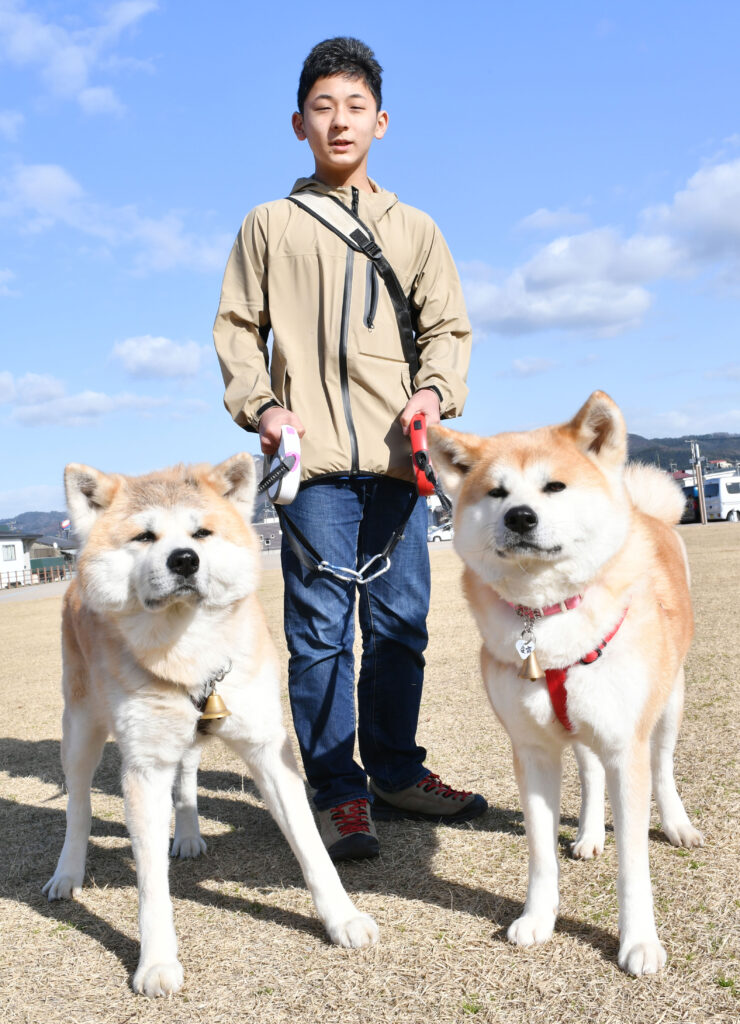 Taiga was devoted to Masao and still spends time in Masao's room, sometimes acting as if he is looking for him. On the other hand, Reika is very attached to Shoma and is always with him when she sleeps.
Shoma said, "I want to tell Grandpa that they are living healthily and that he can count on us, so please don't worry."
After the interview, Japanese singer Kisugi Takao's song "Yume no Tochu (We are still in a dream)" played in the Akita Inu no Sato building. Masao used to play and sing this song to his dogs. Perhaps to Masao, life with Taiga and Reika was something like a dream. From now on, Shoma and his family will continue to live their dream life with Grandpa's two dogs.
(Reported by Maki Fujioka)