The Akita Dog Preservation Society held the 145th headquarters Akita Dog Exhibition at keijo park in Odate City on May 3rd, 2022. Akita dogs are designated as a national natural treasure, and 185 Akita dogs from nationwide and abroad showcased their beauty and competed with their physiques.
The exhibition had six categories according to age and gender, from Puppies – B (six months – eight months old) and Adult – A (four years and older). Seven judges evaluated the dogs to see if they exhibited the characteristics based on Akita dog standards established by the Akita Dog Preservation Society in 1938. The judges scored the dogs' standing posture, plush coats, and if their teeth looked straight.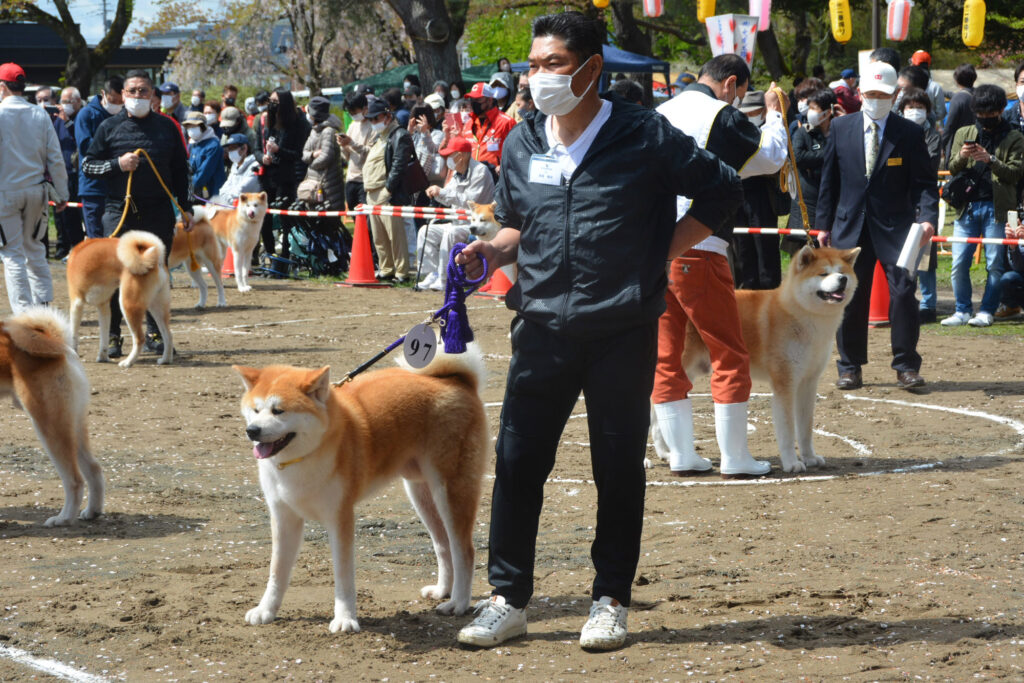 The dogs behaved with dignity, standing still while facing forward until the judges confirmed their evaluation. Many Akita dog fans visited the venue and watched the evaluation intently.
Ozaki Shinichiro from Osaki City, Miyagi Prefecture, said, "I've disciplined my dog not to bark toward other dogs nor attack them, and to be able to remain calm during the exhibition. I'll keep trying to take good care of my dog, including these behavioral training."
A seven-year-old boy Obata Muso, who came with his family to see the exhibition from Adachi Ward, Tokyo, said, "I learned about Akita dogs from the film featuring loyal dog Hachiko, and I found they are smart dogs. I'm seeing them in front of my eyes today, and they are so cute."
The headquarters exhibition is held twice a year, in spring and autumn. The spring exhibition is held in Odate City, the location of the head office, while the autumn event takes place in other cities throughout Japan.