In the popular Japanese TV show "Sekai no Hatemade Itte Q!", Japanese entertainer Imoto Ayako cuddled an Akita dog puppy while visiting Akita Prefecture. The episode aired on May 2021 on Nippon Television Network Corporation (NTV) and Akita Broadcasting System (ABS). The puppy was named "Imoto" after Ms. Imoto and is now living happily with a couple in Mitane Town, Akita Prefecture.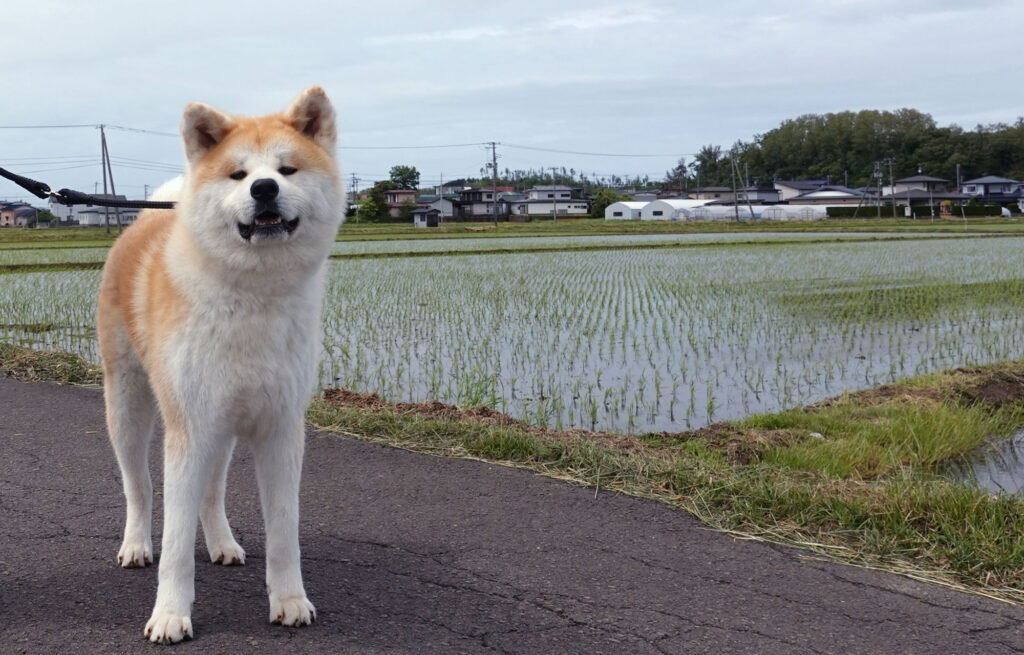 Imoto's owners are Yoshinobu Kaneko and his wife Keiko, who run a convenience store. Usually, Yoshinobu takes Imoto (one-year-old male) for walks in the morning, and Keiko takes him in the evening.
Imoto is very interested in wild birds and other moving creatures. He once fell into a gutter being distracted by a frog and hardly got out of it. He rarely barks and is friendly to people and dogs he meets during his walks. Children on their way to and from school sometimes call out "Imoto" to him or come running up to him and ask for permission to pet him. Not very often, but Imoto acts at his own pace, not moving from his favorite place, which sometimes embarrasses the couple.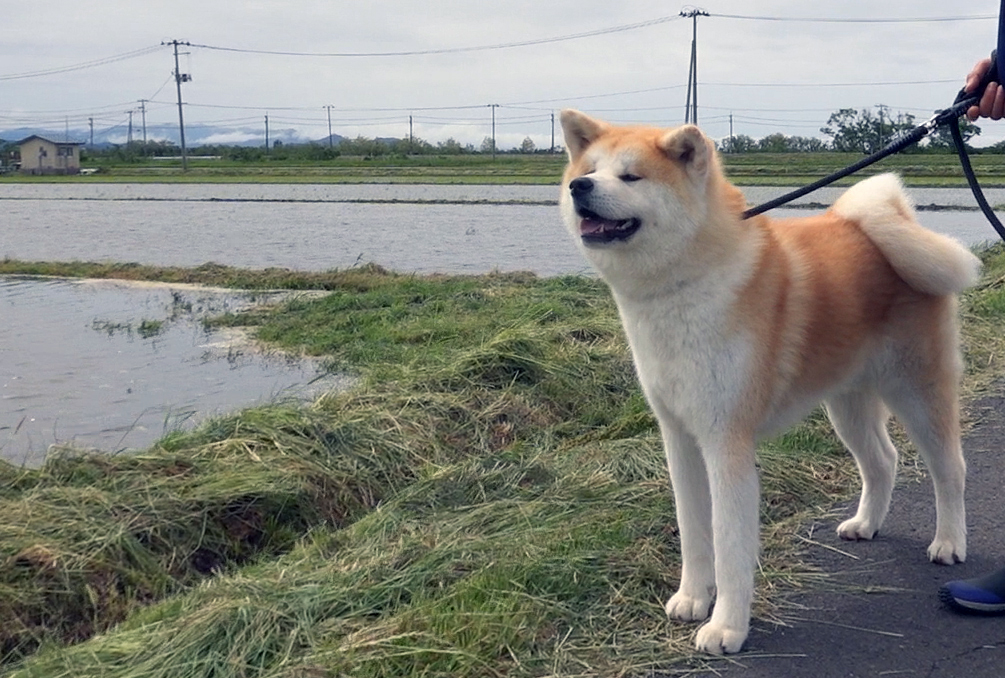 Imoto was named by Motose Junichi, who runs Noshiro Kojuso, a kennel specializing in Akita dogs in Noshiro City, which Ms. Imoto Ayako visited on location for the TV show. To commemorate the puppy's appearance on the show, Mr. Motose was thinking about giving him a good Kanji name that could be read as "Imoto," which has a masculine atmosphere. Mr. Motose said, "Imoto is a friendly dog with a good personality. He was popular with the people who came to see the dogs here, and I liked Imoto so much that I thought I could keep him myself."
Mr. and Mrs. Kaneko had long dreamed of owning an Akita dog. Their three children were independent, and COVID-19 prevented them from traveling, which is one of their favorite hobbies. With an empty nest and unable to travel, they decided to get an Akita dog last spring.
When Mr. and Mrs. Kaneko visited Noshiro Kojuso after a long holiday week in May, the only dog available was Imoto, who was four months old. Keiko was thinking about keeping a dog around two months old; however, Yoshinobu fell in love with Imoto. "When we were about to leave, he came to nuzzle my feet. At that moment, I was struck by his cuteness," he recalled.
Keiko was also moved by Yoshinobu's affection for the dog, so the couple decided to welcome Imoto.
Before the couple started living with Imoto, they rarely walked and often traveled by car, including around their neighborhood. Now that they go for walks with Imoto every day, they realize the abundance of nature in their area. They post pictures of walking on Twitter and sometimes receive comments like "It's a beautiful place."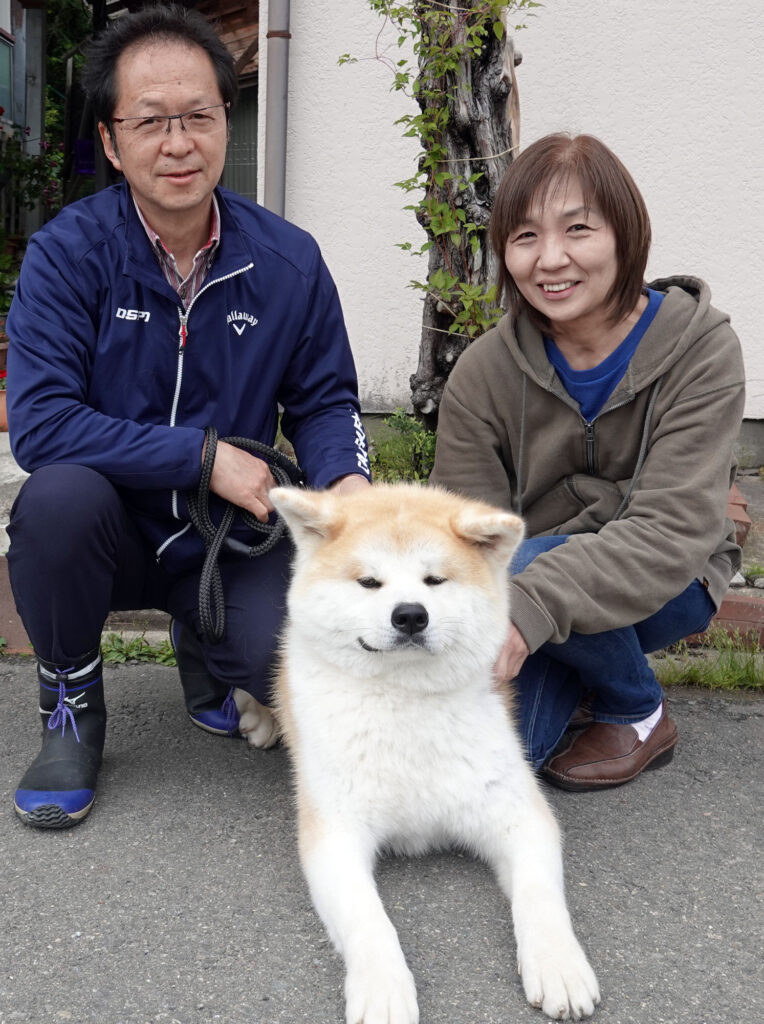 Keiko said, "It's really a nice place, but I didn't feel anything particular while driving around." Yoshinobu continued, "After walking with Imoto, I began to sense the seasons' change. We even went to see the moon rising above the horizon together with him."
The couple has more conversations now that they live with Imoto. "He brightens the people around him. I tended to feel down in the COVID-19 pandemic, but with Imoto, it's not hard at all to stay home. Truthfully, I would rather stay at home with him all the time," said Yoshinobu with a smile.
Message from Ms. Imoto Ayako ― "He's grown into a confident dog."
Imoto Ayako commented, "He was a small dog when we met, but he has grown up to be a great dog.  Akita dogs are robust dogs, and it will be hard for you to walk with Imoto as he ages.  So, please keep fit and maintain stamina.  I'd like to see Imoto again if there is any chance in the future.