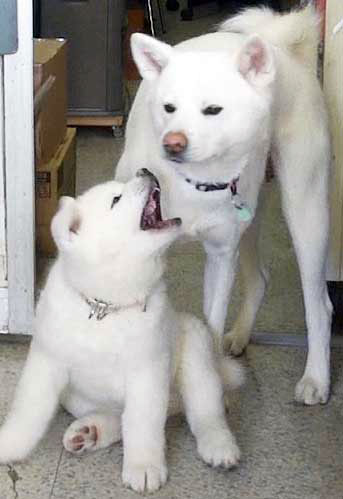 Liquor Shop Takahashi in Kosaka Town, Akita Prefecture, has added a new signature dog, Hakutake, the younger brother of Umeko, who was born in March of this year. Umeko, the original signboard dog of Takahashi, is well known for making gestures as if she is running a cash register.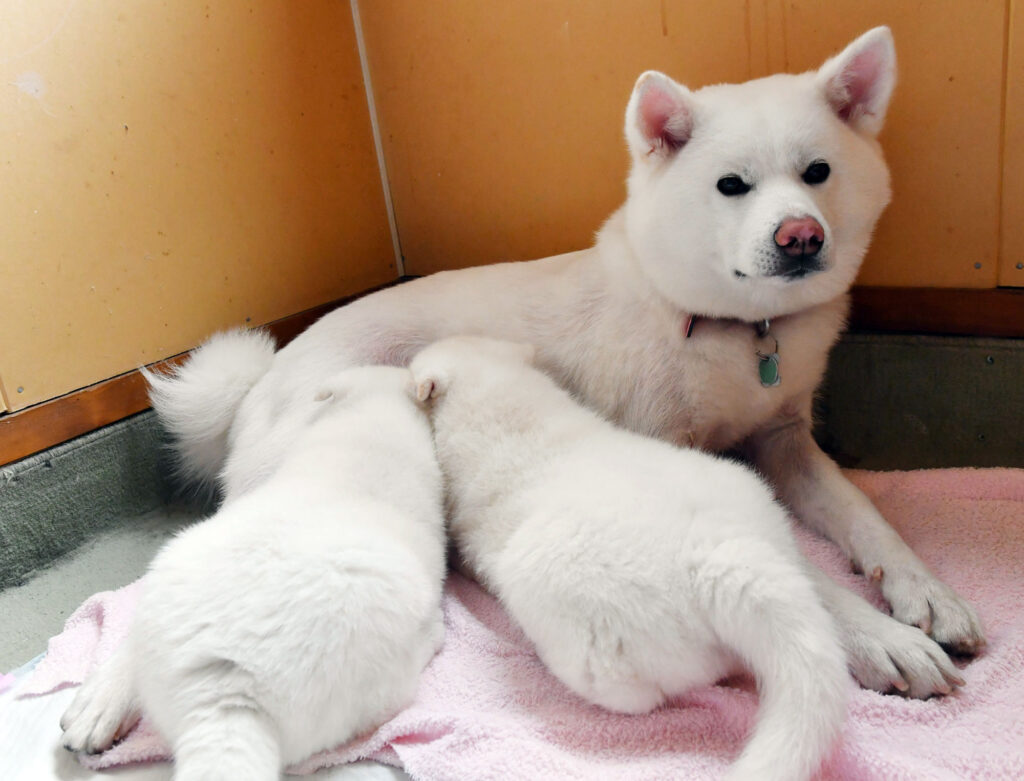 Umeko gave birth to three females in late February this year. One died soon after birth, and new owners took in the remaining two by the end of April. Umeko, who had been working hard to raise her puppies, seemed to be in a state of shock when she was separated from them. Afterward, she hardly ate and was depressed by the loss of her pups.
The breeder of a kennel in Odate City, Akita Prefecture, where Umeko was born, lent out two male puppies that Umeko's mother had just given birth to in March this year in the hope that they would provide a change of pace. Umeko took a liking to the white-haired one and began to take good care of him, including feeding him her milk.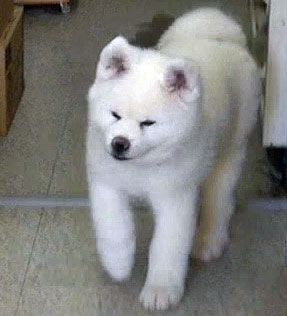 Takahashi Nobue, the owner of Umeko, said, "I was thinking that I would prefer the other one with Tora fur." Still, Umeko liked the white fur one so much that she decided to welcome him into the family officially. Nobue came up with the puppy's first name to match "Takahashi" as she did for Umeko. He named Hakutake after Kumamoto Prefecture's famous shochu (Japanese liquor).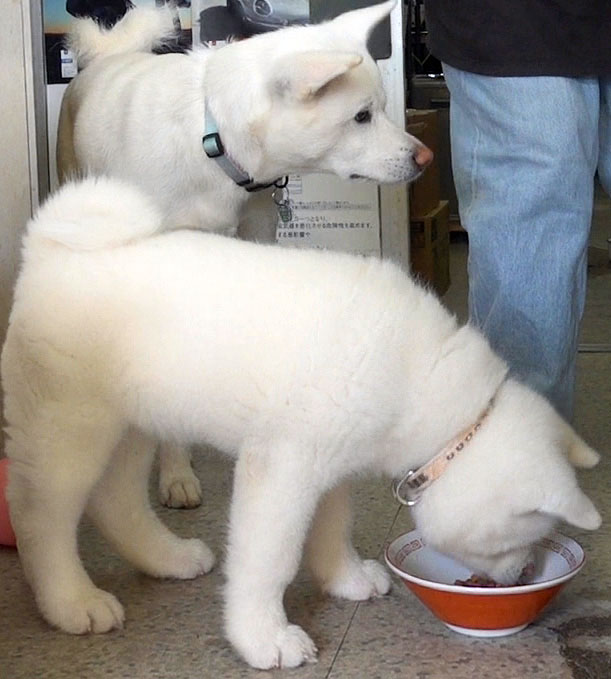 In contrast to Umeko, who has a small appetite, Hakutake has a big appetite. Even though Nobue feeds them together, Umeko hesitates because her motherly instinct is for Hakutake to get all the food he can eat. On the other hand, Hakutake is eager to take food from Umeko if given a chance. At just over two months old, he weighed more than 10 kilograms. "It may be only a matter of time before he grows up to be bigger than Umeko," Nobue said with mixed feelings, "I don't want him to get too fat, though."
After giving birth, Umeko took a break from her work as the "AkitaDog Police" of the Kazuno Police Station and Akita Inu no Sato in Odate City. However, she has been appearing at Akita Inu no Sato with Hakutake since late June. One day, Hakutake may imitate Umeko and try to hit the cash register.