"No More Fraud, No More Gangs, No More Drunk Driving!" – A character from the "Ginga" series by Takahashi Yoshihiro, a manga artist from Higashinaruse Village, Akita, is featured on a new crime prevention poster series by the Yokote Police Station (Chief Hatakeyama Hiroshi) of the Akita Prefectural Police.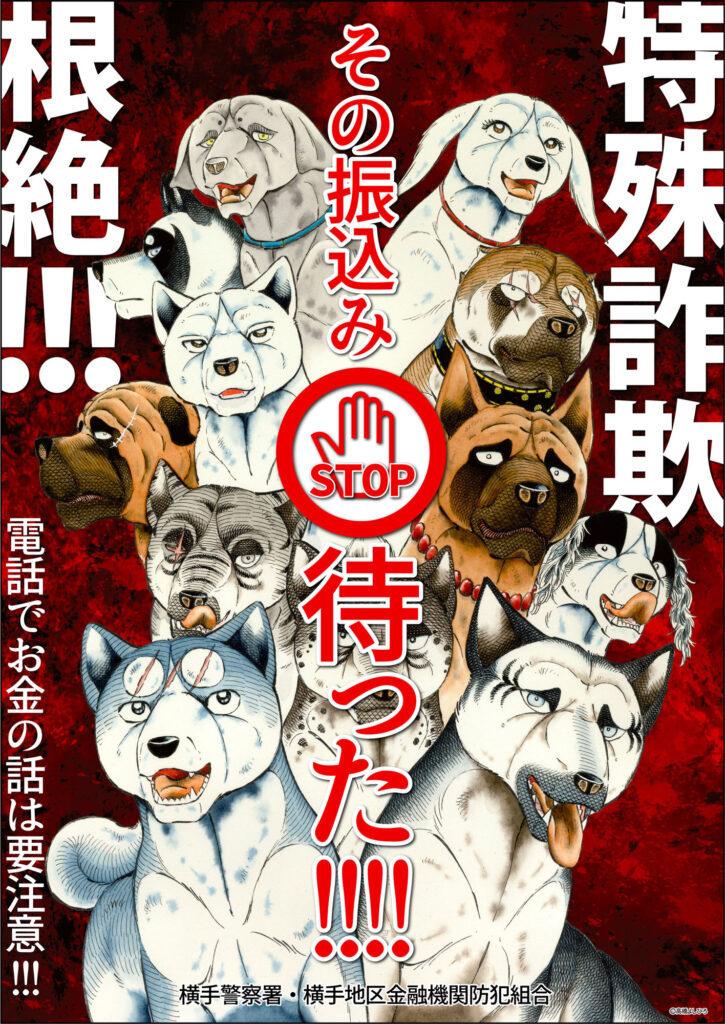 Posters calling attention to fraud feature the Akita dog Gin and his friends, the main characters from the masterpiece "Silver Fang – The Shooting Star Gin (Ginga: Nagareboshi Gin)." The poster calling to eradicate gangs and end drunk driving features the main characters from the sequels "Silver Fang Legend Weed (Ginga Densetsu WEED)" and "Silver Fang Legend Weed: Orion (Ginga Densetsu WEED: Orion)." Mr. Takahashi was involved in the poster series design based on the concept of working together with friends to fight against "evil."
In response to Chief Hatakeyama's call, the Yokote Area Financial Institutions Crime Prevention Association, the Yokote Area Violence Prevention Promotion Committee, and the Yokote Area Safe Driving Administrators Association each produced 500 posters. On September 12, representatives from each organization donated posters to the Yokote Police Station. The posters will be displayed at financial institutions, convenience stores, and roadside stations in the area.
"I have always wanted to give something back to my hometown," said Mr. Takahasi. On October 11, he will serve as chief of the Yokote Police Station for a day in conjunction with the National Community Safety Campaign.