The French Club of the Akita Dog Preservation Society held its first "Club Exhibition," a contest for the appearance of Akita dogs, in France this month. Writer and photographer Yoko Sakamaki, who herself raises Akita dogs in the Normandy region of France, reports on the event.
---
On October 9, a beautiful autumn day, the commemorative 1st Akita Dog Preservation Society France Club Exhibition was held in Grèz-sur-Loing, located about 80 km south of Paris. The French Club was founded in 2018 and had aimed to hold the exhibition two years later, but it was postponed due to the coronavirus pandemic.
Club president Arnaud Lemont, who has been looking forward to the event, said with a joyous look on his face, "We are incredibly proud to be the second European country, after Italy, to hold a preservation exhibition. The most valuable experience for us as Akita breeders in Europe is to be evaluated in person by the judges invited from Japan for the exhibition."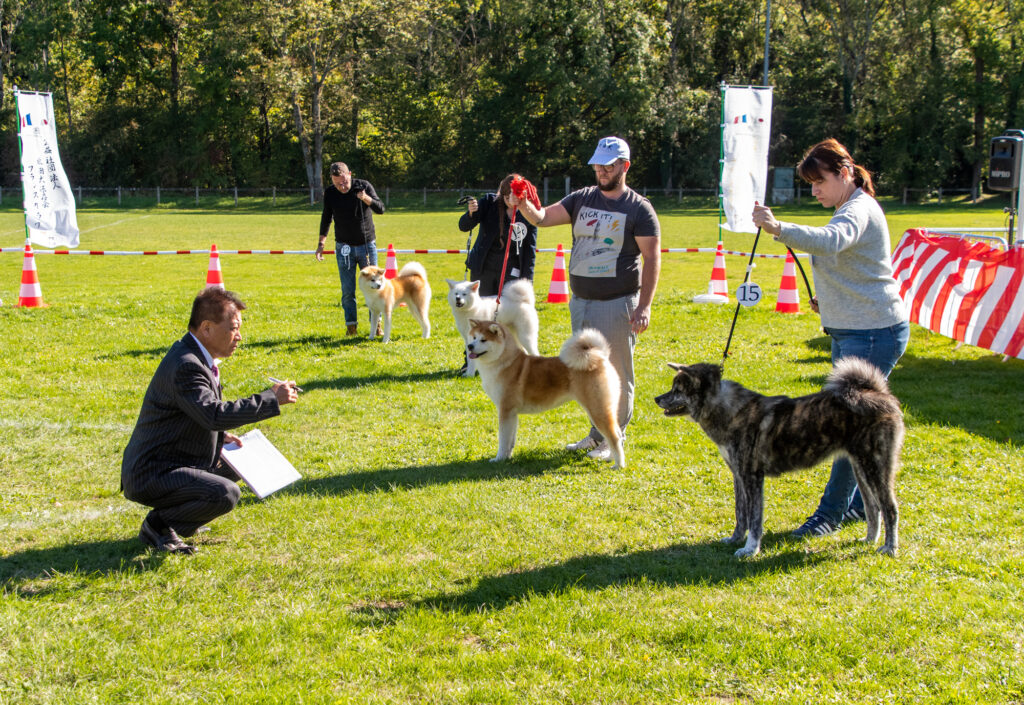 Forty-five Akita dogs from France, Italy, Belgium, Germany, Poland, and the Netherlands competed in the exhibition. To have their dogs judged by Japanese experts was a unique opportunity for European breeders.
The names of the age-specific categories in the exhibition use the original Japanese titles. When the announcement was made, "wakainu mesu! (Adolescent female dogs!)" the French people in the exhibition hall said, "wakainu mesu!" It was amusing for the Japanese people who were listening to the announcement.
Judo, which has spread worldwide and is overwhelmingly popular in France, also uses Japanese in its rules and techniques. Every language has original meanings and nuances that cannot be fully translated or expressed in other languages.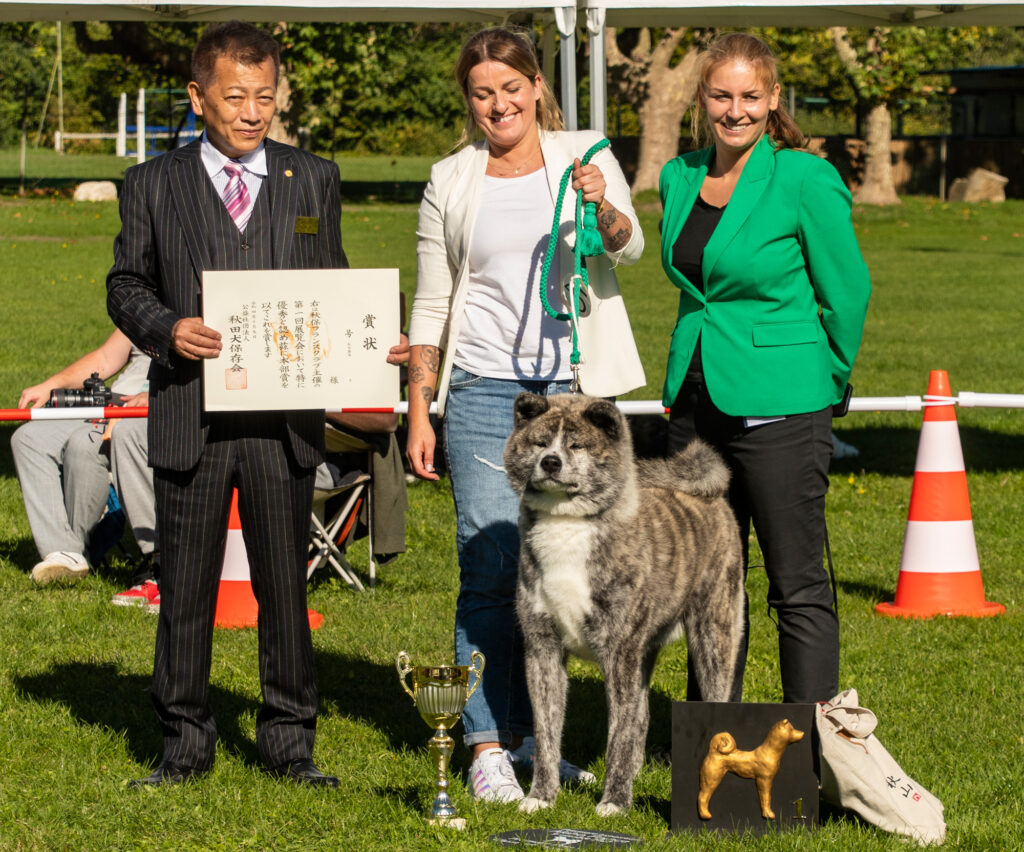 The French Club insisted on judging the Akita dogs under the same standards as those of exhibitions held in Japan by the Akita Dog Preservation Society. For this purpose, they invited Mr. Akira Saito from Chiba Prefecture, Japan, who has been a judge for a long time at the Preservation Society.
Mr. Saito actively teaches at seminars held in Europe. He is acquainted with the breeders who participated in the exhibition and enjoyed friendly conversations. Mr. Saito said, "The key to judging Akita dogs is not their external splendor or charm but their expressions that come from within, which is in line with the Japanese sense of beauty, 'wabi-sabi.' Male dogs need dignity and strength, and female dogs need softness and gentleness."
Sometimes it is challenging to completely convey specific expressions such as "ifudoudou" and "chinchakugouki" in another language, which are used to describe excellent Akita dogs with splendid dignity. Even so, the breeders were earnest in making their dogs look more sophisticated to realize those expressions when their dogs were about to show off their natural charms.
European breeders are enthusiastically working on raising excellent Akita dogs by bringing in puppies with good bloodlines from Japan or submitting their Akita dogs to exhibitions in Japan.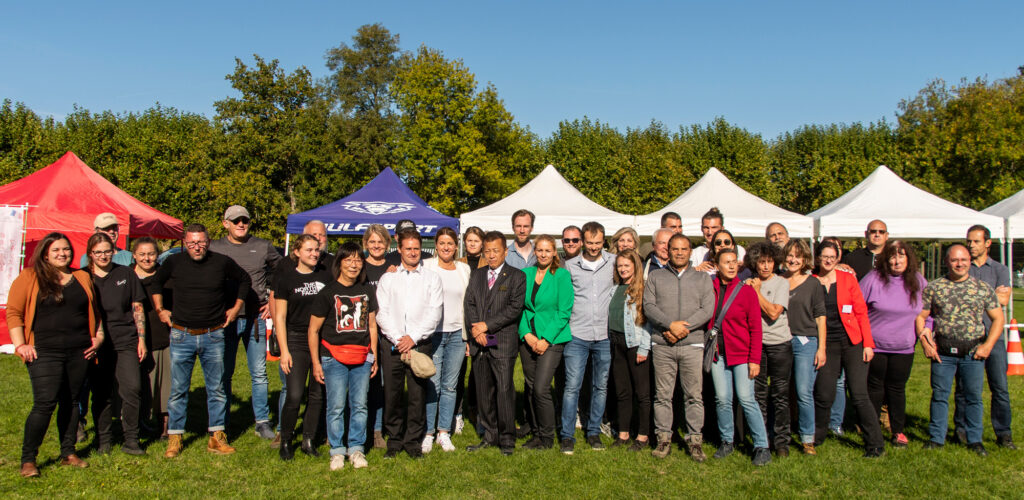 Akita dogs embody the aesthetic sense and spirit of "wabi-sabi" and "bushido" that Japanese people are losing in modern times. Following the traditional standards of the Akita Dog Preservation Society, breeders who judge, protect, and breed Akita dogs, designated as a natural treasure, are probably the inheritors of Japanese culture regardless of their nationality.
The French Club aims to hold a club exhibition once every two years. The hope is that the club will produce Akita dogs in Europe, far away from their place of origin, that are equal to those of Japan.
---
Yoko Sakamaki
A writer and photographer living in Normandy, France. She has written many books on various topics, including French interior design, home decor, and food culture. In 2018, she published "Akita Inu no Oyako" (Shoeisha), a picture book about an Akita dog born and raised at her home.