Furusawa Onsen in Azaniizuna, Odate City, Akita Prefecture, is a hot springs inn where two Akita dogs, Haru (six years old) and her daughter Hana (five years old), greet the guests. Spending time with Haru and Hana while conversing with hotel staff and enjoying good hot springs or dishes will comfort you as if you are at your parent's home.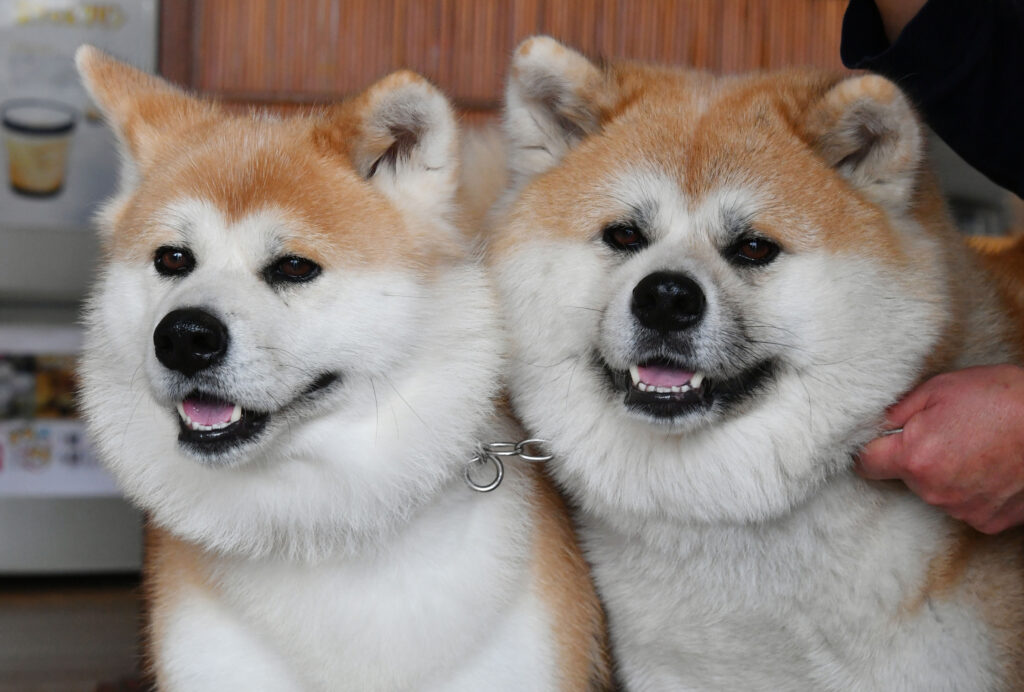 The two dogs often spend time in a fenced space by the reception near the entrance. If you want to see them there, the inn recommends calling to confirm in advance, as they sometimes go out or have a break.
A couple in their 50s from Kanagawa visited the inn in early June, saying, "We wanted to see Haru and Hana and decided to come here."
Taking pictures with the two Akita dogs at the inn is possible, but there are some unique steps before the photo shoot. For example, Hana and Haru approached the Kanagawa couple, who they met for the first time, and slowly sniffed their hands and clothes. This introduction is an essential routine to let their guard down.
After taking photos, the couple listened intently to the inn staff about the two dogs' daily life and said, smiling, "We were so happy to see them."
According to Mrs. Kaori Kobayashi, the inn president, Haru is "a powerful mother." She has a strong sense of responsibility to protect her daughter. On the other hand, Hana is "a dog who understands our language as if she is human." One day, she was eating her treat but stopped eating it right after a guest said to her, "Hi, Hana, have you gained weight?" Haru was named after hot springs, and Hana was named after flowers of sulfur, mineral deposits left by the hot springs of the inn.
Although the inn is now well known to Akita dog fans, it could have been smoother sailing from the beginning. President Kobayashi was the youngest of four sisters of her parents who ran Furusawa Onsen, and she has had a refined interest and love for food since she was a child. She acquired a chef's license at a vocational school, hoping to help improve the dining experience at the inn in the future.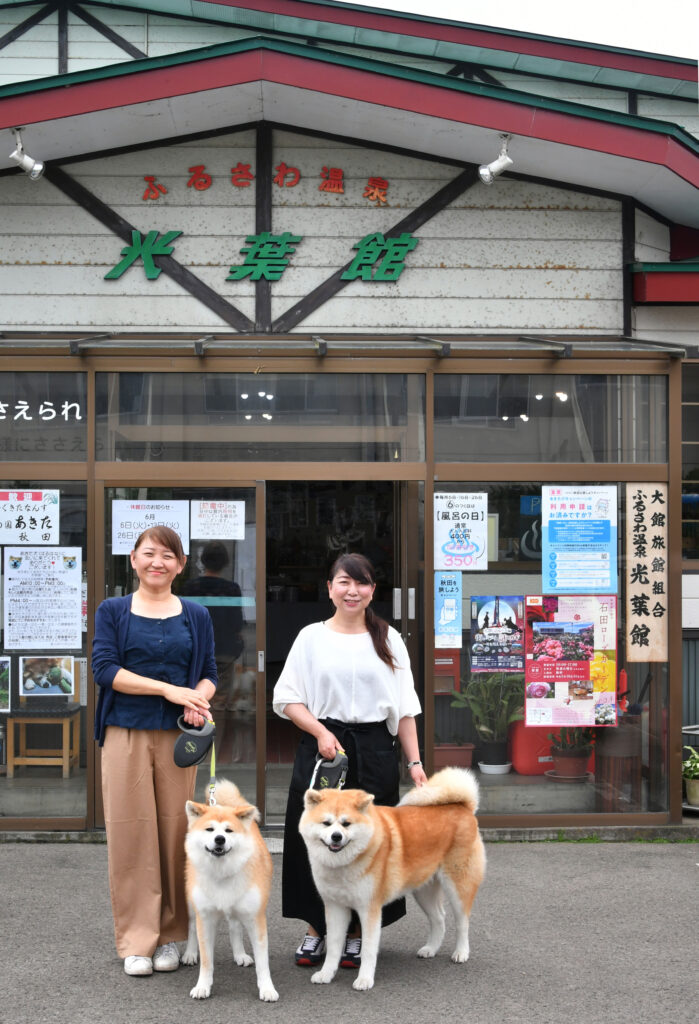 After graduation, President Kobayashi worked at a hotel outside Akita prefecture to improve her skills for about four years before returning to her hometown in 1998. Just as she was about to learn management skills from her father, he passed away suddenly from heart disease. It was only two weeks after President Kobayashi came back home.
President Kobayashi's shock and anxiety were tremendous, and she felt almost crushed. However, she decided to run the inn with family, thanks to the support from her mother, her older sister Ms. Katsura Sasaki, and the encouragement of those who knew her father.
People who had known her father continued to use the inn at first kindly, but the number of guests gradually dwindled. One day, one of the regular guests suggested to her, "Odate is the hometown of Hachiko, the famed loyal Akita dog, but there are few places where people can see Akita dogs. Why don't you try keeping one?"
After consulting with a member of the Akita Dog Preservation Society (headquartered in Odate City), they introduced Haru, and she decided to keep her. Ms. Sakaki first fell in love with Haru when she saw her energetically running around outside. President Kobayashi hesitated to wonder if she could raise such a playful dog, but she finally welcomed Haru as a signboard dog. One of the encouraging words was, "She will become calmer as she gets older," from a member of the Preservation Society.
Haru gave birth to six puppies in 2018. Hana is the only puppy that stayed with Haru, and people in Akita and other prefectures adopted the other five puppies. President Kobayashi recalled, "Haru seemed to count the number of the puppies and realized not all of them were there and looked puzzled, tilting her face."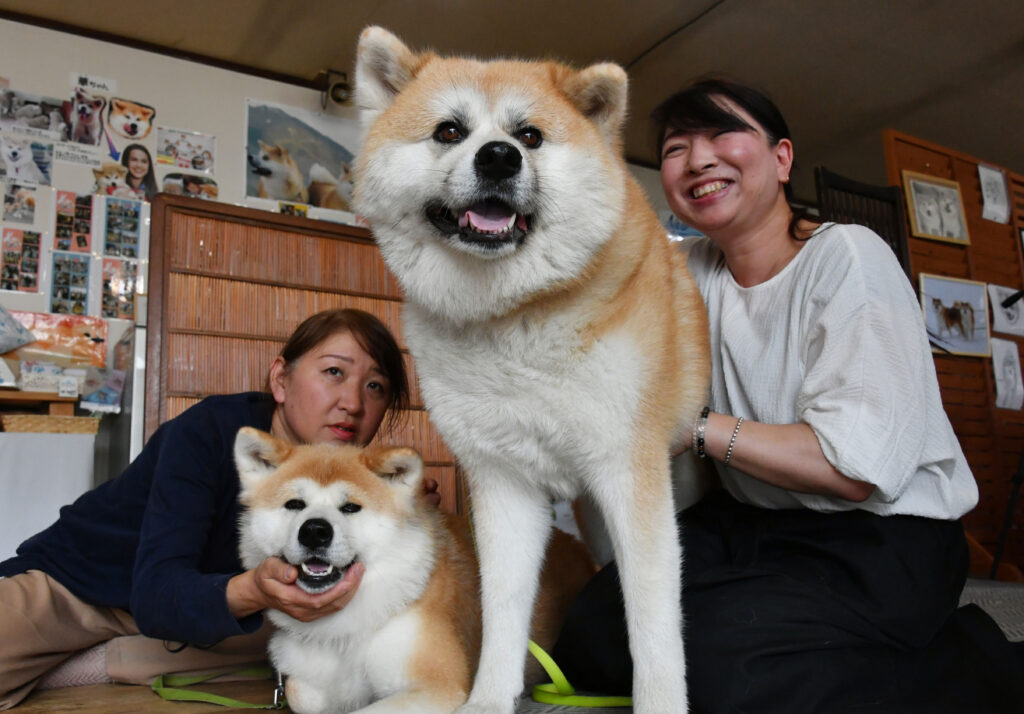 Media took an interest in the signature Akita dog mother and daughter, and Furusawa Onsen drew attention as "an inn where you can meet Akita dogs." More guests from overseas visited the inn, and all the rooms became fully booked during the holiday season. However, the coronavirus pandemic caused a rapid drop in use of the inn. Furthermore, the old building needed repairing, and the inn was again in a challenging situation.
Furusawa Onsen's fans from all over the country helped them out. President Kobayashi appealed for support through crowdfunding, stating that she wanted to protect the inn she had taken over from her father. Eventually, the amount raised exceeded the goal of 3.9 million yen. She said she was also empowered by the warm messages from the fans, "We will definitely come to see you when the pandemic is over." The number of guests is now returning to the level before the pandemic.
President Kobayashi said, "Thankfully, our guests think of Haru and Hana as family. I feel that they help to support people's hearts." Furusawa Onsen, which overcame many hardships with Haru, Hana, and their fans, is loved as an inn that relaxes the mind, body, and soul.