"Tazawako Kyoei Palace" (Representative Director: Kosuke Kikawa) is a restaurant and souvenir store located by Lake Tazawa in Senboku City, Akita Prefecture. Behind the building, there is an area where the tourists getting off large buses gather as if they were lured to the site. They shout "Cute!" or "Look at me!" as they take pictures with their smartphones and cameras crouched down to observe the dogs. Two Akita dogs are the center of the excitement.
The Palace has opened an Akita Dog Observation Center to allow tourists to experience Akita's uniqueness since 2008. In 2023, the store's two signature dogs are Yumi (seven years old), and her son, Sora (five years old).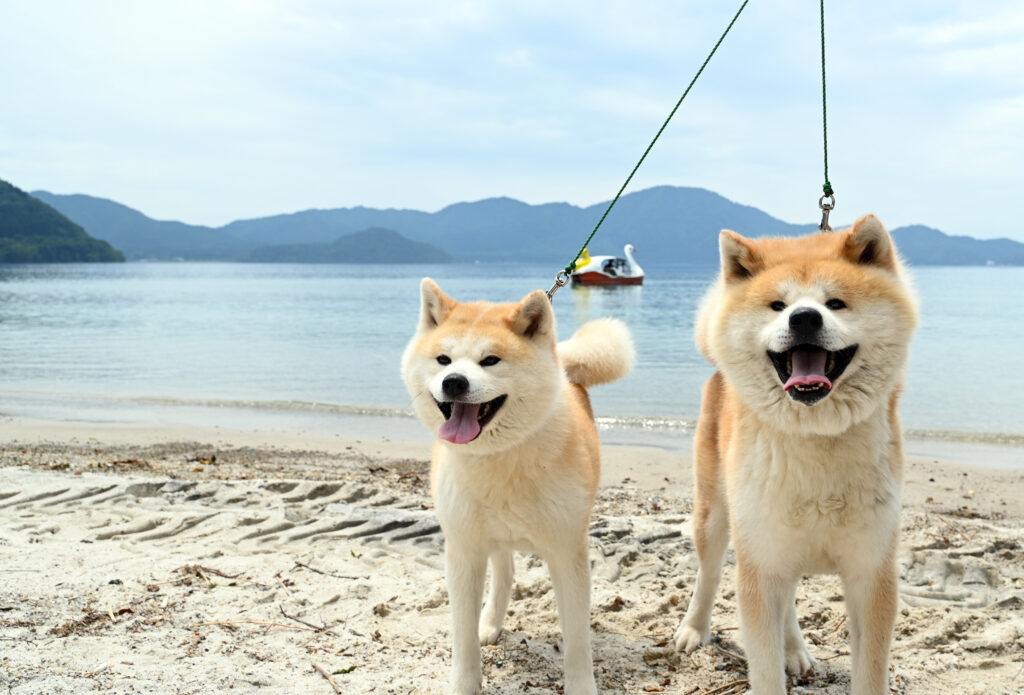 Sora was brought in in the spring of 2018 when he was only a few months old. However, his mate died in 2021, leaving Sora alone. Mr. Kikawa said, "We could exhibit dogs by taking turns, each for several hours a day. There would be some hours when visitors could not see dogs if Sora was alone. More than anything, Sora would become lonely." So, he welcomed Yumi in from a breeder.
Representative Director Kikawa and the Palace staff take care of Yumi and Sora by walking them early in the morning before the restaurant's opening and in the evening after its closing. Just walking along the banks of Lake Tazawa, they naturally attract people, making them true local idol dogs.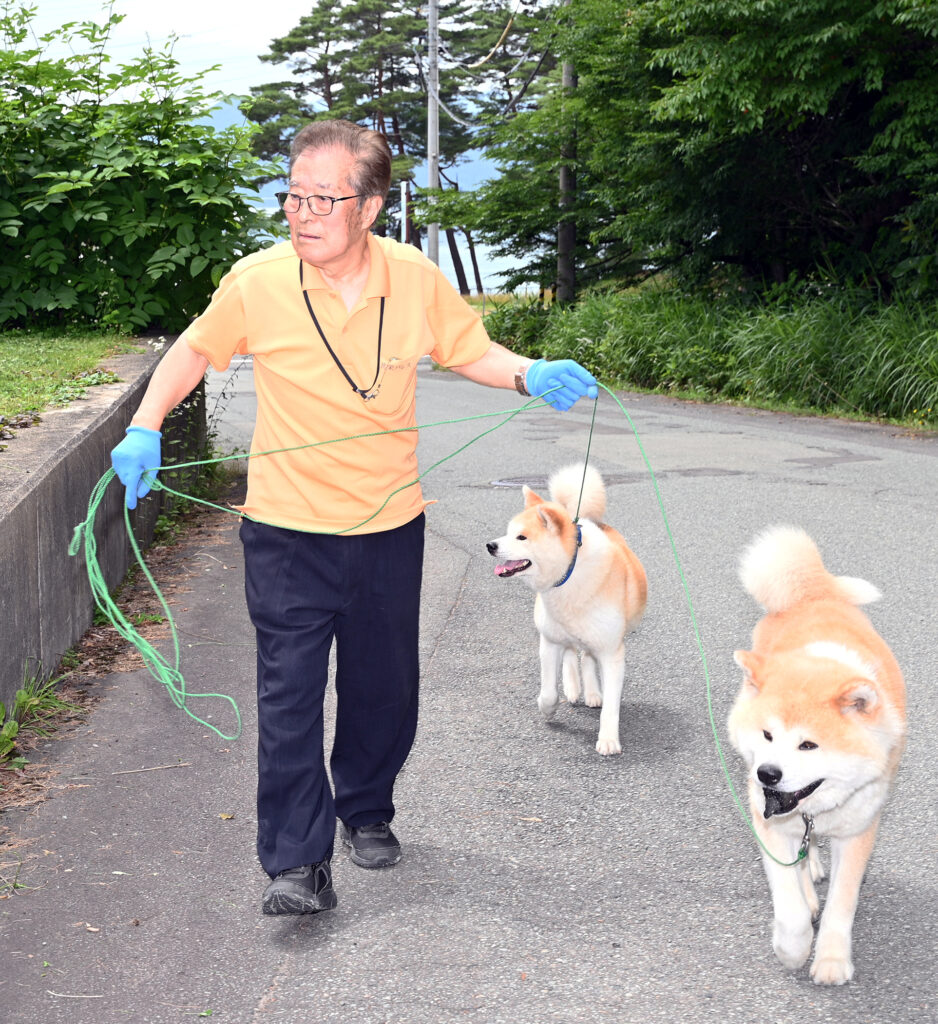 Both dogs are gentle and calm. They are used to the sound of tourists' voices and the shuttering of cameras and show no signs of being bothered by them. They seem easygoing and keep their own pace, with their chins to the ground, breathing loudly and wagging their tails slowly.
"Sora has been here since he was little and is used to the surroundings, so he probably thinks it's just the way it is, but Yumi was in a different environment as a breeding dog, so she seemed a little confused at first," said Mr. Kikawa. He said he had no difficulty in training Yumi, and she gradually adapted to the new environment.
When staff members can oversee the dogs at the observation center, they sometimes have time for visitors to interact with Yumi and Sora. Some tourists suddenly rushed the dogs to take a picture together, and some children, though a little scared and screaming, try to pet them on the head. The two dogs do not bark at them. Instead, they show adorable acts wagging their tails or licking people's hands or cheeks.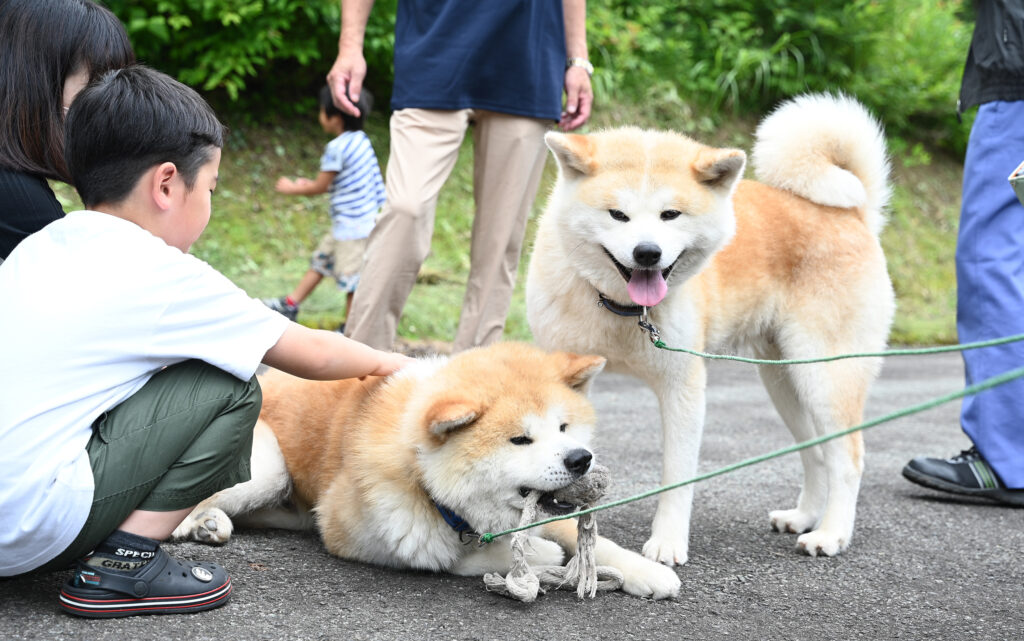 Yumi and Sora are also very popular overseas for their confident appearance and occasional expressions of amiability. Many foreign tourists visit the Palace to know they can meet Akita dogs. According to Mr. Kikawa, the Akita dog boom began to grow around 2018, when the Akita Dog Preservation Society (headquartered in Odate City) presented Masaru, a female Akita dog, to Alina Zagitova of Russia, the gold medalist in women's figure skating at the Pyeongchang Winter Olympics.
Although tourists from overseas declined due to COVID-19, the number of them gradually shows signs of recovery.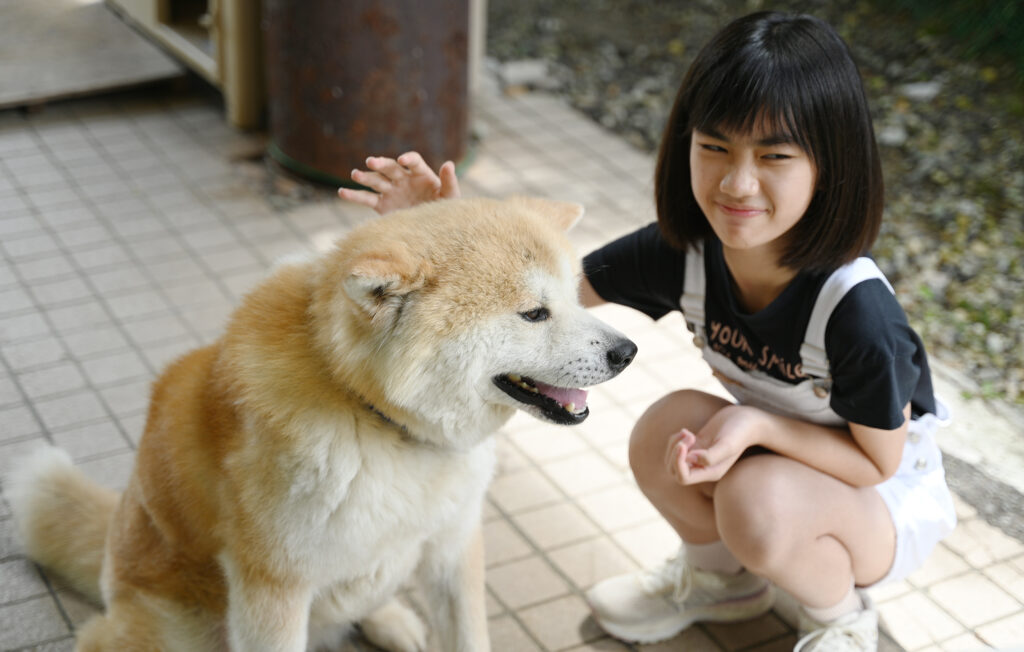 On a weekend in July, several groups of tourists from overseas were visiting the Palace to meet the Akita dogs. Two teenage sisters from Taiwan, who were on a family tour of Tohoku, looked impressed by seeing Akita dogs up close for the first time. "I was surprised that they were bigger than I thought they would be, but their fur is so fluffy and cute," said the younger sister. They took family photos with Sora.
In addition to the Akita dogs, the Palace also exhibits three local Akita chickens, including Hinaidori and Akita Butterbur, to promote Akita's specialties and products, as well as an area where visitors can observe the process of making Akita's traditional noodles, Inaniwa Udon.
Visitors must pay 100 yen to see the Akita dogs and local chickens, but it is free of charge if you purchase from the shop or dine at the restaurant. For inquiries about hours of operation, etc., contact the Tazawako Kyoei Palace at 0187-43-0701.