Yukinori Konno of Wakatake, Daisen City, Akita Prefecture, decided to adopt a four-month-old male Akita dog named Fuku (blessing) at the Akita Dog Preservation Society's Headquarters Exhibition held in Omagari, Akita. This event was the first time the preservation society's exhibition took place in Omagari and was held in May of this year. After more than three months since Fuku became a family member, Mr. Konno said, "He has brought smiles to everyone's faces, and we are growing up together."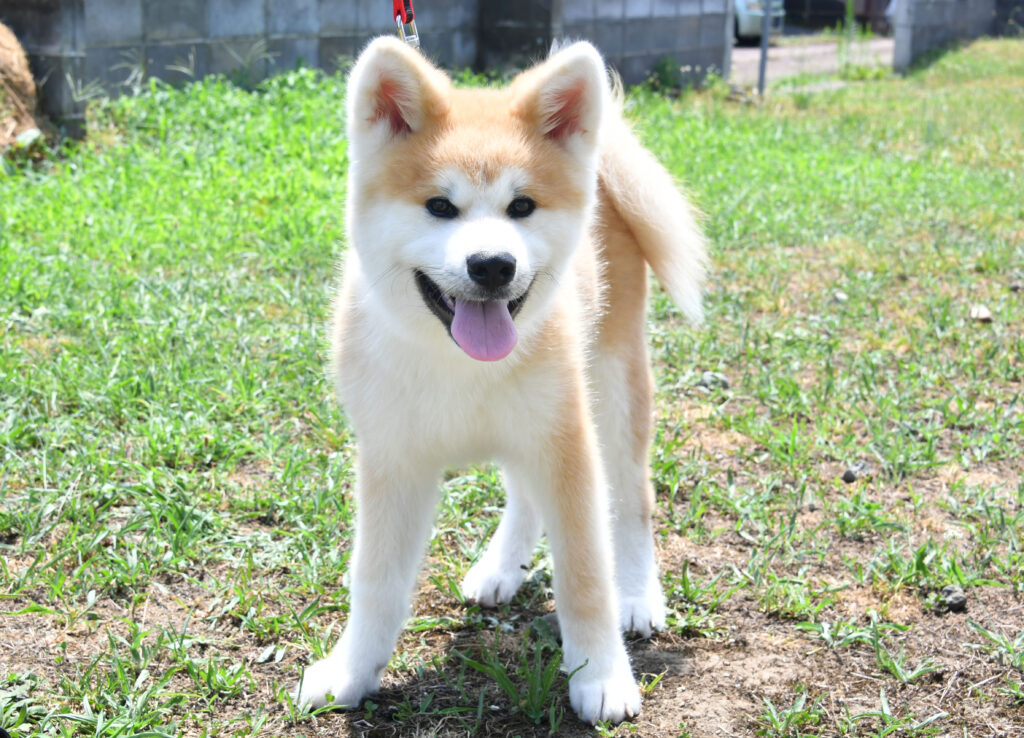 When we visited Mr. Konno at his home in early August, Fuku, who had been resting in a corner of the living room, stood up and welcomed us with his tail wagging uncontrollably.
We first saw Fuku in July at a dog lovers' event in Semboku City, Akita. In just one month, he had grown more than one size from his once chubby, stuffed animal-like body. On the other hand, the puppy-like innocence remained in his expression as he stared at us. Fuku's cuteness instantly gripped our hearts.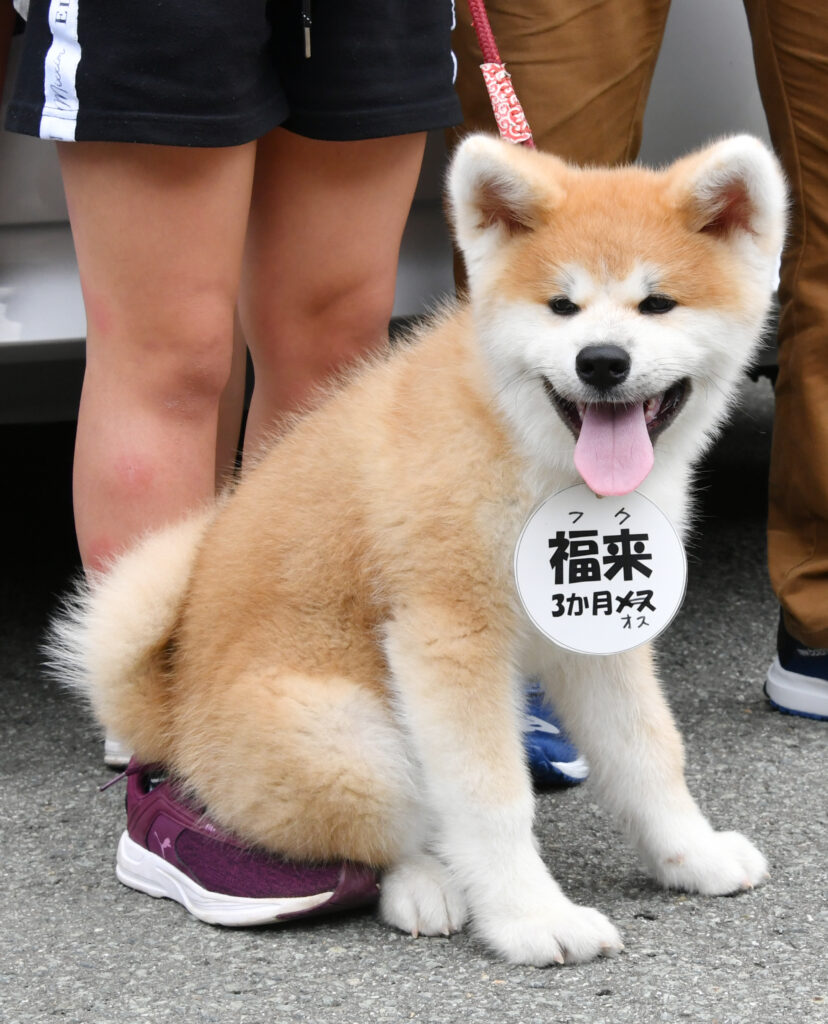 As Fuku relaxed and lay on his stomach, Mr. Konno's wife Masumi, eldest daughter Yuzu, and second daughter Sana gathered around. They patted Fuku's body and played with each other.
When asked what they like about Fuku, Yuzu said, "His expression changes all the time," and Sana said, "His face is so cute when he sleeps."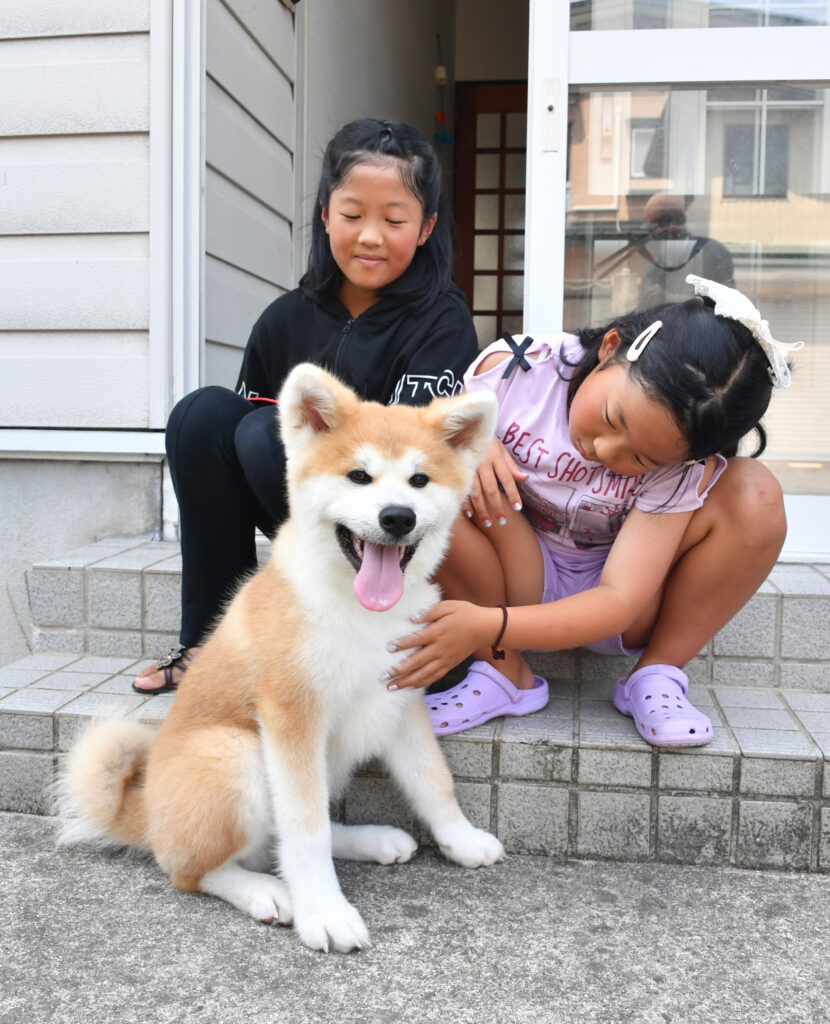 The direct reason for the Konno family's decision to adopt Fuku came from the Headquarters Exhibition held in May. Mr. Konno had loved dogs since he was a child, and when he learned that the first Headquarters Exhibition was to be held in Daisen City, he said, "I definitely want to go," and invited his family along.
On the event day, Mr. Konno could not contain his eagerness and went alone to inspect the venue early in the morning. Many Akita dogs and their owners were making final adjustments before the judging. "The dogs' expressions, sizes, and fur were completely different. It was like looking at an illustrated reference book, and I couldn't stop being excited," he recalled.
After returning home, Mr. Konno revisited the venue with his family. As they interacted with the Akita dogs, they all were fascinated with their charm, and Sana said, "I wanted to keep one because they are so fluffy." Mr. Konno went to the management headquarters tent and told a preservation society member that he wanted to keep an Akita dog. When he heard that a puppy had just been born at a member's Daisen City kennel, he visited the kennel the next day.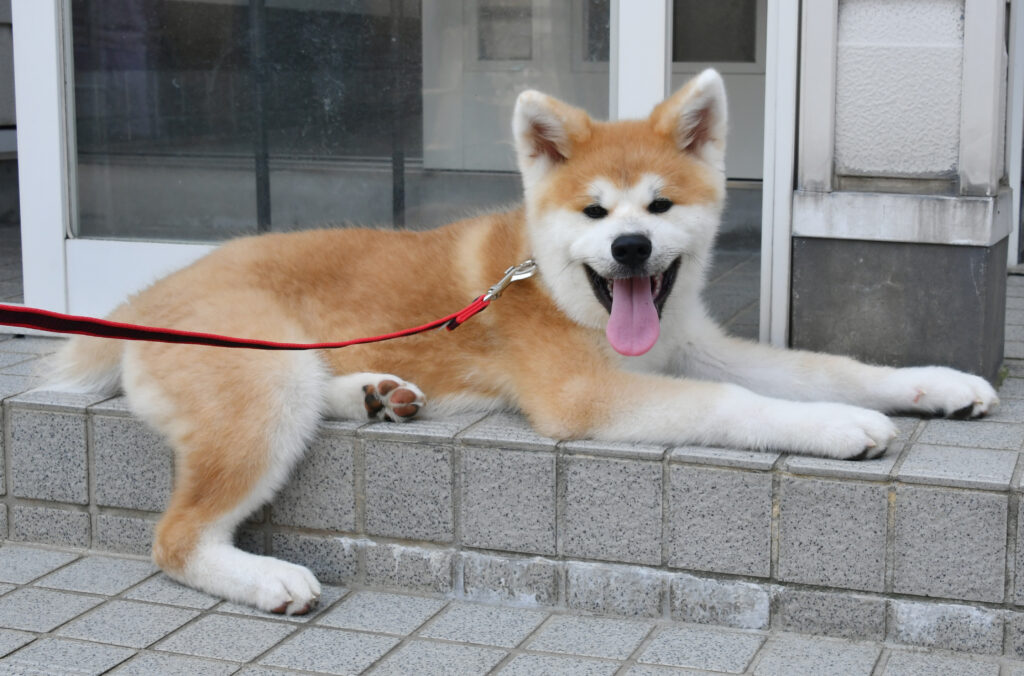 Of the five puppies in the kennel, the Konno family fell in love at first sight with Fuku, who was the first to appear. He was more significant than the other dogs, and Yuzu was surprised to see how big even a puppy could be. After they decided to adopt him as a family member about two weeks later, "I couldn't wait to see him, and it just felt like forever had passed," said Mr. Konno.
On the day they became a family, Fuku was quiet during the car ride home and settled into the house without any problems. Whenever Mr. Konno has concerns about raising the dog, he asks the kennel for help.
The name "Fuku" comes from the wish that "more smiles and happiness will come to the family." Mr. Konno thought having a dog would enrich the time spent at home without going far or out of his way to find it.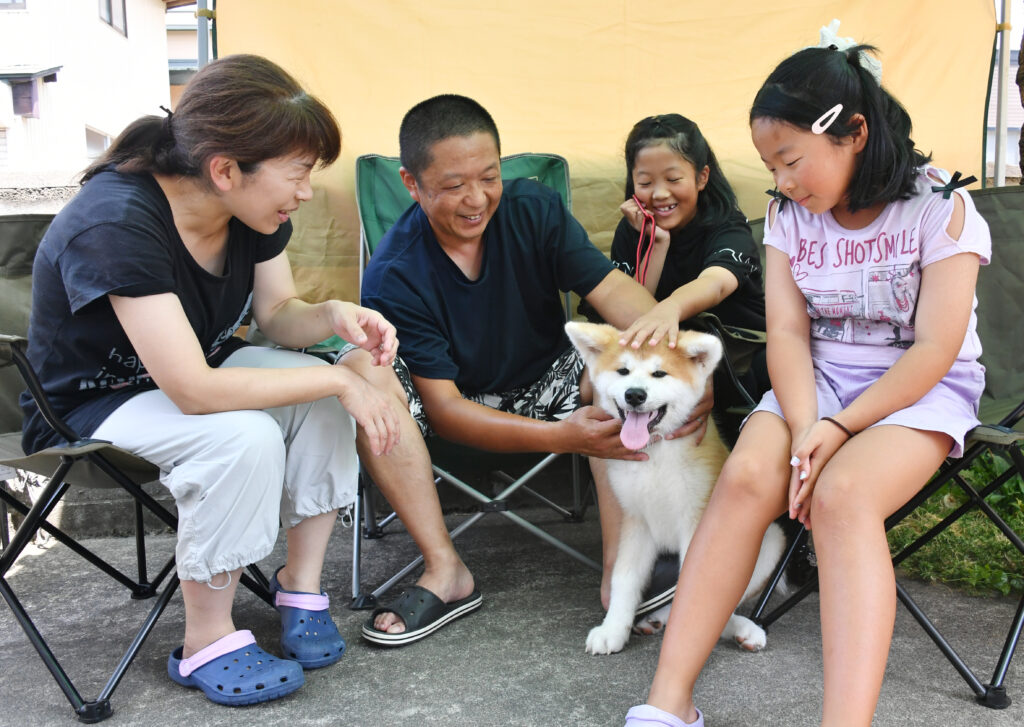 Mr. Konno's aim was correct. The whole family took on the challenge of shampooing Fuku for the first time, and they all got covered in bubbles. Or, when the four of them were sitting around the dining table, they noticed Fuku's envious gaze as he finished his meal first, making everyone laugh. The family's happy memories of Fuku are growing day by day.
Furthermore, the children began to learn how to care for an Akita dog by watching videos on social media. Now, Yuzu's dream is to become a dog trainer. She writes down what she learns in a notebook and says, "I want to train any dog to become a good dog." Masumi shared, smiling, "I can feel my daughter's growth."
It has been about three months since the Konno family started keeping Fuku. Mr. Konno said, "I can't wait to see Fuku grow to his full size," while Masumi said, "I already miss the days when he was a puppy. Oh, his handsome face has never changed, though." The children are looking at many photos they have taken of Fuku and joyfully keep talking about him. Fuku, as his name suggests, brings good fortune and happiness to the Konno family.