An Akita dog pattern has been adopted for the limited edition "FANS Uniform" of the Akita Northern Happinets of the Men's B-League Basketball Division 1 (Japan Professional Basketball League). The FANS uniform will be one of the benefits of its fan club membership for the 2023-2024 season. The team players will also wear the uniform at the "Fan's Day" home game, which offers entertaining events for the visitors.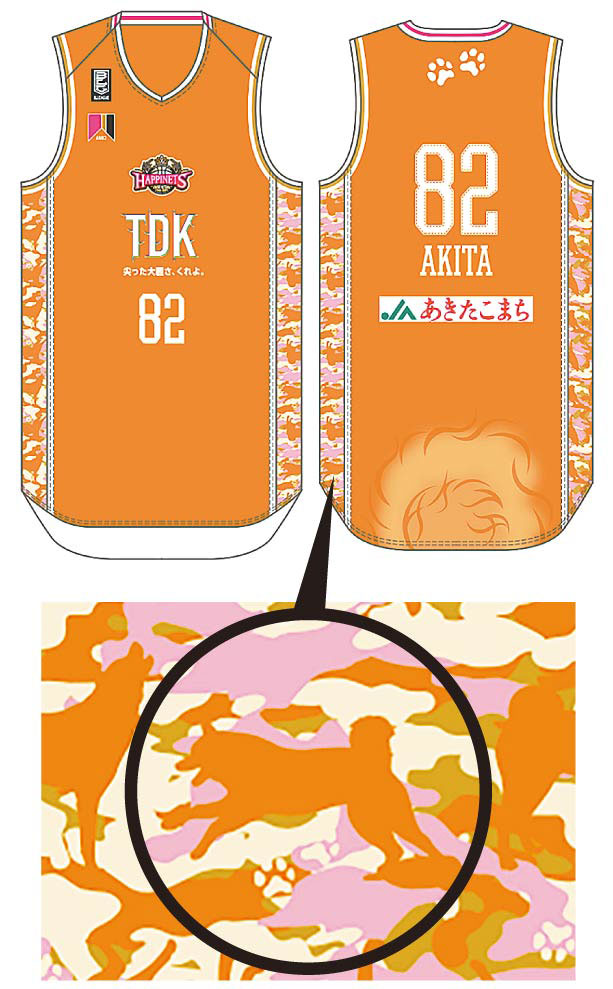 Coinciding with the 100th anniversary of the birth of the famed loyal dog Hachiko, the club came up with three designs with an Akita dog motif, which were voted on by fans in late July.
The overall color of the FANS uniform is orange, inspired by the fur coat of an Akita dog. The sides of the jersey are finished with a camouflage pattern with silhouettes of Akita dogs, while also using pink, the team's color, for some of the design. On the back are two paw prints, which means "push the player's back to give them support." The dog's tail is drawn on the lower part of the uniform and symbolizes the burning fighting spirit. If you look closely, you can see the word "AKITA" hidden in the tail.
The public relations manager said, "We were particular about making the tail look cute when our fans wear it. We hope they wear this uniform and cheer for the players at the games."
The date of the Fan's Day home game will be announced later. The FANS uniform is a membership benefit for platinum, black, gold, and regular members. The uniforms will also be on sale to the public.