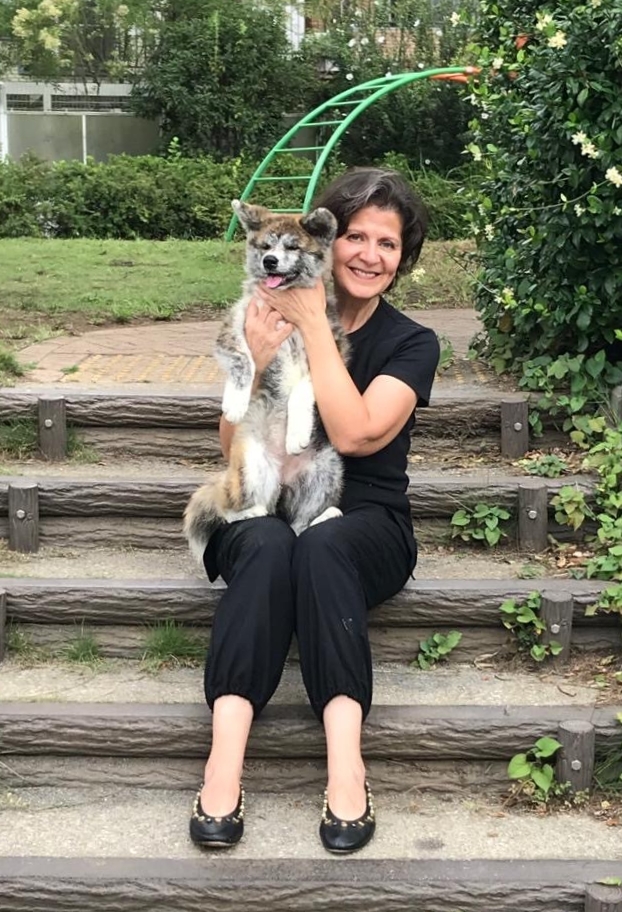 Noshiro City of Akita Prefecture is the host town to the Hashemite Kingdom of Jordan for the Tokyo Olympics and Paralympics scheduled to be held next year. The city of Noshiro delivered an Akita Inu (dog) to Ms. Lina Annab, Jordanian Ambassador to Japan. The dog was raised at an Akita Inu kennel called "Noshiro Kojuso," which is owned by Motose Junichi. The City gave the four-month-old Tora (Sesame) female to Ambassador Annab as a symbol of friendship, which she named Kimi.
According to the Tourism Promotion Division of Noshiro City, Ambassador Annab requested an Akita Inu in February of this year. The City suggested to present the dog as a symbol of friendship, but Ambassador Annab offered to purchase it privately. After watching a video highlighting three types of Akita Inu: "Shiro (Pure White)," "Aka (Red)," and "Tora," Ambassador Annab chose "Tora" without hesitation.
On September 14th, the Akita Inu Conservation Society and Mr. Motose delivered Kimi to the Ambassador's residence in Shibuya, Tokyo.
Mr. Motose is also known for raising the Akita dog "Masaru" given to Ms. Arena Zagitova, a Russian figure skater and gold medalist of the Pyeongchang Winter Olympics. While discussing Kimi, Mr. Motose said, "Of the eight dogs born on the same day, she is the most docile and honest, she is amenable." The Tourism Promotion Division staff said, "We hope Kimi will grow up vigorously like a bridge of friendship with Jordan."