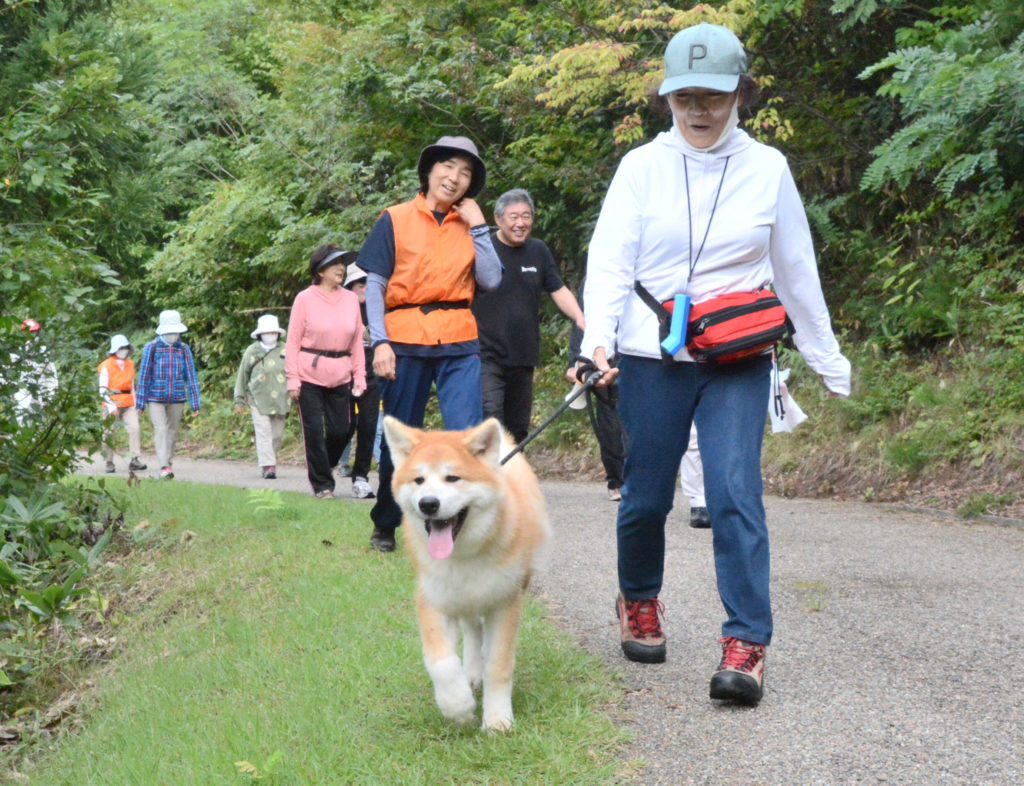 Interested in taking a walk with a cheerful Akita dog? The general incorporated association, Healthcare Design Akita (Representative of Toshima Satoshi), in Mitane town, Akita Prefecture, will start a full-scale promotion of its unique experience program "Walking with Akita Dogs." Earlier this month, Healthcare Design Akita began caring for a puppy named "Masa." Masa practiced walking with people to prepare for this new program's opening day, which took place on September 25th of this year.
Masa is a 5-month-old male and has a pleasant personality. The association purchased Masa from a breeder in Noshiro City and received him on the 18th of this month. In the new program, participants will walk together with Masa along a walking course in Mitane, promoting "Kurort Healthy Walking," a treatment used at Kurort (health resort) in Germany.
On the morning of the 20th, staff members of the association and thirteen local walking enthusiasts strolled along a walking course with Masa in Mitane's central park, which has beautiful nature and wonderful scenery. This training will help Masa get used to walking the path as well as interacting with people. The participants pleasurably said Masa was "lovely" and "healing," while watching Masa's playful acts.
In September 2019, "Walking with Akita Dogs" became the first program in Akita prefecture to obtain the "Healthy Tourism Certification" awarded by the government. Initially, the program started with the cooperation of the townspeople who raise Akita dogs. However, the association eventually decided to raise and keep Akita dogs on their own and began developing the program as a future business pillar. Kamada Masahiro, a staff member of the association, now oversees the breeding of the dogs.
Representative Toshima, age 65, said, "I'd like to connect this program to expand further communication between Mitane and people, both residents and non-residents of Akita. I hope many people will walk with an Akita dog in the beautiful nature, inhaling the clean air, and feel a sense of healing."
The fee for "Walking with Akita Dogs" is 2,000 yen per person. For applications and inquiries, please email: healthcareakita@gmail.com.