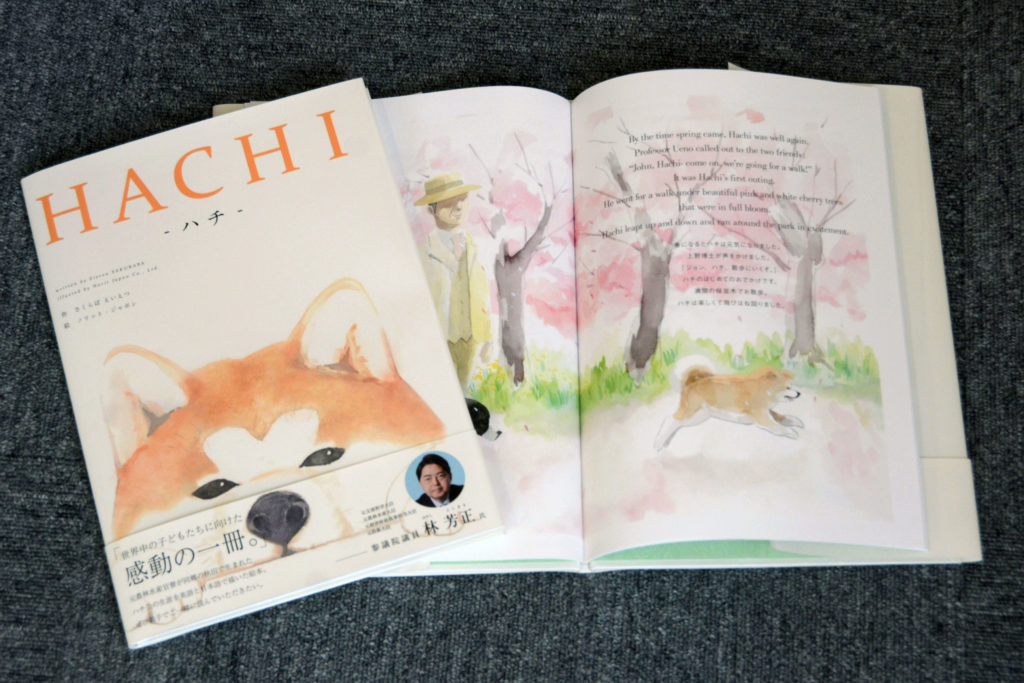 A new English picture book titled HACHI is based on the famous loyal dog Hachiko from Odate City, Akita Prefecture. HACHI will be published on March 8th, 2021, the anniversary date of Hachiko's passing. Mr. Sakuraba Eietsu, a former bureaucrat of the Ministry of Agriculture, Forestry and Fisheries from Katakami City, Akita, is the current advisor for the regional revitalization of Odate City. Mr. Sakuraba created HACHI to promote Odate City and Akita dogs throughout the world. A press conference to highlight the new book was held at Odate City Hall on February 9th, 2021.
Mr. Sakuraba conducted historical research to produce an accurate account of Hachiko's life. He wrote HACHI in simple English, equivalent to a Japanese junior high school level, and included Japanese as well. Akita based company Norit Japon, which specializes in package designs for prefectural products, oversaw the drawings in HACHI. Mr. Sakuraba will publish 3,000 copies at his own expense through his affiliation with Japan Food Newspaper in Tokyo.
Mr. Sakuraba attended the press conference remotely from Tokyo. He said, "Many people including tourists that pass-through JR Shibuya Station see Hachiko's bronze statue. I wanted to introduce his life and his hometown in an easy-to-understand manner overseas." He also mentioned that he tried to express four clear seasons of Hachiko's hometown vividly.
HACHI is in A4 format with 32 pages. The price is 1,980 yen. It will be sold on the website of a Destination Management/Marketing Organization of Akitainu Tourism, organized by four municipalities of northern Akita Prefecture, including Odate City. Hachiko was born in November 1923 and died on March 8th, 1935. Shortly after his birth in Odate City, he was sent to his owner in Tokyo. It is widely known that Hachiko faithfully waited for almost ten years at Shibuya Station for his owner to return, even after his master's untimely death. There are movies based on Hachiko's life, including the U.S. movie in 2009, Hachi: A Dog's Tale.