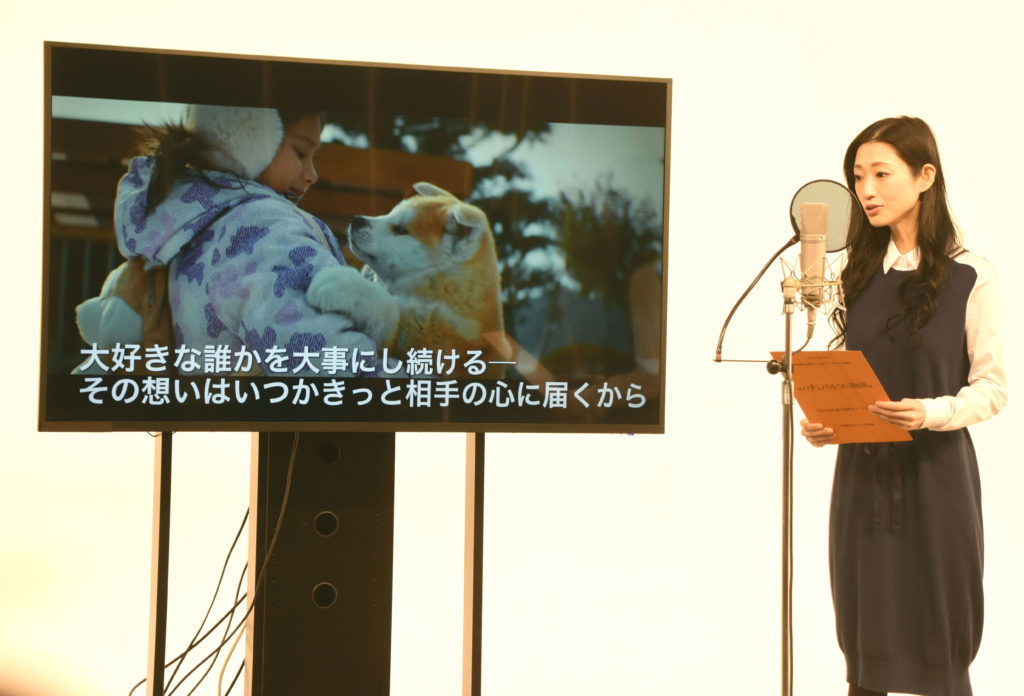 A recording event for the Japan-Russia co-production film Palma was held at a Tokyo studio on March 4th, 2021. The movie features a loyal Russian dog named Palma, which reminded everyone of Hachiko, the famous Akita dog. One of the movie casts, Ms. Dan Mitsu from Yokote City of Akita Prefecture, recorded her narration for its trailer. The film was released last month in Russia and will hit theaters on May 28th of this year in Japan nationwide.
Ms. Dan recorded some of her lines for the 90-second trailer, including "A miraculous story that connects Japan and Russia." During the Q&A session, Ms. Dan shared her memories of filming and the behind-the-scenes stories in Akita Prefecture. She recalled the location shoot, saying, "Despite the cold weather, the filming went smoothly thanks to the hard work of all the filming crew, as well as supporting actors."
Ms. Dan also mentioned the charms of Akita dogs, saying, "They are loyal and trust people. I love their broad legs, and their cute babyfaces. It is clear why they are so popular all over the world." Ms. Dan added that her parents had an Akita dog before she was born.
The film tells the story of a German Shepherd named Palma, who was inadvertently left behind by her owner at a Moscow airport and eventually builds a bond with a lonely boy named Kolya. Ms. Dan introduced the movie by commenting, "I think more and more people these days are getting impatient and cannot 'wait.' We are expected to achieve results as soon as possible. I hope that people will learn something from Palma to think that 'waiting' may not be so bad."
The shooting location took place in Odate City in Akita Prefecture from November 2019 to January 2020. Ms. Dan plays the director of "Akita Inu no Sato," a museum complex introducing Akita dogs. Takamatsu Jun, another actor from Akita Prefecture, plays the director of a different facility, "Akitainu Kaikan."
Other Japanese performers include Watanabe Hiroyuki and Fujita Tomoko. Russian performers include a special appearance by Alina Zagitova, a gold medalist in women's figure skating at the Pyeongchang 2018 Winter Olympics. Miss Zagitova has an Akita dog named Masaru.
Tokyo Theatres Company and Heisei Project will distribute the film.