Jan 17,2020
A cheerful cry of "woof, woof, woof" echoes in a junior high school schoolyard in Tainan City, southern Taiwan. A total of 57 Akita dogs entered the Taiwan Branch Exhibition of the Akita Dog Preservation Society in December 2019. The dogs showed off their dignified manner and competed with each other, bringing a lot of joy to the Taiwanese Akita dogs' fans. A reporter offered a report on the exhibition and the situation of Akita dogs in Taiwan.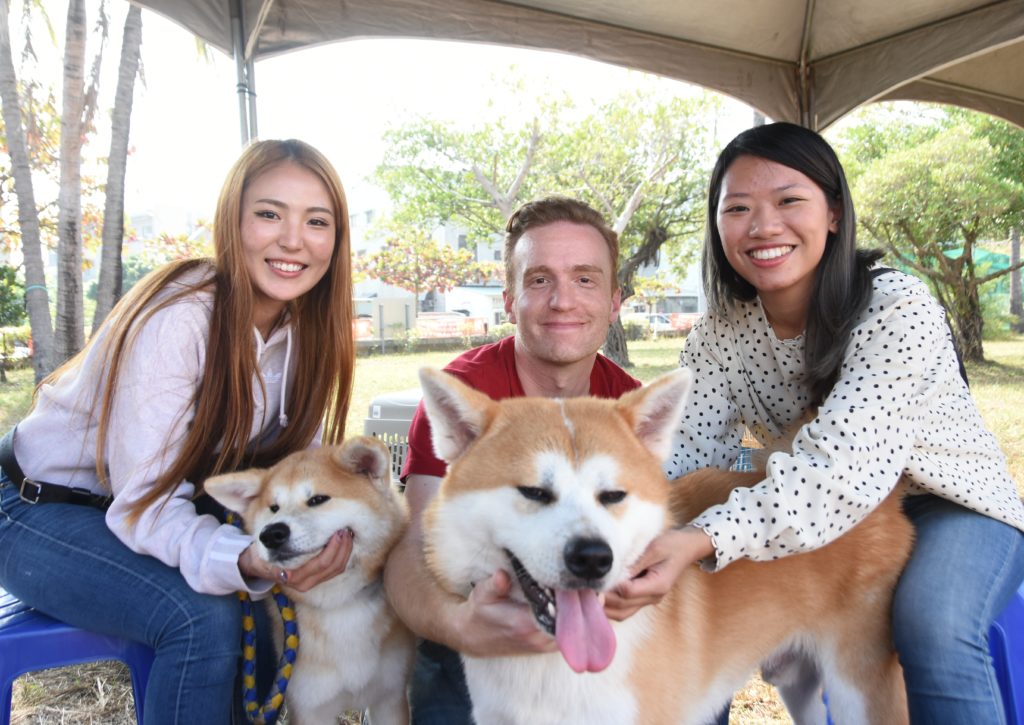 Under a clear blue sky, the exhibition proceeded based on two categories: age and gender. Their owners led the dogs to stand in front of the judges to be closely observed on how their ears stand and how their tails curl. It was impressive to see how the dogs straightened their backs and looked forward with a sincere face. Though the temperature reached over 30 degrees Celsius, all the dogs kept their concentration and stood beautifully.
Mr. Wakamatsu Yoshinao, who has been a judge for 16 years, came from Odate City, Akita. He gave some advice to the Taiwanese owners, saying, "In Taiwan, where the weather is warm all year round, dogs tend to get less exercise and become smaller. Therefore, owners should exercise their dogs as much as possible while paying attention to the high temperature."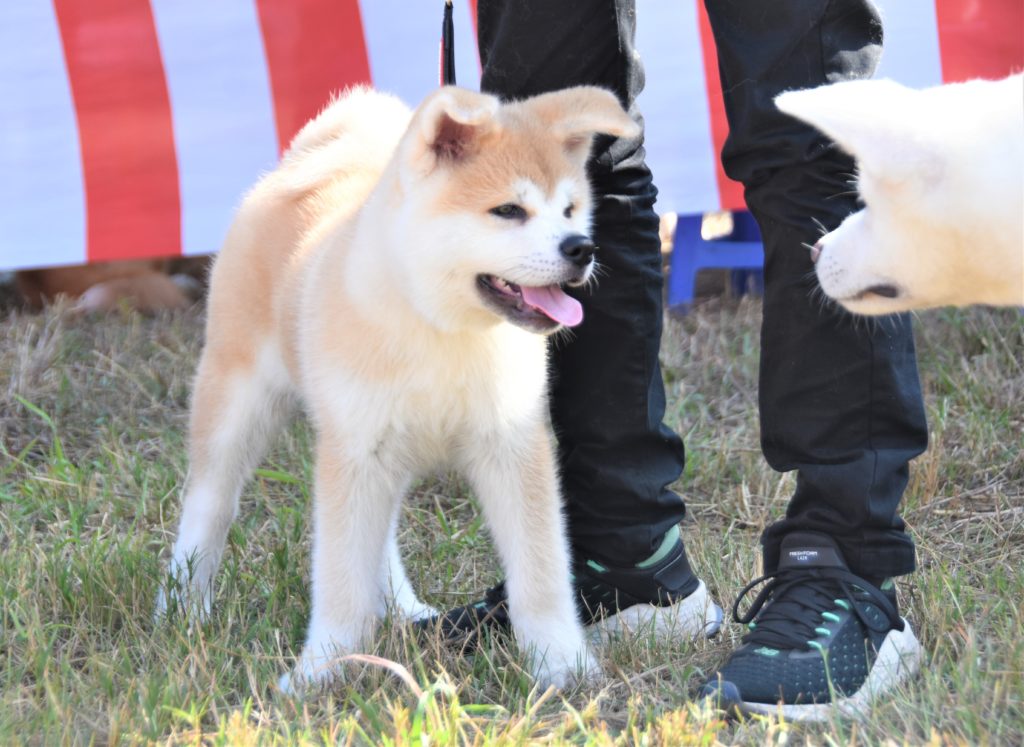 Noticing the challenges of covering the exhibition in an unfamiliar Chinese environment with a translator at hand, Miss Uejo Miyu, a Japanese participant, offered her help translating.
Miss Uejo, from Okinawa Prefecture, came to Taiwan on a working holiday visa in November 2018 and currently lives in Taoyuan City with her Taiwanese boyfriend, Mr. Su Bocheng. She attended the exhibition for the first time with her beloved dog Goromaru (a six-month-old female). Mr. Su gave her the dog as a gift because he knew how much Miss Uejo genuinely loves Akita dogs. "Goromaru is very smart, but sometimes she is super clingy. That's what makes her even cuter," she said with a smile.
In Japan, only a small percentage of people who own Akita dogs as pets participate in such kinds of exhibitions. When asked why she decided to participate in this exhibition, Miss Uejo replied, "Because the breeder from whom we bought the dog recommended it to me." She then introduced Mr. Jiang Yuanjin, who runs an Akita dog kennel called "Tian Mei Zhuang" in Taipei City.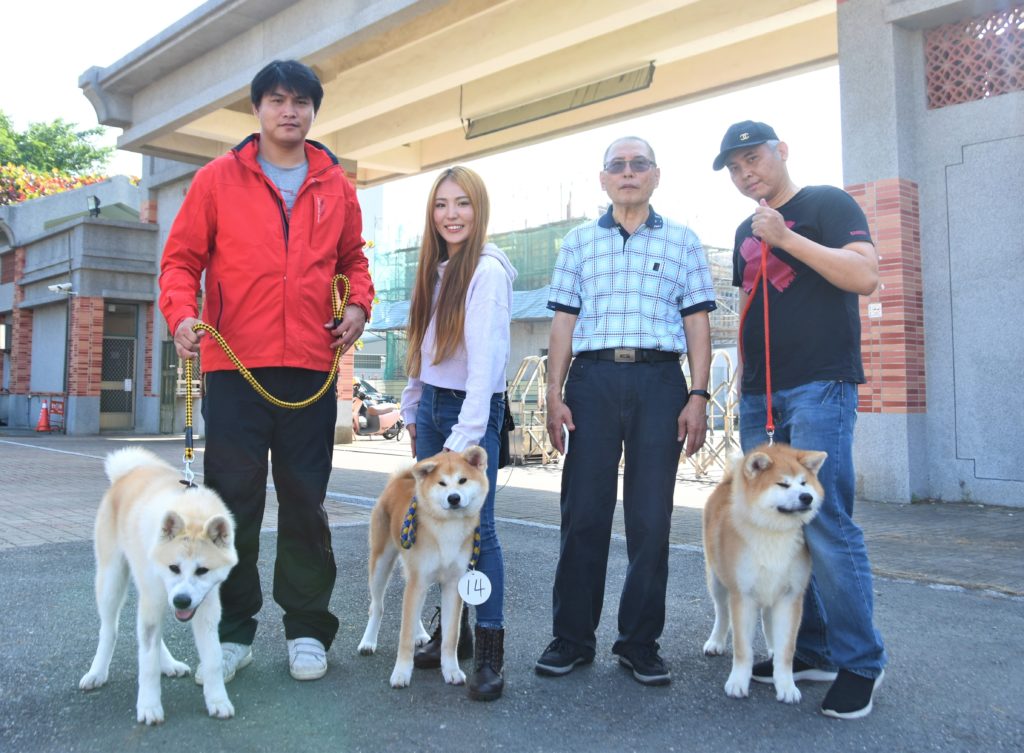 Mr. Jiang, who runs a leather goods store and is also a breeder, sells about ten puppies a year. He started keeping Akita dogs about 30 years ago after meeting one owned by a friend and became deeply charmed by their loyalty. Moreover, Mr. Jiang began the breeding business because he felt a sense of crisis when the number of members in the Taiwan branch was decreasing year by year.
According to the Taiwan branch, the number of Akita dogs in Taiwan is estimated to be about 300, which has decreased by about 200 from its peak in the 1990s. It is believed that the economic downturn is behind the decline. Meanwhile, the branch's membership has continued to decline over the years, from 245 members in 1992 to 46 members in 2019. As a result, Mr. Jiang has been trying to change this situation by explaining the significance of the preservation society to puppy buyers and encouraging them to become members.
On the other hand, Mr. Xu Zhiqiang, the head of the Taiwan branch, feels that the popularity of Akita dogs is growing. "With the boom in popularity in recent years, the number of people who have shown interest in owning an Akita dog on social media is increasing, especially among the younger generation," he stated. With the hope of increasing the number of members through promoting the charm of Akita dogs, Mr. Xu also intends to improve the feeding techniques of Akita dogs by deepening exchanges with members in Japan.
Words like "Ke Ai" (cute) and "Piao Liang" (beautiful) were heard throughout the event, giving the sentiment that Akita dogs are adorable and loved by people all over the world. Additionally, it was surprising to learn that many Taiwan branch members have visited the annual headquarters exhibition held every May 3rd in Odate City. The hope is to see more and more exchanges between Japan and Taiwan based on Akita dogs.