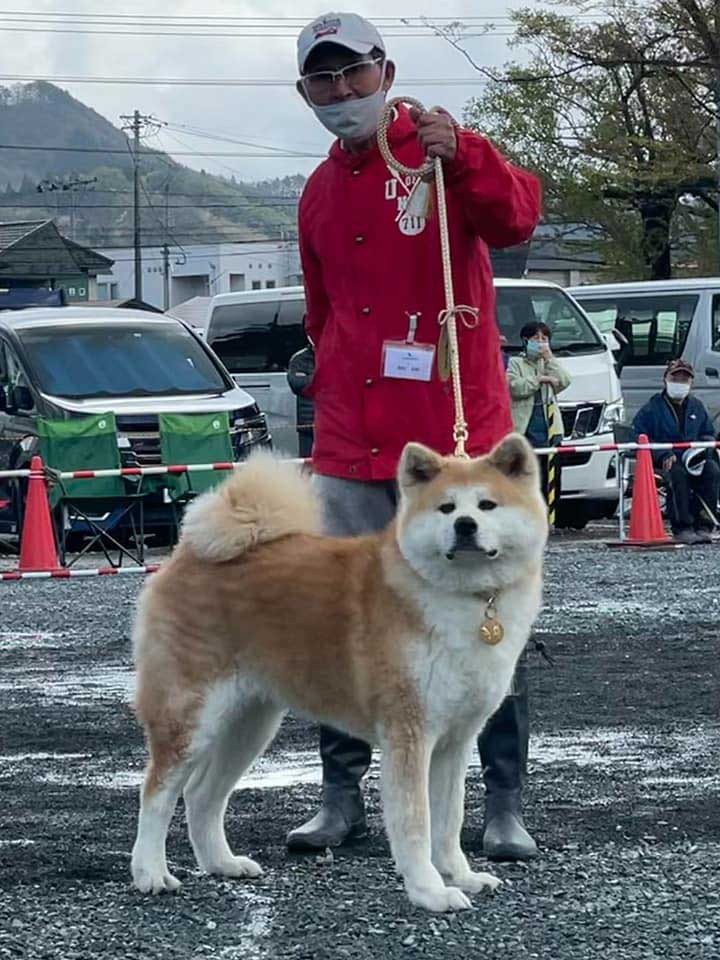 "I am so grateful for receiving this wonderful award with my first Akita dog. It feels like a novice golfer hitting the course for the first time and getting a hole-in-one."
Mr. Nohara Hidetaka from Ibaraki Prefecture recalls when he attended the 141st Akita Dog Headquarters Exhibition held in Koshigaya City, Saitama Prefecture, in December 2019. His female Akita dog Hanamaihime won the Akiho Medal of Honor in the Adult Dogs – A (four years and older) category for her outstanding performance.
At this year's headquarters exhibition, Mr. Nohara's Hanamaihime participated as an invitee. Another of his dogs, Daitenku, also entered and competed in the Adult Male Dogs – B (30 months – four years old) and won fifth place in the category.
Mr. Nohara has been a fan of Akita dogs for a long time and often visits the headquarters exhibition. He took in his first Akita dog six years ago. Mr. Nohara said, "Because everything was new to me, I started with observing and learning how other owners cared for their dogs."
According to Mr. Nohara, the "pulling exercise" is one of the essential practices for dogs. He said, "Instead of just walking dogs, I enhance their strength by pulling moderately on the leash, which helps develop their chest muscles."
Mr. Nohara walks his dogs twice a day, once in the morning and once in the evening. During their one-hour walk, he makes sure they do not walk only on asphalt roads, which helps prevent causing too much strain on their legs.
At the headquarters exhibition, the judges evaluate the beauty of their standing posture and their composed attitude when surrounded by many people.
Mr. Nohara explained, "It's almost impossible to provide behavioral training when they are adults. That is why I discipline them from an early age to stand firmly and remain calm so they can act with confidence at the exhibition."
Mr. Nohara believes that it is important to consider their whole life when raising dogs, including after they "retire" from the exhibition. He said, "Even excellent dogs, like those who aim for the Medal of Honor, typically do not compete beyond the age of five. Therefore, considering the rest of their lives, I think owners should raise their dogs to have good social skills and communicate well with other dogs and people. It is the best choice for their future."