Shodai and Omochi are two Akita dogs raised by two members of the Community-Reactivating Cooperator Squad in Odate City, Akita Prefecture. They are leaving the city with the squad members whose term of service will finish this month. The dogs have been popular among residents as signature dogs of the city's museum facility, Akita Inu no Sato. Therefore, many people feel sad to know their departure is coming soon. The two retiring members shared their memories and time spent with Shodai and Omochi.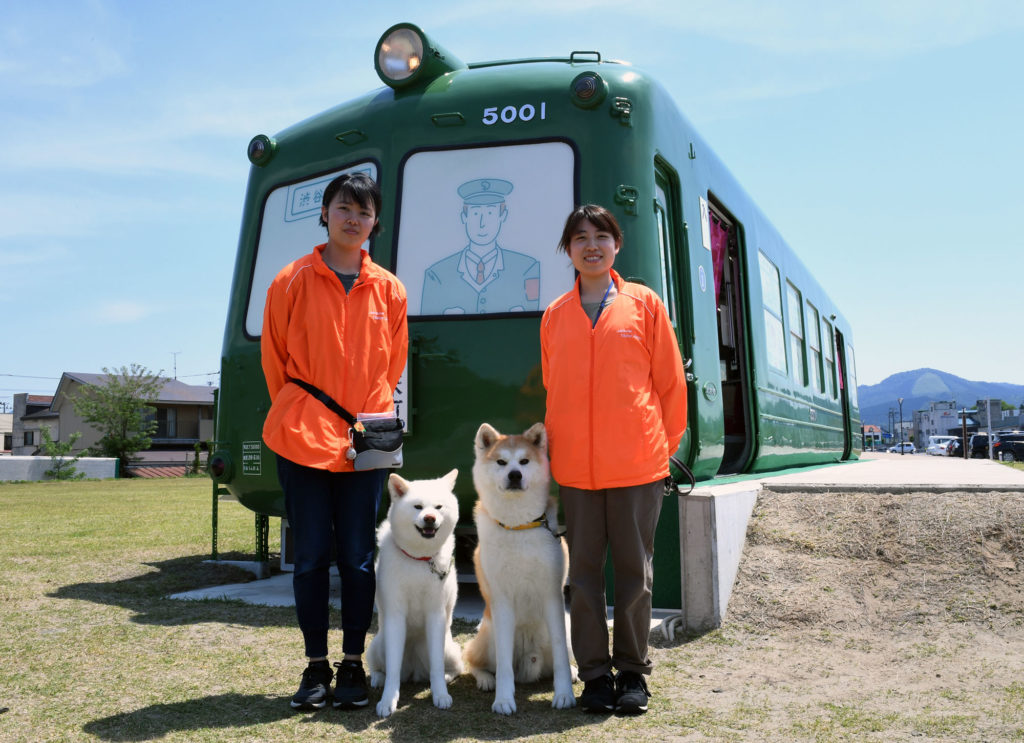 Shodai is a red-haired male dog born on February 15, 2018. He is famous for being the sibling of Masaru, the beloved dog of the Russian figure skater Alina Zagitova. Meanwhile, Omochi is a female dog born on June 1 of the same year. She has charmed people with her pure white hair, adorable figure, and rich joyful facial expressions.
Shodai is known as a friendly and service-minded dog, but his keeper Ms. Kato Hitomi, from Aichi Prefecture, recalls, "When I first met him, Shodai was very mischievous and didn't like to be touched."
At first, Shodai sometimes panicked in front of crowds until he grew accustomed to being around people. As Ms. Kato continued to train him and help him calm down, Shodai gradually became more comfortable with being touched by visitors when Ms. Kato was present.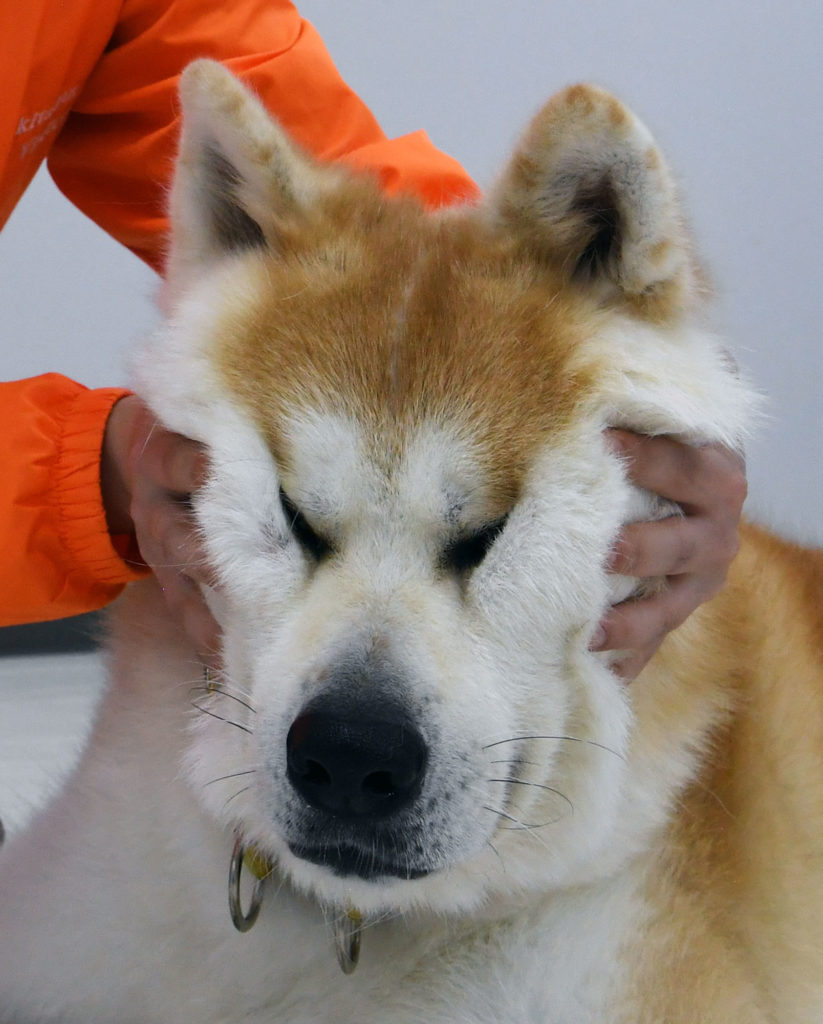 The support for one another is reciprocal as Ms. Kato expressed her gratitude to Shodai. "I was apprehensive and nervous about living alone for the first time. But with Shodai's company, I was able to complete my term, which I am grateful for.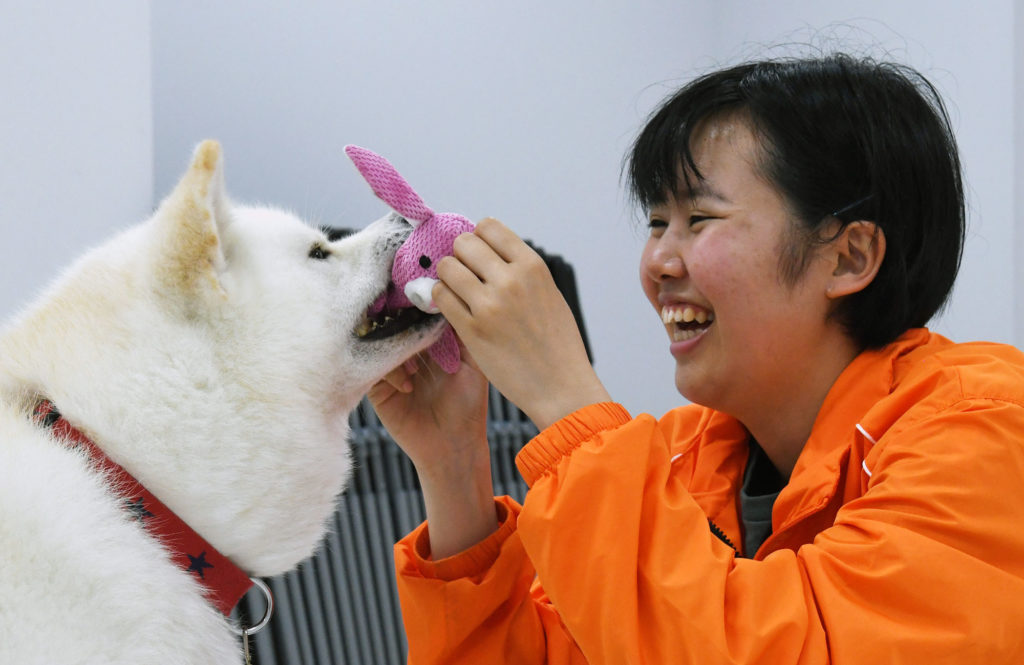 As for Omochi, her keeper is Ms. Harada Sakura, from Noshiro City, Akita Prefecture. She shared her stories about Omochi with us, saying, "When I took Omochi in, we were both timid and sensitive to loud noises. After spending time together, we were able to build a strong relationship in which Omochi feels safe when I am around, and I feel secure when she is by my side."
Furthermore, Ms. Harada mentioned one thing that particularly left a deep impression on her. The moment was when Omochi appeared on the cover of FRaU, a women's magazine published by Kodansha. "I never thought that Omochi would be on the cover of such a famous magazine," she said.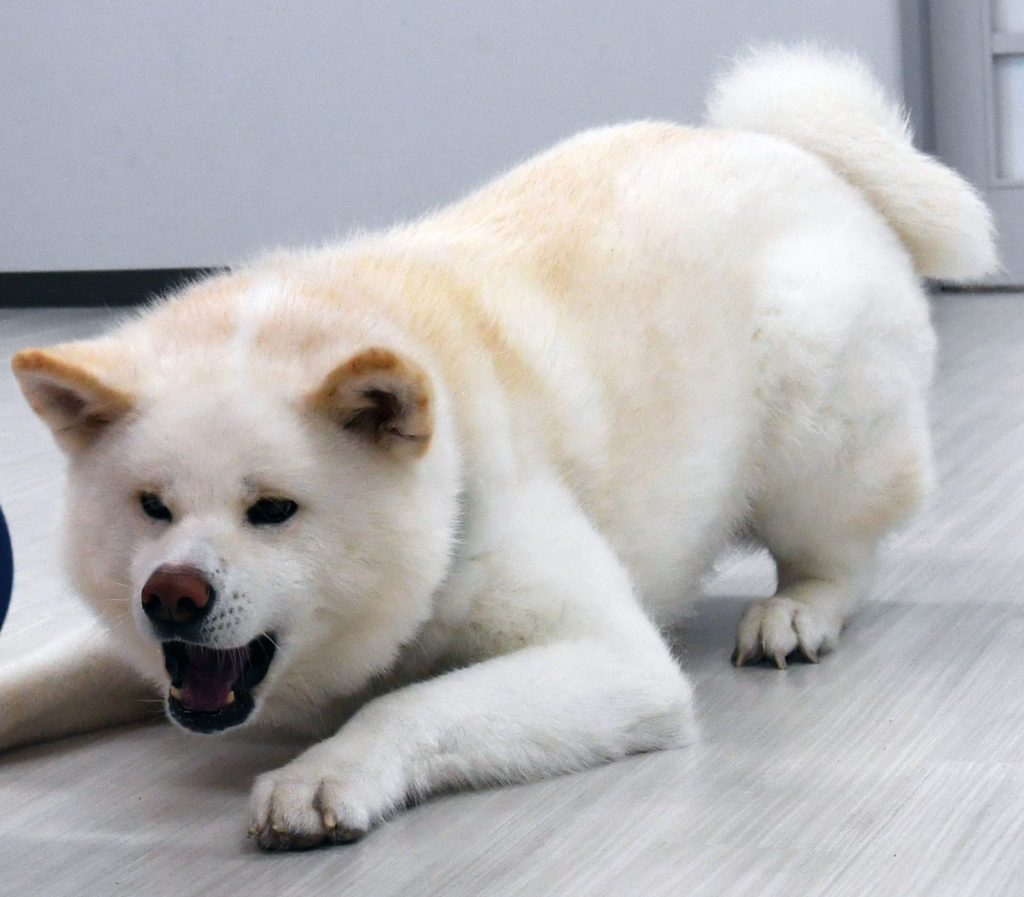 Ms. Harada celebrated Omochi's third birthday earlier this month with audiences on social media via live streaming. She emphasized, "It made me realize how a huge group of people loves Omochi."
Mr. Sato Kazuhiro, the director of Akita Inu no Sato, commented, "Ms. Zagitova's visit to our museum last month helped Shodai gain a lot of attention once again." He continued, "On the other hand, Omochi is also a very photogenic girl. Shodai is a strong male dog, while Omochi is relatively petite for an Akita dog, which contrasts with each other. Each of them has a lot of fans."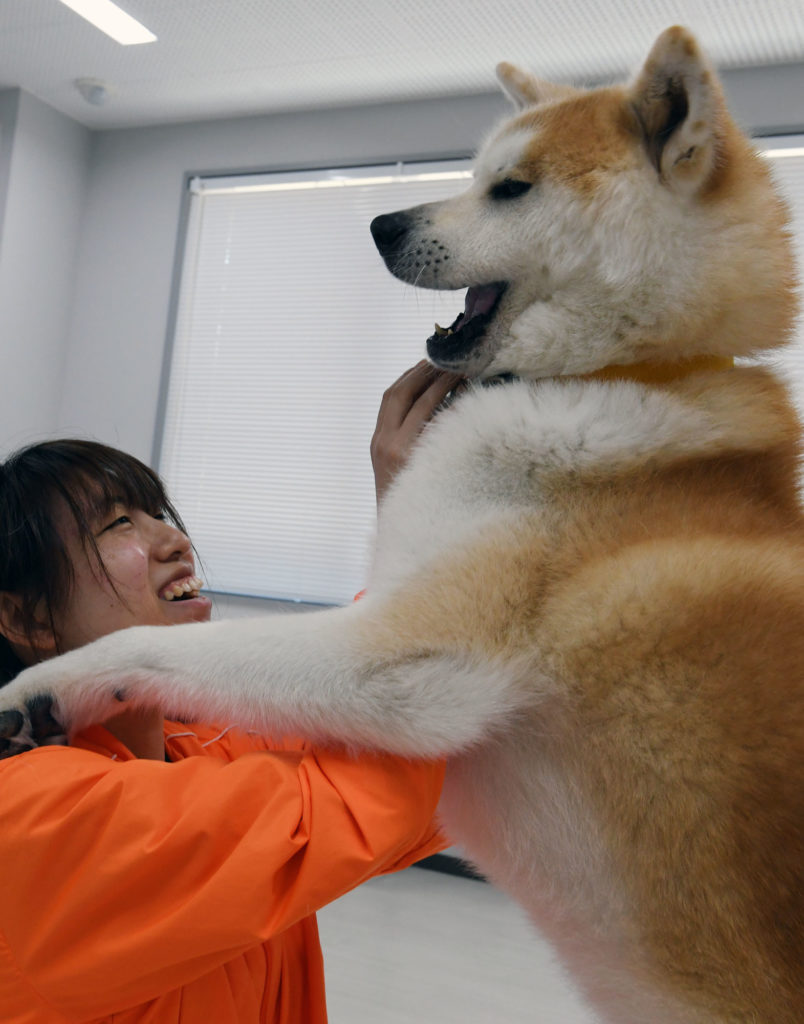 The two retiring squad members will be living outside of the prefecture after June. Since Shodai and Omochi are very fond of and loyal to their keepers, the city believes that it would not be in the best interest of the two dogs to separate them from their keepers. As a result, the city decided to let the members continue keeping the dogs even after leaving Odate City. "I hope in the future we can still have their support as fans outside of Odate," said Director Mr. Sato.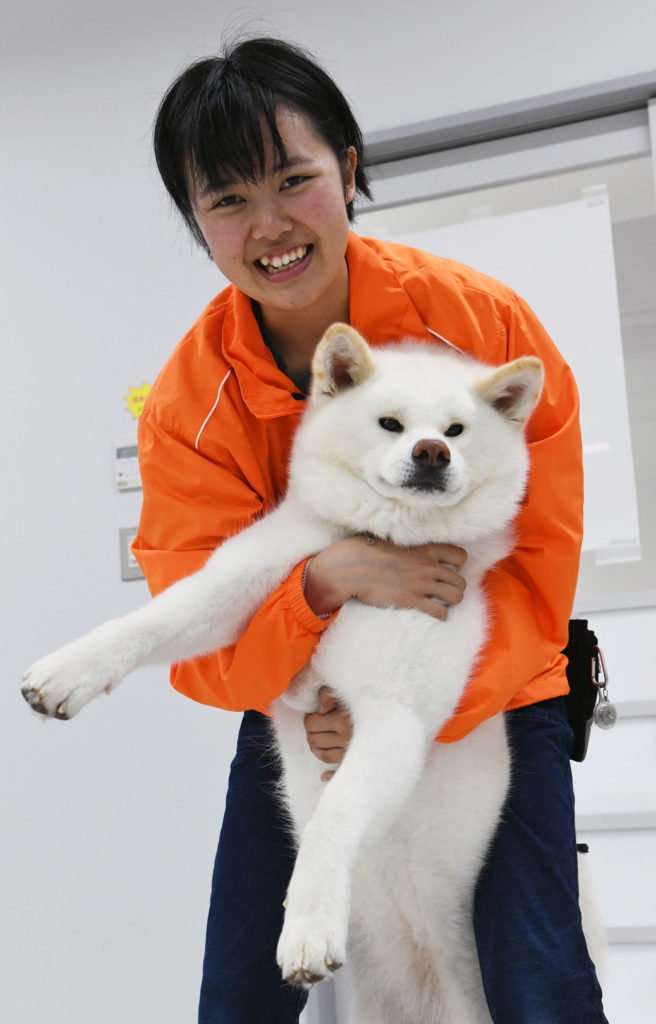 The graduation ceremony on the 26th of June will be the last time for the two dogs to interact with visitors at Akita Inu no Sato. However, because of concerns over the coronavirus, many fans are refraining from attending the ceremony. They have expressed their regrets by leaving messages on the squad members' social media accounts, saying, "I would like to go see them for one last time, but I can't…"
Meanwhile, there were many comments showing appreciation for the two dogs as well. Such as, "It was always very healing to see Shodai and Omochi, thank you for your comfort," and "From now on, please take time to relax and always stay healthy."
Ace of Next Generation – Homare: Please Trust Me with the Rest
After the graduation of Shodai and Omochi, the only Akita dog kept by the Community-Reactivating Cooperator Squad in Odate City will be Homare, a Tora (Sesame) female who will soon turn two years old. The keeper of Homare, Ms. Fujikawa Kotori, from Morioka City, Iwate Prefecture, recalls, "When I first started keeping her, I thought she would be a docile and shy girl, but now she is growing up to be bright and tomboyish."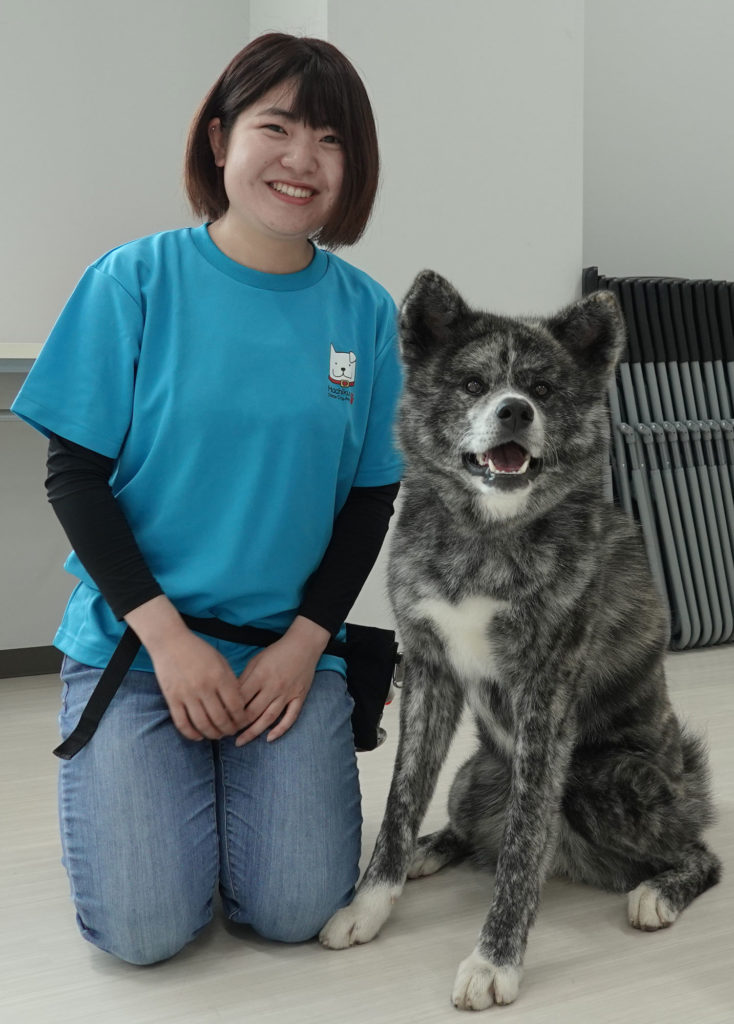 Now, more than a dozen dogs are raised separately by the squad members or members of the Akita Dog Preservation Society, and these dogs appear at Akita Inu no Sato, taking turns one by one. There is also a plan to invite Akita dogs living outside the prefecture to appear at the museum in the future.
Mr. Sato Kazuhiro, director of the museum, explained, "It is necessary for new dogs to get used to the exhibition room little by little so that they can stay calm in front of the visitors." Homare made her debut about a year ago. Therefore, she is expected to be the ace of Akita Inu no Sato to take the role over from Shodai and Omochi.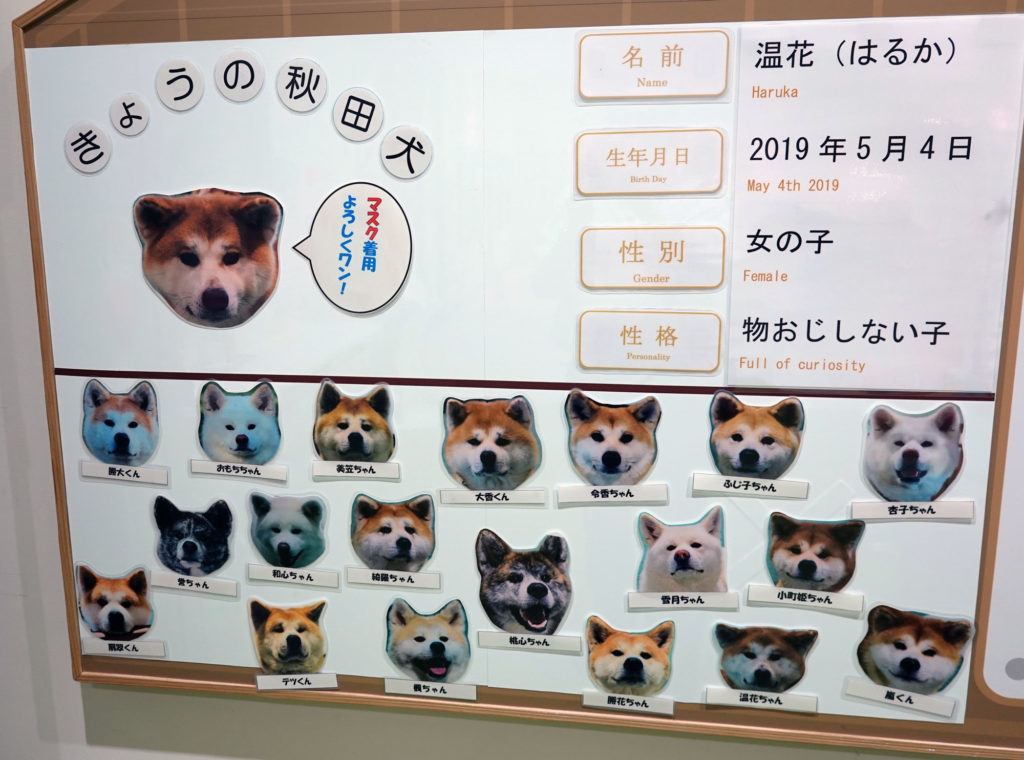 The name"Homare" was chosen through public solicitation to gather ideas from people around Japan. A woman from Aomori Prefecture who gave the name Homare expressed her wishes, "Tora shows strength and beauty, which are typical traits of Akita dogs. I hope Homare will become the honor representing Akita dogs and receive a good reputation."
Ms. Fujikawa enthusiastically said, "I hope more and more people will understand the appeal of the Tora Akita dog. Both Homare and I will work hard together in fulfilling this goal. At the same time, I'm looking forward to working with everyone in the Akita Dog Preservation Society to help promote Odate."