Liquor Shop Takahashi is open from 7:00 a.m. to 8:00 p.m. (open at 8:00 a.m. on Sundays and holidays) all year round. Every morning, Mr. Takahashi Seiki, husband of Mrs. Takahashi Nobue, goes to the store earlier to prepare for opening. Mrs. Takahashi and Umeko come into work at around 7:30 a.m. Since the store is right in front of their house, it takes less than a minute for them to go to work.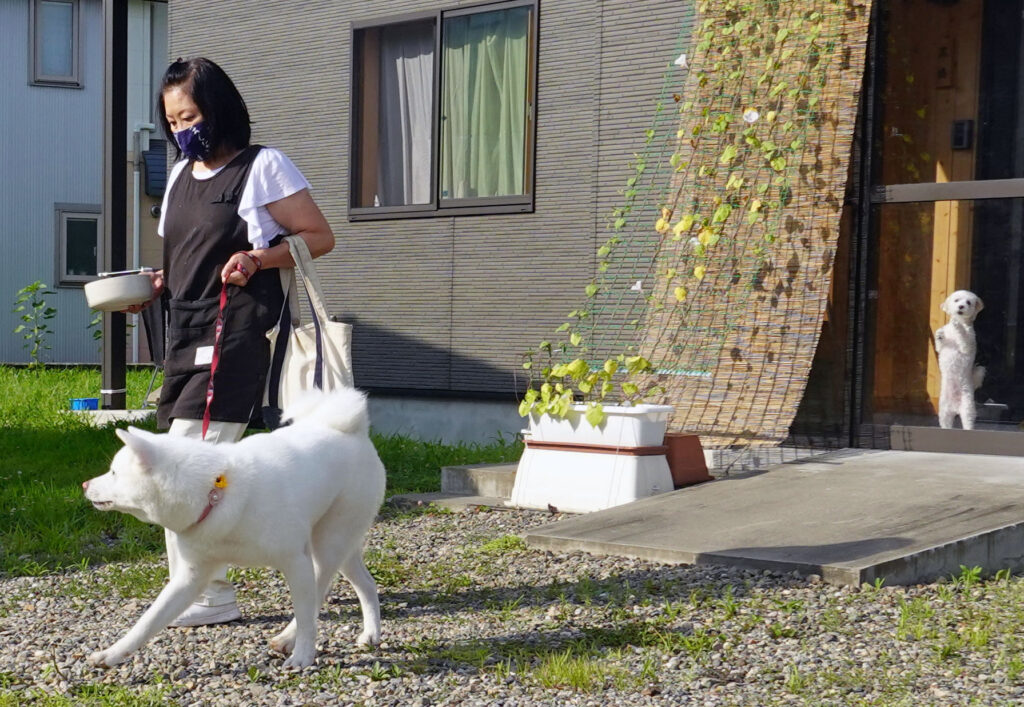 After their morning walk, it is time for breakfast. Umeko doesn't have a big appetite, so the amount of food she eats changes depending on her mood. On this day, she ate only about half of the food on her plate. Therefore, Mrs. Takahashi took the plate with the remaining food and went to the store with Umeko.
Umeko stays mainly near the checkout counter until the store closes unless she must go to the veterinary clinic, trimming, or another appointment. There is a special spot for her next to the cash register near the main entrance facing Route 282. She also has a nameplate that reads "Takahashi Umeko." Sometimes Mrs. Takahashi keeps Umeko on a leash, and sometimes she uses a fence to separate the counter from the rest of the store and then loosens the leash so that Umeko can walk around freely.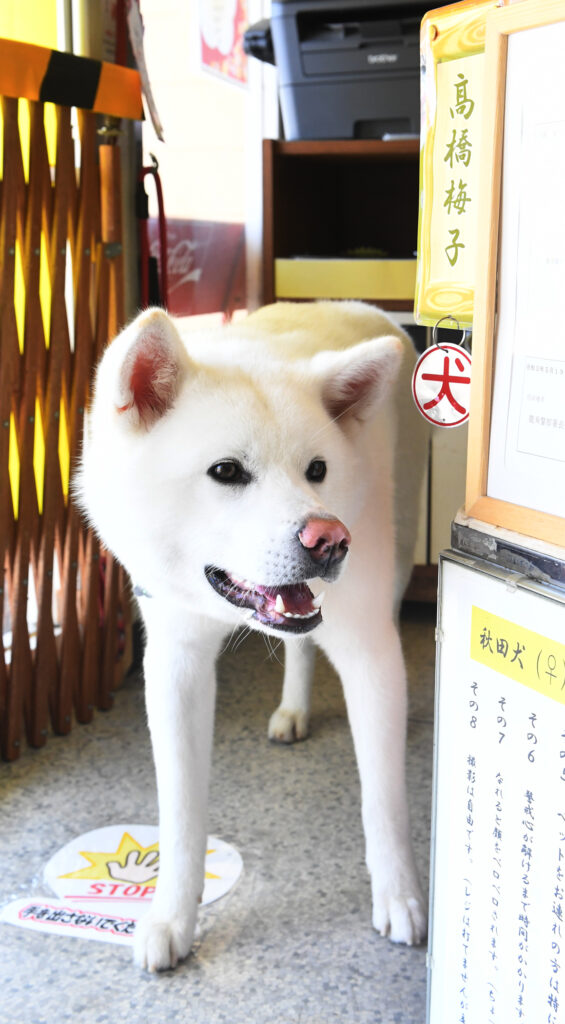 On the other edge of the counter opposite Umeko's special spot are her water and the food brought from home. The store's restroom is in the storage room behind the counter.
Since Umeko's spot is close to the entrance, it often gets direct sunlight in the morning, making the area extremely hot. On the day of the interview, it was sweltering throughout the prefecture, with Odate City recording the highest temperature of 37.3 degrees Celsius. Even one of the reporters felt dizzy because of the heat while taking videos of Umeko. He had to run to the air conditioner in the store to try and cool down. But Umeko looked unconcerned and stayed there quietly.
According to Mrs. Takahashi, when children pass by on their way to the local elementary school, Umeko always stands in front of the store and sees them off. But because the kids are on summer vacation now, it was a shame that we couldn't witness this scene. "Whenever a regular customer walks by our store, Umeko reacts with joy," Mrs. Takahashi added. It seems that keeping track of the comings and goings of customers is part of Umeko's "job."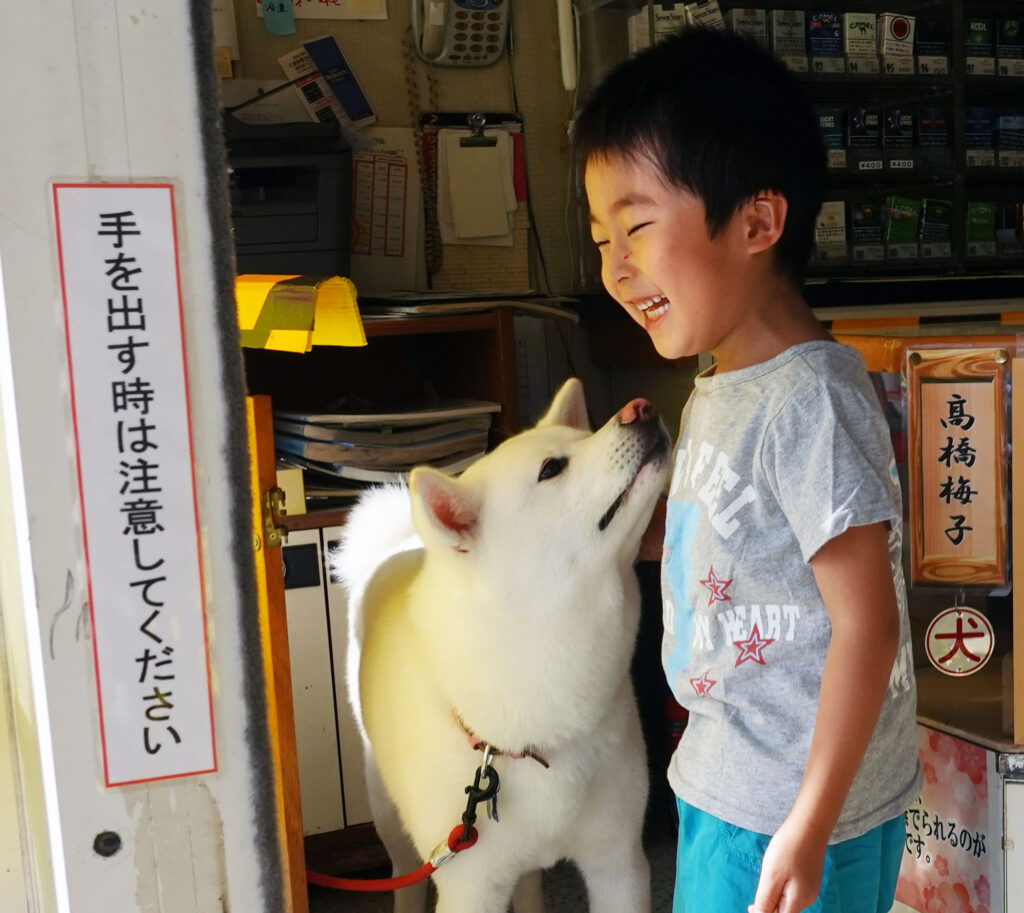 At around 7:40 a.m., two children came running into the store. They are the grandchildren of Mr. and Mrs. Takahashi, Riko, and Issa. Both go to kindergarten in Kosaka, but they come to the store at least once a day and are good friends with Umeko. The moment they got here, Issa immediately began to play with Umeko even though he is allergic to Umeko's hair, which causes itching.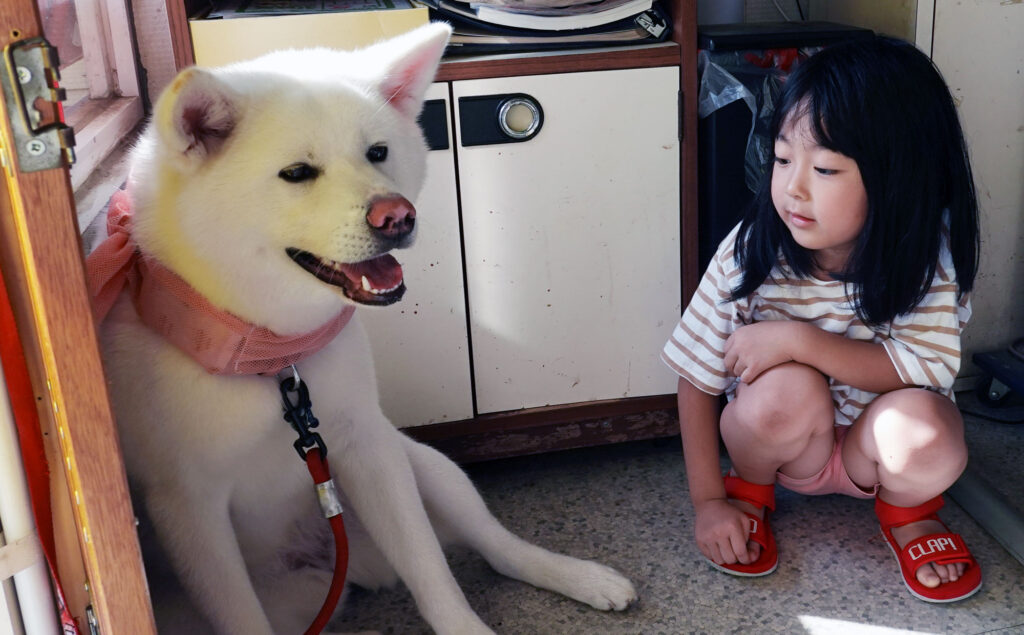 When Umeko first came to the Takahashi family, there was not much difference in size between Riko, Issa, and Umeko. But Akita dogs are known for growing quickly, and now Umeko is much bigger than them. Even so, they both said that they love Umeko because she is so cute. They showed no fear and were having a good time playing with Umeko.
Cashier Video of Akita Dog Went Viral! Explore the Daily Life of Umeko, the Signboard Dog of a Liquor Store
(1)Umeko's Morning Walk
(3)Becoming a Cashier Assistant
(4)Interacting with Regular Customers
(5)Playtime After Closing