When Umeko first came to the Takahashi family in September of last year, she was only one and a half months old. She was born in July with two other siblings at a kennel in Odate City. One of them, Pepekeo (male), now living in Kumamoto, was once featured in our newspaper last year.
Pepeekeo Becomes a Symbol for Expanding Japanese Culture at the Foot of Mt. Aso
Mrs. Takahashi Nobue has owned various dogs, including Bibi (a Maltese/Poodle mix), but Umeko is her first Akita dog.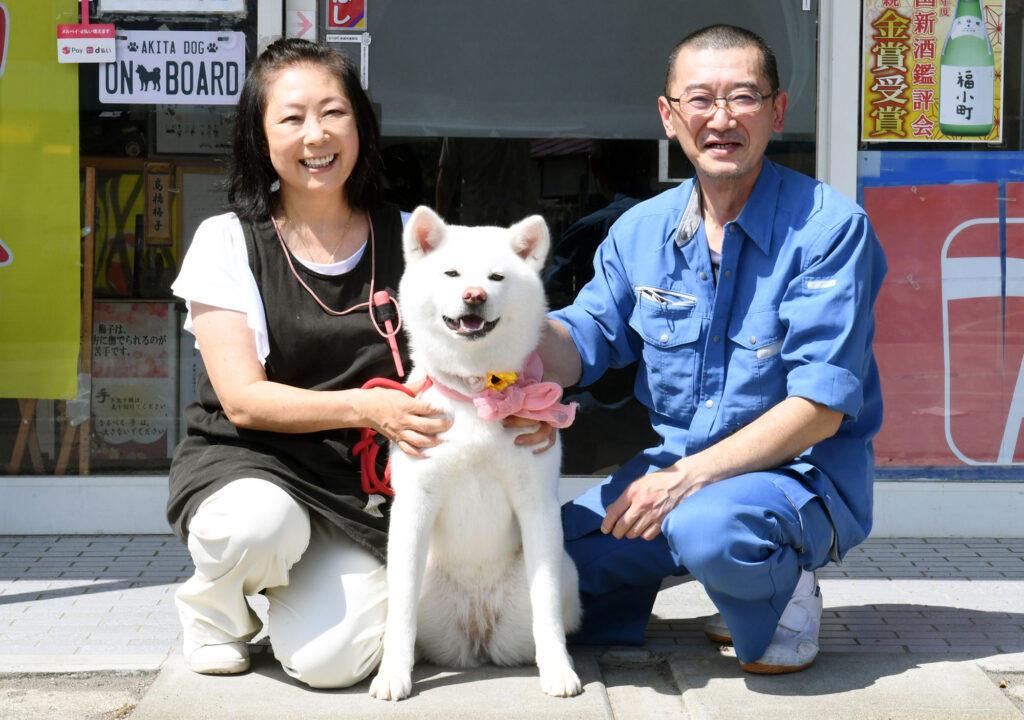 "I had wanted an Akita dog for a long time," said Mrs. Takahashi. "It was a great chance for us when I learned that the Akita Dog Preservation Society was looking for an owner. Luckily, I was able to catch this opportunity."
Before welcoming Umeko home, Mrs. Takahashi went to the kennel several times to see her. Meanwhile, she put a lot of effort into thinking of a name for the puppy to match their surname. In the end, they decided to name her Umeko.
When Mr. and Mrs. Takahashi decided to keep Umeko, they also decided to bring her to their store. They believed, "If Umeko gets used to interacting with as many people as possible, gradually she would become less scared of humans." Umeko started going to "work" at the store from the second day she joined the Takahashi family. In the beginning, she barked at almost every customer. Even now, she seems to be a little uncomfortable with male customers.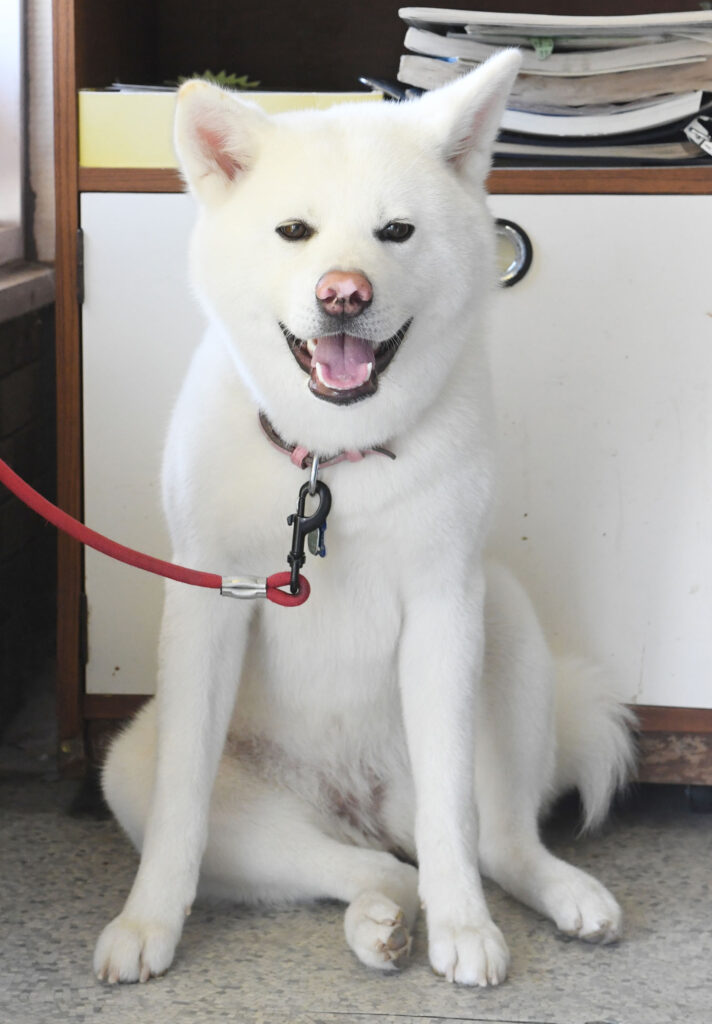 The male reporter taking videos of Umeko recalled that Umeko sternly barked at him when he first arrived. However, when his female colleague joined the interview later that day, Umeko didn't bark at her at all. On the contrary, when the female reporter tried to feed Umeko snacks, she ate them without hesitation.
The female reporter expressed her surprise, "Umeko did not show any resistance to me even though this is the first time we met. She is so amazing." Looking at our surprise, Mrs. Takahashi said, "This is not usually how Umeko would act. She must like her a lot."
Umeko's life changed dramatically about seven months after she joined the Takahashi family. It was because of a video that Mrs. Takahashi casually posted on the store's Twitter page.
There is no doubt that Umeko is not a cashier by any means. Even so, her gesture of reaching for the cash register and seemingly trying to tap it caught the attention of many people, and the media rushed to interview her.
When asked how to explain Umeko's action in the video, Mrs. Takahashi answered, "I think Umeko must have been watching our actions and somehow understood that there are valuable things inside the cash register."
Since then, the number of people who have come to the store to see Umeko has increased. Mr. Takahashi Seiki, the husband of Mrs. Takahashi Nobue, said, "With the video being widely spread on the Internet, more people come expecting to meet Umeko."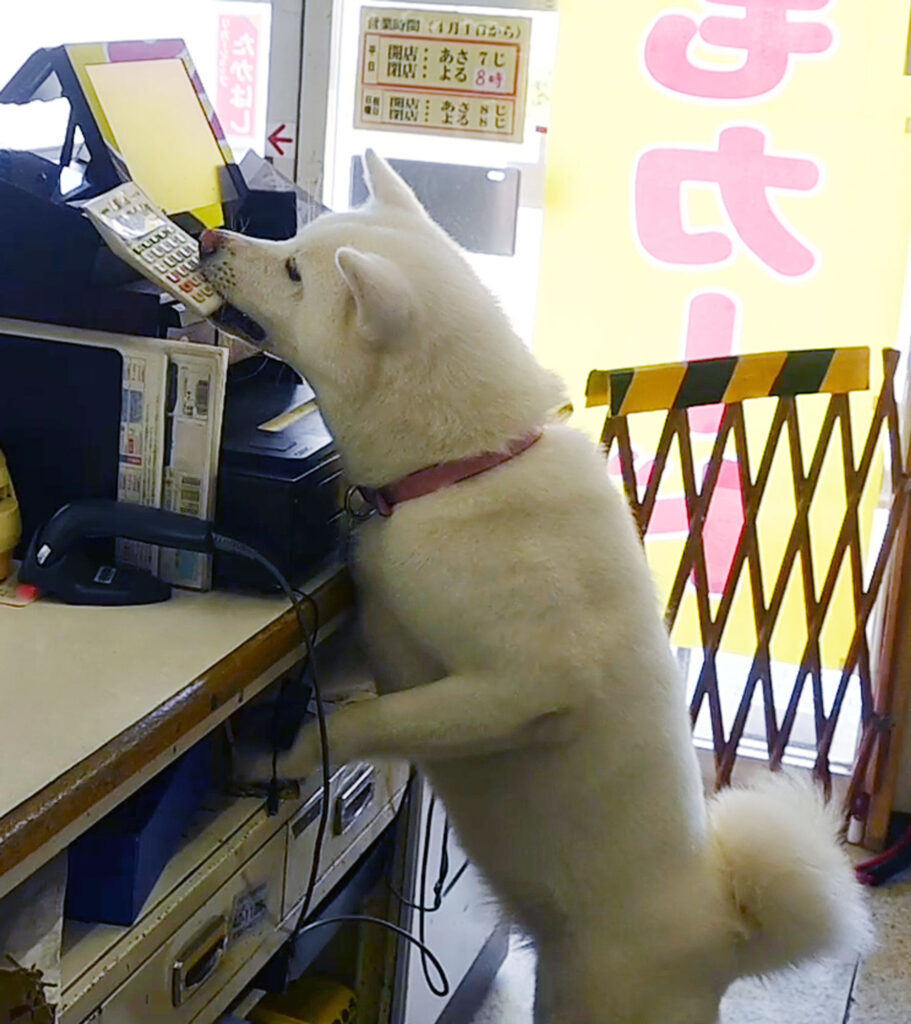 The video made Umeko famous and a local star. Umeko is now given the title of "Cashier, Department of Sales and Promotion" and has become the store's certified signboard dog. To promote the store and Umeko further, they have placed Umeko's business cards at nearby stores and gas stations.
In May of this year, a decision made by the Kazuno Police Station has brought Umeko even more attention. They decided to appoint Umeko as an "Akita Police Officer," accompanying police officers during some of their activities. Some activities include watching over elementary school children on their way between school and home and warning about scams, calling for preventive measures against fraud. When Umeko works as a police officer, she always wears a "uniform" handmade by the police station staff. The back of the uniform says, "Akita Dog Police," and the front has a matching "tie" and police "cap" that is adorable.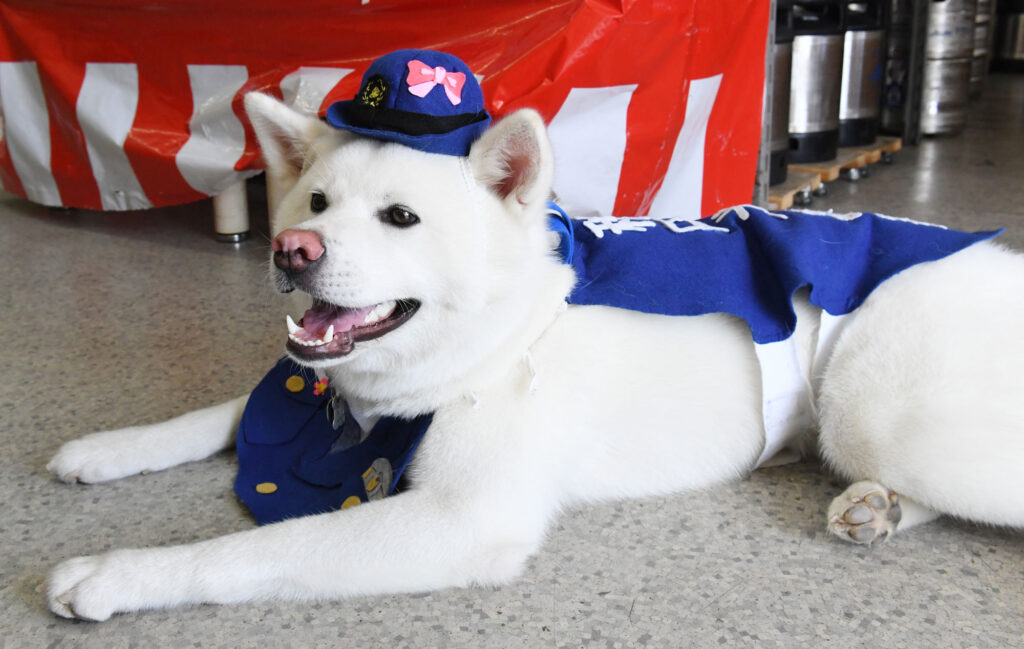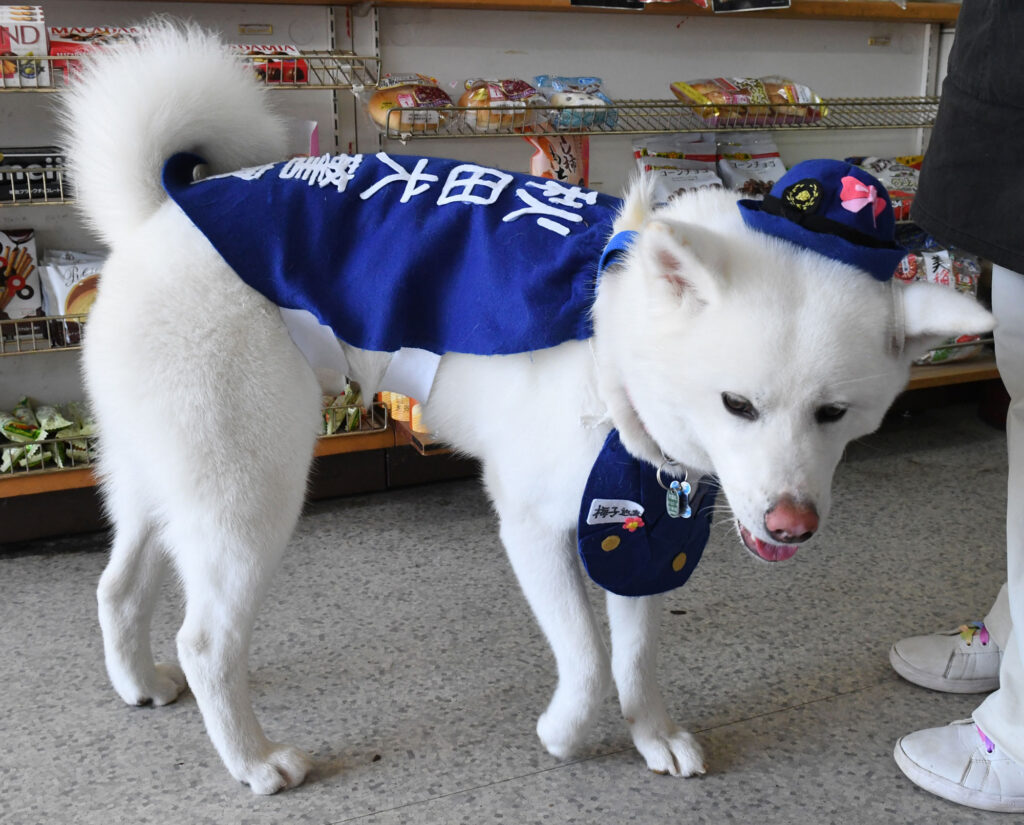 In late August, Umeko was scheduled to appear at the Akita Inu no Sato, a museum in Odate City. It was initially planned for July but was postponed due to Umeko's unstable health condition at the time. Mrs. Takahashi explained that Umeko is very timid and easily frightened and that she often gets sick after interviews with the media. But recently, she has gotten accustomed to it and is becoming more relaxed with such tasks.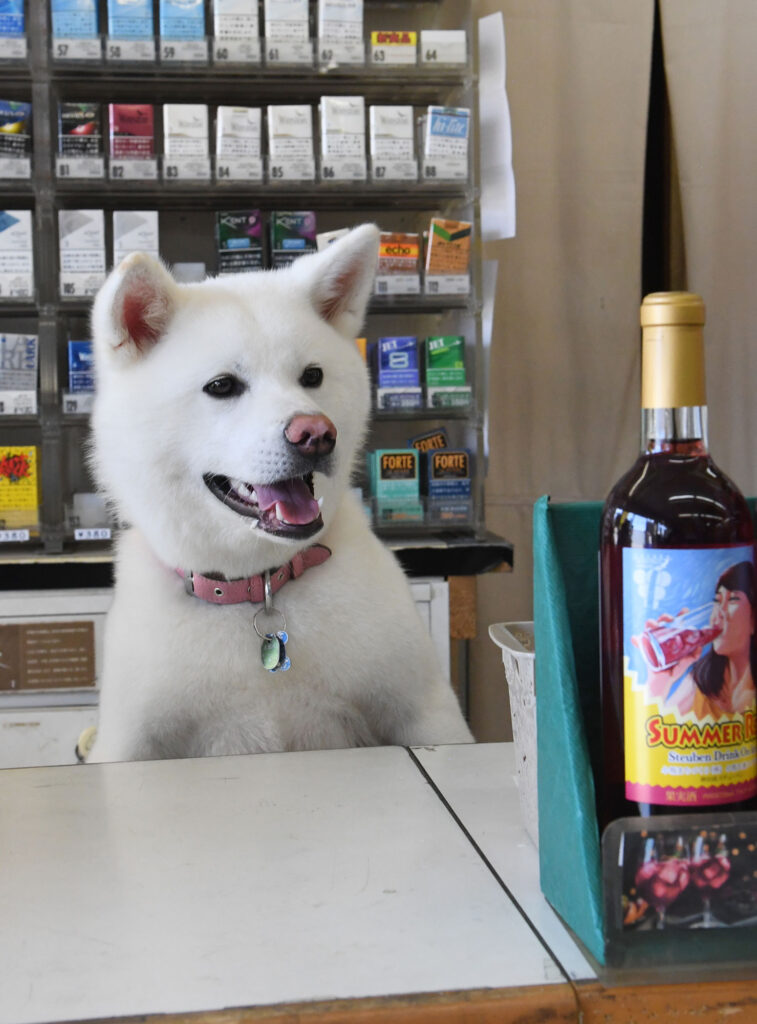 "When Umeko first came to the store, sometimes we would stay in the back and rest because we knew that Umeko would bark whenever there was a customer." Mrs. Takahashi continued, "However, recently, even when meeting unfamiliar customers, Umeko rarely barks."
But there are exceptions to when Umeko barks. For example, not to guests coming in through the main entrance, but to someone coming in through the back door. "Sometimes, Umeko barks at us by mistake when we enter the store through the back door," said Mrs. Takahashi with a sigh. But Umeko is no doubt an extremely excellent watchdog for the store.
Cashier Video of Akita Dog Went Viral! Explore the Daily Life of Umeko, the Signboard Dog of a Liquor Store
(1)Umeko's Morning Walk
(2)Going to Work
(4)Interacting with Regular Customers
(5)Playtime After Closing