Four Akita dogs take turns welcoming tourists at the Akita Inu Fureaidokoro, a spot designed for people to meet with Akita dogs at the roadside station Ogare in Oga City, Akita Prefecture. A female dog named Tsubaki was the first signboard dog at Ogare until May 2021. After her retirement, Ogare paused the exhibition, though the four Akita dogs have made their debut one after another since October 2021. This article introduces the charms of these adorable dogs with their rich personalities and episodes with their owners.
Rocky (five-year-old male) – A Charming Senior Dog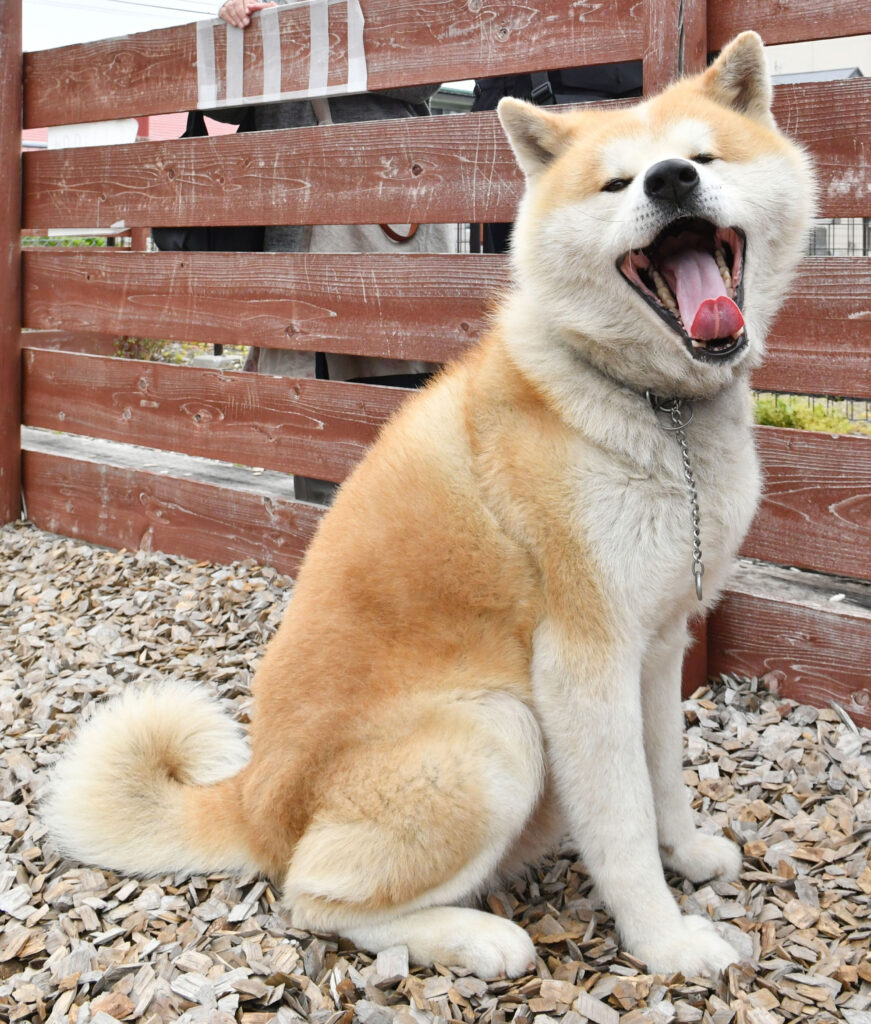 During the first half of a major holiday weekend, May 29th, 2022, running around at the Akita Inu Fureaidokoro was the red-haired Rocky (five-year-old male). He made his debut as the first of the four dogs and seemed used to the exhibit after having seven months of experience.
Rocky moved actively, nuzzling his face in the gaps between the fences or responding to calls of his name with a "woof." His charming actions brought smiles to the visitors.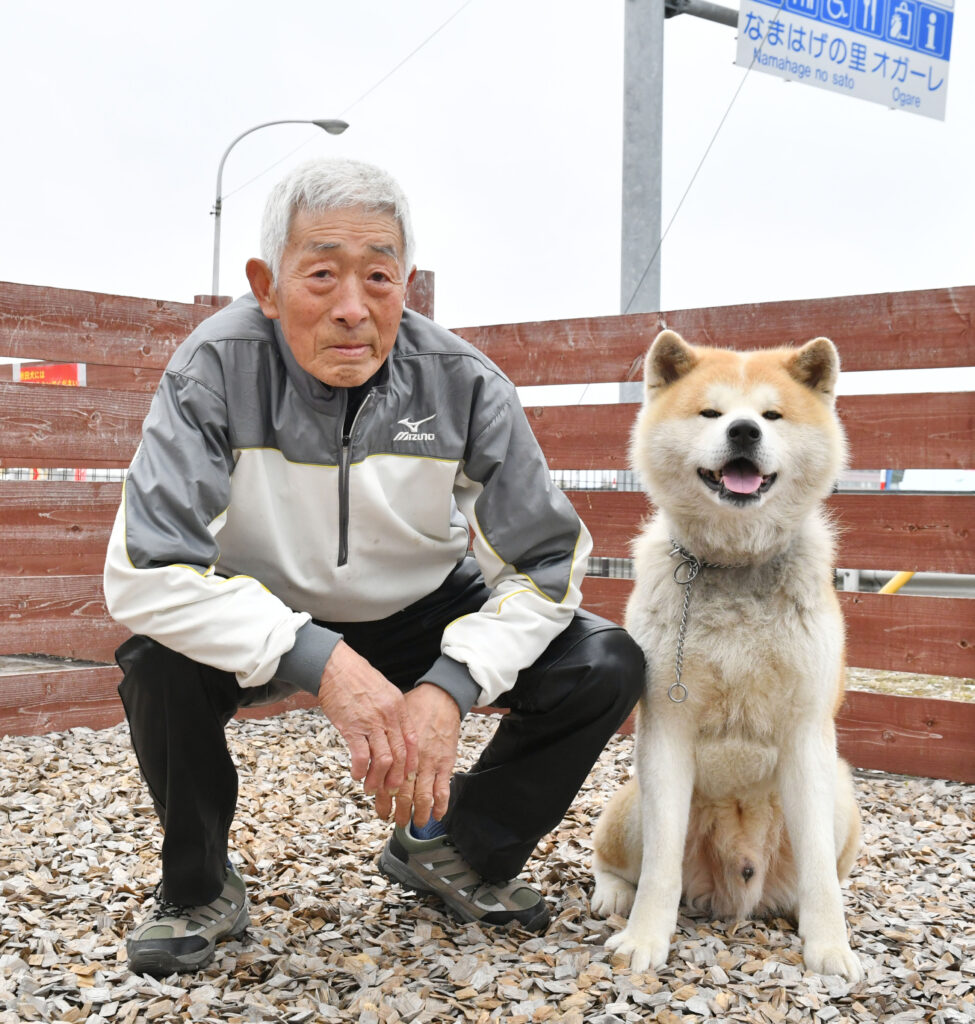 Rocky's owner is 80-year-old Mr. Susukida Yutaka, who lives in Oga City. He loves Akita Dogs, and Rocky is the third Akita dog he has owned. While he said, "Keeping an Akita dog is difficult for me," but continued, "Akita Dogs are gentle as well as smart, and they have attracted me for many years."
Hachi (four-year-old male) – Enjoy His Appearance and Actions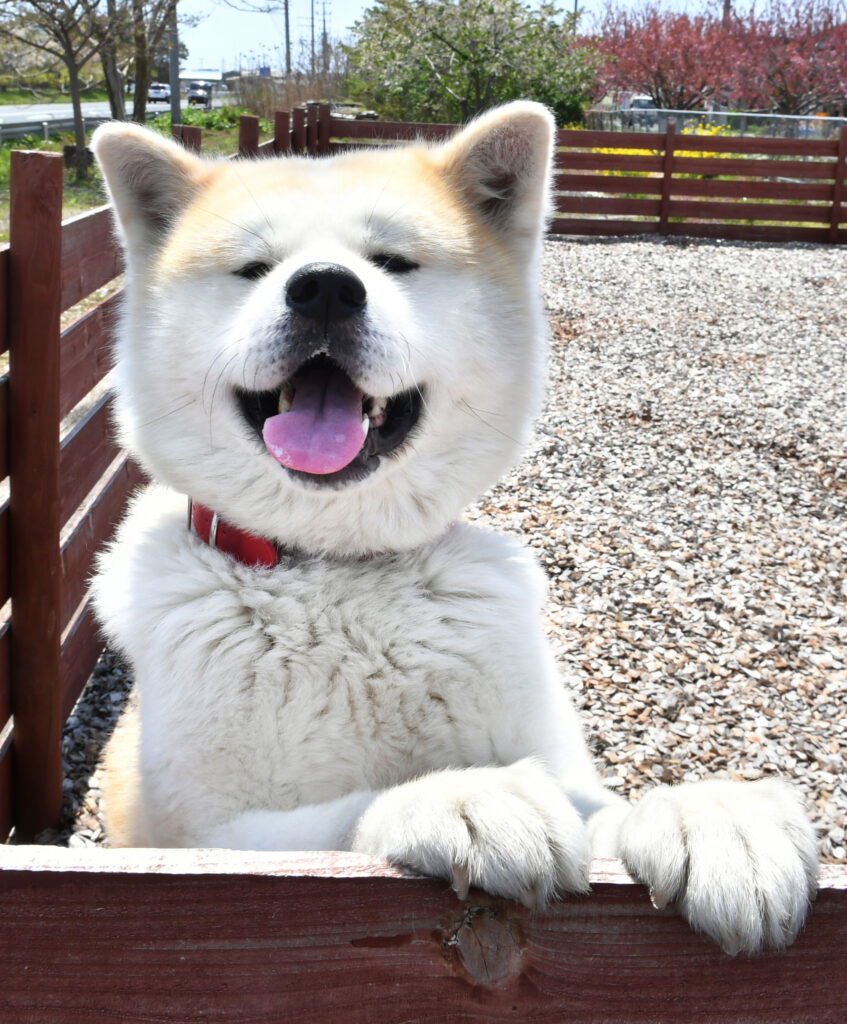 The owner of red-haired Hachi (four-year-old male), Mr. Tamura Hironobu, said, "It was a perfect decision to welcome him." About four years ago, when his Great Pyrenees and Corgi died one after the other, he decided to fulfill his longing to raise an Akita dog.
The name "Hachi" comes from the town of Hachirogata, where Mr. Tamura lives. He said, laughing, "I think he has a mild-mannered personality, just like me." At the exhibition on June 2nd, 2022, when a child called his name, Hachi repeatedly made a pose of hanging his paws on the fence, drawing a lot of attention.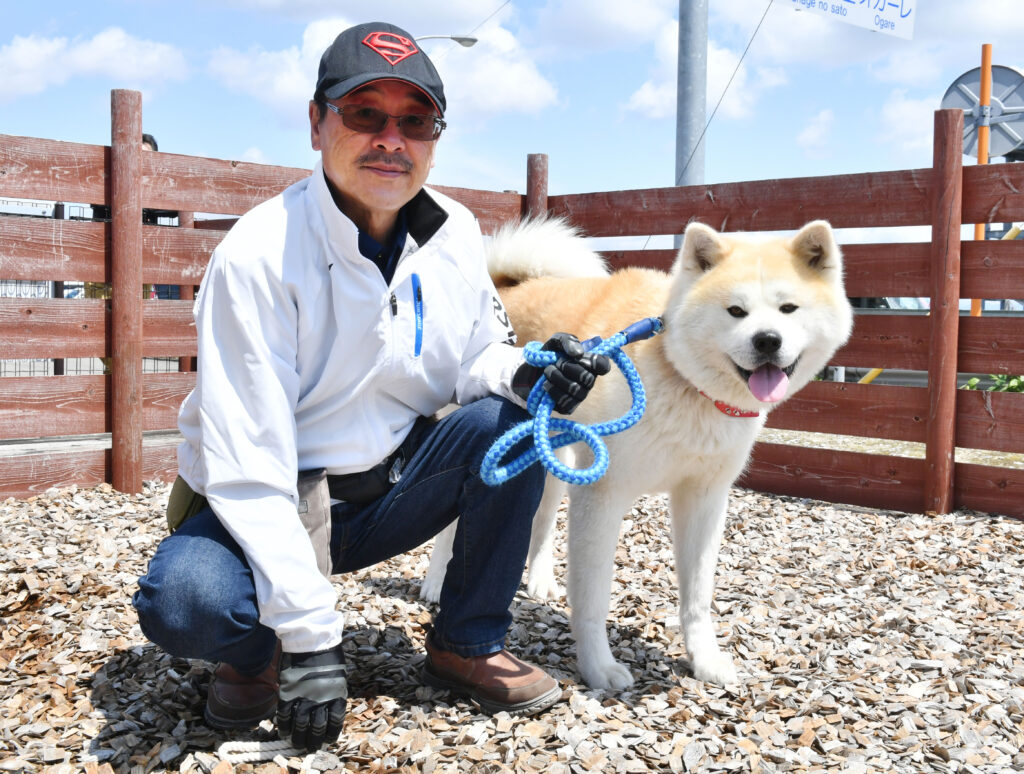 Mr. Tamura said, "Every part of him is cool, from the curly tail to the triangular ears.  I hope the visitors will enjoy Hachi's appearance and natural behavior."
Yume (one-year-old female) – Her Lovely Curly Tail is Her Attractive Point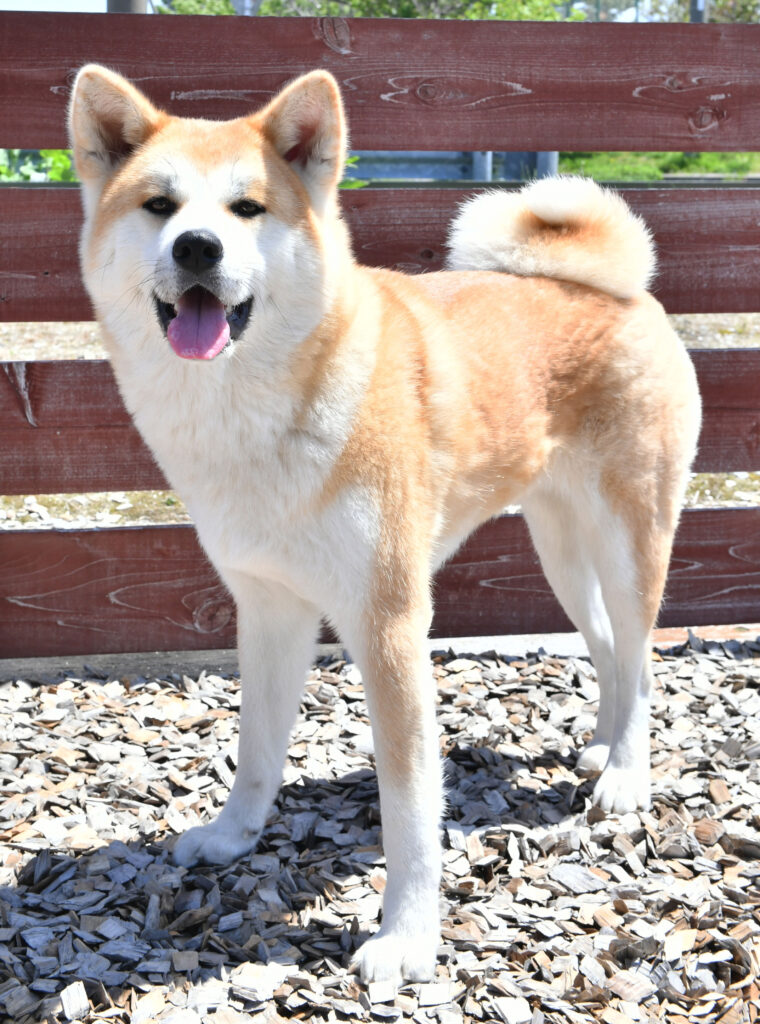 Yume (one-year-old female) is a red-haired Akita dog with a cute curly tail. At the exhibition on June 8th, 2022, Yume's tail wagging while she walked caught the visitor's attention. Some said, "Her tail looks like soft-serve ice cream and is so lovely."
Her owner, Mr. Fukushi Norio, living in Akita City, had longed wished to have an Akita dog. When his dream came true, he decided to name her Yume (dream) to express his joy of beginning a new life with an Akita dog.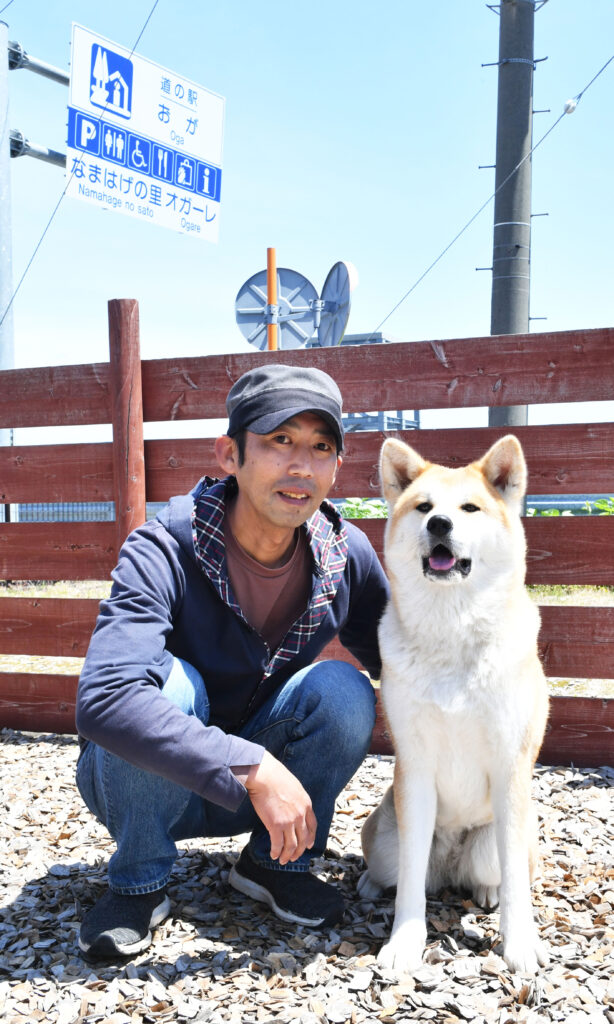 Yume is the first dog Mr. Fukushi has ever owned. Naturally, he had difficulty getting used to raising an Akita dog, including the proper training and appropriate walking. Yet, he smiled and said, "Yume is such a mind soother to me, and just watching her makes me relaxed."
Haku (two-year-old female) – A "Partner for Life"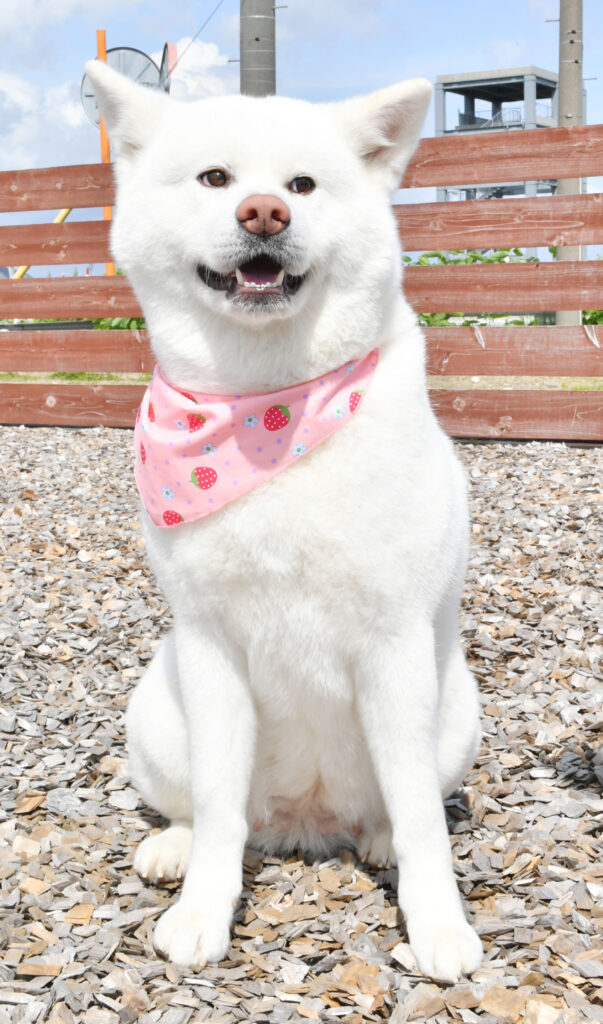 Haku (two-year-old female), with her pure white fur and a pink scarf, made her debut on June 15th, 2022. She charmed visitors with her soft expression and friendly gestures.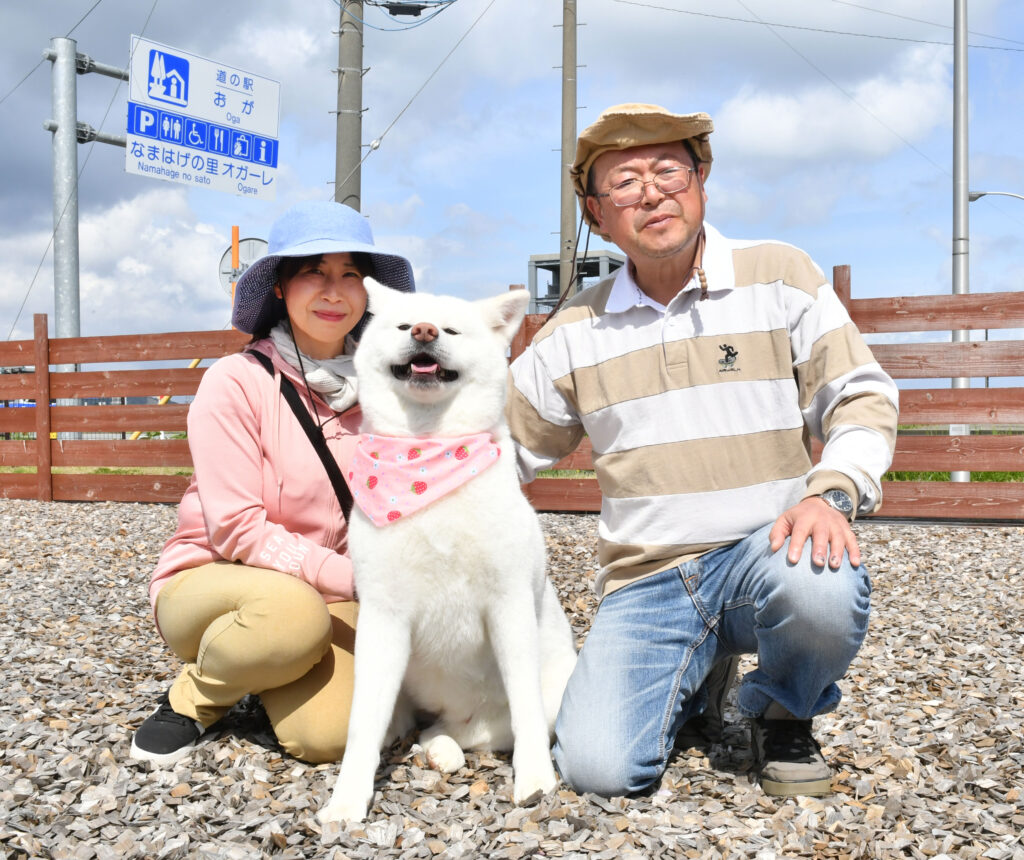 Mrs. Kato Fumie, Haku's owner, living in Oga City, had often visited Akita Dog exhibition facilities, or enjoyed watching videos of Akita Dogs for many years. In January 2020, she met Haku at a kennel in Noshiro City and fell in love with her at first sight. Since then, she said, "My days start when Haku wakes me up in the morning, and she has become my life partner."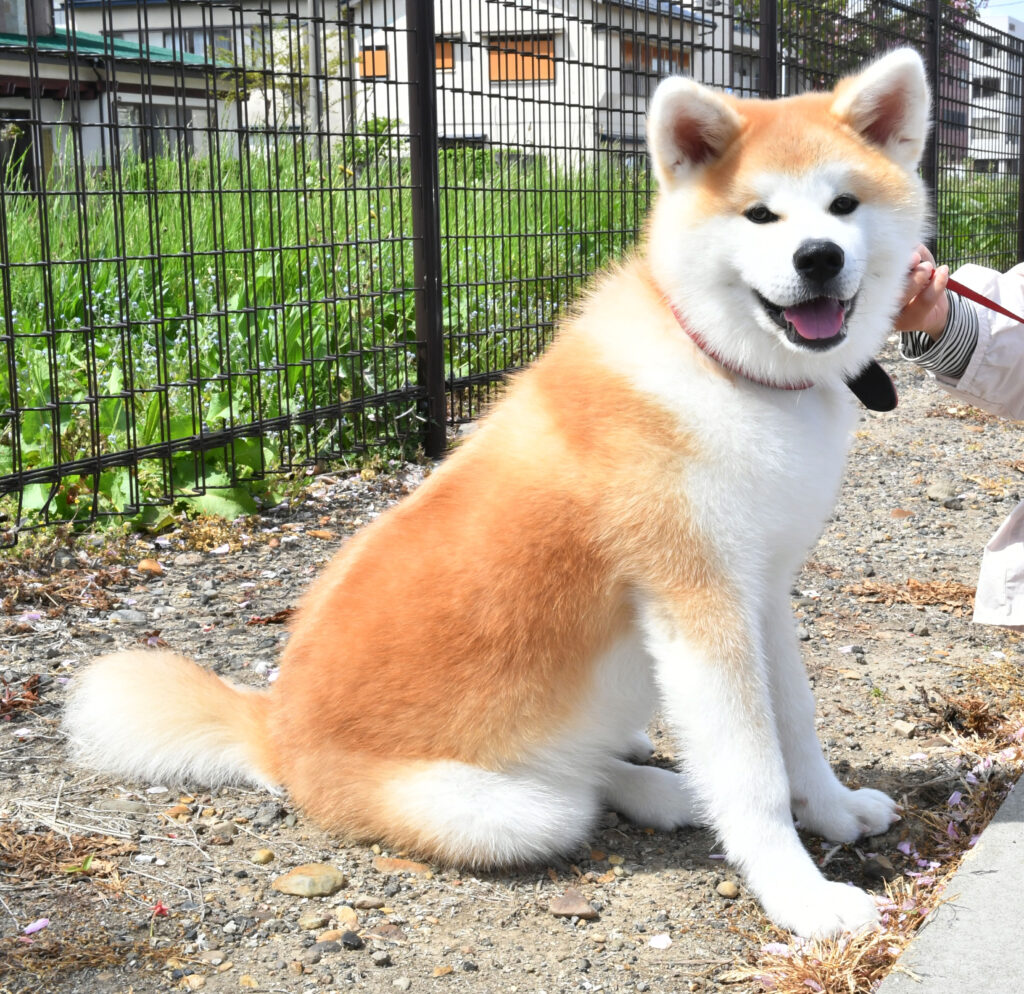 Haku has given birth twice. On the day of her debut, Haku's five-month-old puppy came to see her from Akita City and enjoyed their family time for the first time in a while.
---
The exhibition at the Akita Inu Fureaidokoro is held on Saturdays, Sundays, and holidays at 11:00 a.m. and 1:00 p.m. for about 30 minutes each.  In case of bad weather, the exhibition will be postponed.