"I can't say thank you enough to Momo." Mr. Kon Masahiro, an office worker, living in Akita City, expressed his deep emotion. It has been seven years since he adopted the Akita dog Momojiro (nine-year-old male), who was rescued in Yamanashi Prefecture. Masahiro is thankful for the happy days he is having now with the dog, who has become like a life partner to him.
One day in late September, Masahiro and Momojiro went for their morning walk to a nearby park in the rain. Momojiro did not seem to mind the rain and walked briskly.
At one point, Momojiro stopped and wouldn't move for some reason.
Masahiro said, smiling, "he can sometimes be a bit selfish." By the end of the walk, Momojiro seemed satisfied, with his eyes narrowed as if he was smiling.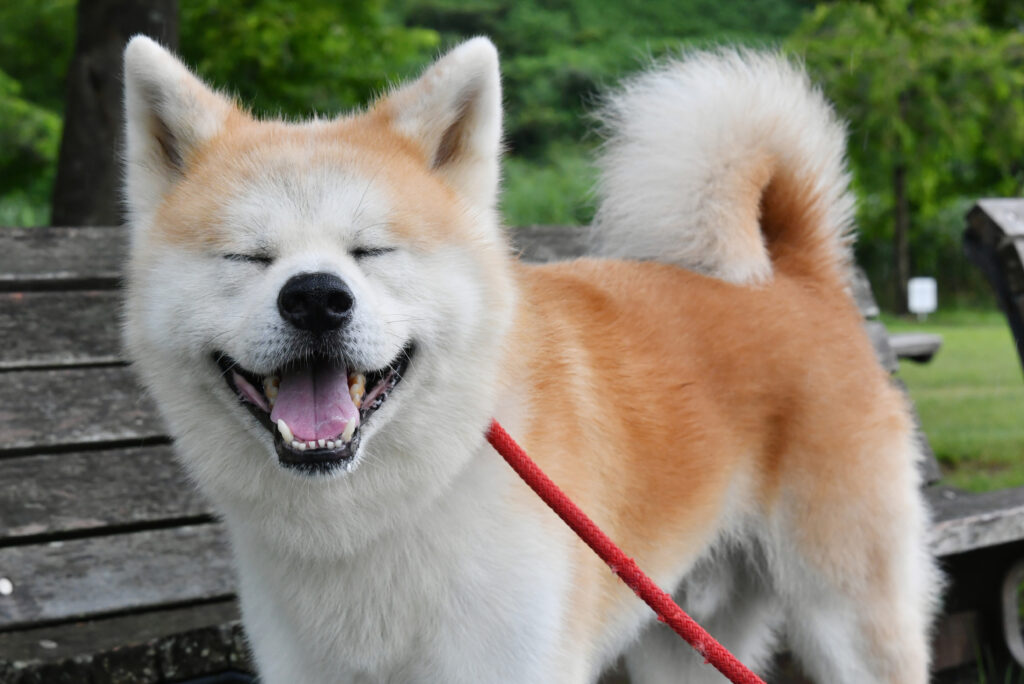 Masahiro's parents loved animals very much, and Masahiro grew up in an environment with Akita dogs, cats, and pigeons. They kept so many animals that the neighborhood called their place a "zoo."
Soon after finishing high school and he started working, Masahiro kept a mixed dog. The dog especially became attached to Masahiro's mother. When Masahiro's father passed away from illness in 1996, the dog was emotional support for both him and his mother.
The dog's life ended about seventeen years later. In 2009, Masahiro also lost his mother.
Masahiro said, "At that time, I spent every day only going to work and getting back home. When I returned to my place, I felt extremely lonely." Masahiro felt a great sense of loss all the time.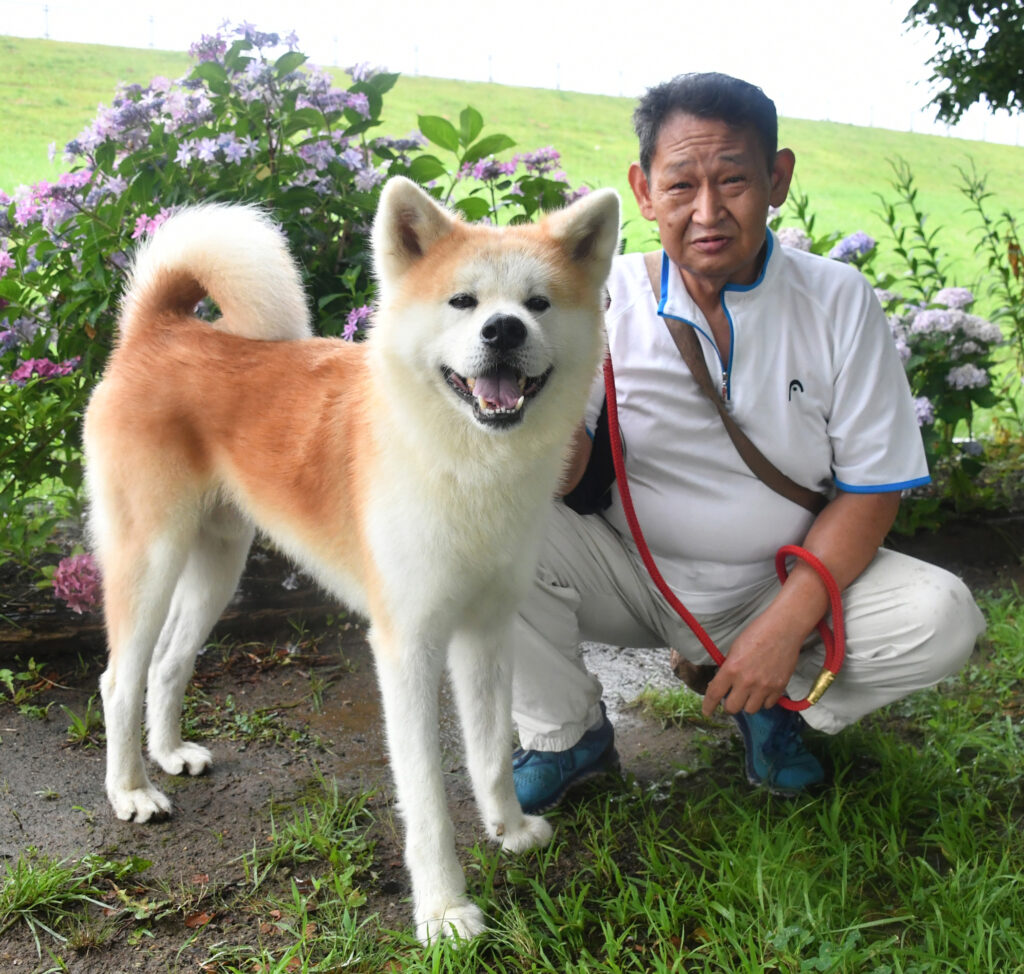 The president of the company Masahiro worked for then advised him to keep a dog again, seeing how devastated Masahiro was after his mother's passing away. Masahiro remembered the Akita dog he used to have as a child, and he loved the dog because of its large body and loyal personality to its owner. Masahiro thought he would never have dogs after the previous mixed dog had died. However, he changed his mind about having an Akita dog, thinking this would be his last time.
He looked for an Akita dog on the Internet and found a rescued dog seeking a new owner in Yamanashi Prefecture. That was Momojiro, who was two years old at that time. Several months had passed since Momojiro's information was public, but no foster parents had been found. There was a possibility the kennel would put him down in the worst-case scenario.
Masahiro made up his mind and went to Yamanashi. When they first met, Momojiro was calm and did not mind when Masahiro put his hand over his mouth to look at his teeth. Masahiro felt Momojiro was open with him and decided to adopt him.
As Masahiro posted his life with Momojiro on his blog and social media, he began connecting with Akita dog owners nationwide.
Momojiro and Masahiro had a surprising moment in 2019 when they visited Akita Inu no Sato, a tourist center in Odate City, and noticed a picture of a dog that looked exactly like Momojiro. The dog was Nana, a red female dog. Masahiro found her owner on social media to contact them and learned that the dog was four years older than Momojiro, and the two dogs were raised in the same kennel.
The official family tree was unknown as they are rescue dogs, but Masahiro and Nana's owner consider them siblings.
Nana and her owner live in Tokyo. In 2021, they traveled to Akita Prefecture to see Momojiro. They barked at each other initially, but they soon calmed down and turned their heads in the same direction when their owners tried to take photos. Masahiro and Nana's owner were stunned to see the two dogs' relaxed behavior.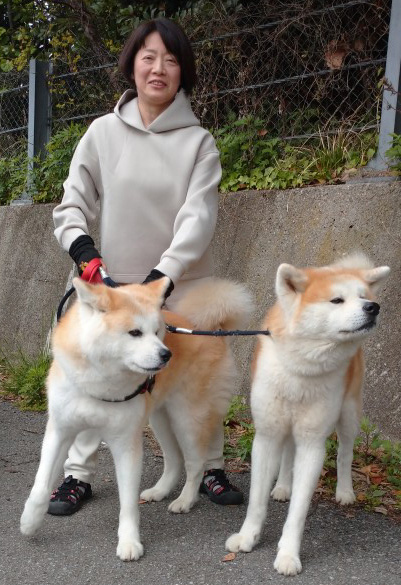 As Masahiro and Momojiro get older, Masahiro worries about their health. Momojiro developed pancreatitis in early spring this year. Masahiro said, "I'm afraid if Momojiro gets any disease again," providing Momojiro care, a good diet, and appropriate exercise.
Masahiro's dream is to take Momojiro to meet his friend's Akita dogs all over Japan. "We both must stay healthy until then," Masahiro said firmly.