An Akita Dog and kiritanpo Combined! A stone statue named "Kiriwanpo" on the premises of Kazuno Yasaka Shrine, Hachimantai, Kazuno City, Akita, has become a hot topic on social media.
The Kiriwanpo statue is approximately 70 cm tall and 30 cm wide, portraying an Akita dog with a slender body like a kiritanpo (Akita's traditional rice food shaped like a stick) standing upright. The statue was installed in May of this year.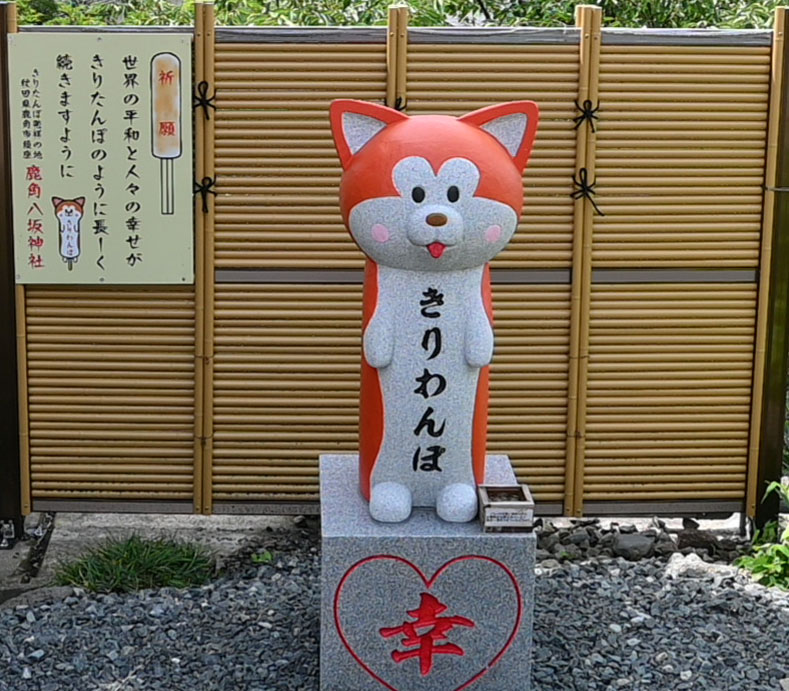 Mr. Harusawa Akihiko, a priest at the shrine, designed the statue. Akihiko said, "I wanted to create a stone statue to pray for world peace amid the unthinkable events of recent years, such as the coronavirus pandemic and Russia's invasion of Ukraine."
Akihiko created the statue in hopes many people would love it. The shrine will donate the money collected for the statue to the Japan Committee for the United Nations Children's Fund (UNICEF).
In addition to the Kiriwampo statue, the shrine grounds are lined with many adorably designed dog and cat statues, including beckoning cats in place of a koma-inu (a pair of statues of lion-like creatures placed to guard the shrine). The inspiration came from a casual conversation between Akihiko and his father, Norihiko, the shrine's chief priest. He asked Akihiko, "It seems a little strange to place something like a koma-inu that acts as a ward in a place that welcomes people with various wishes."
In addition to stone statues, Akihiko has designed a series of seal stamps featuring Akita dogs and cats.
"We have received a lot of feedback from worshippers such as 'I have a boyfriend' or 'I got married.' Many of them have taken photos of the stone statues and seal stamps and posted them on social media," said Norihiko. They concluded by saying, "We hope many people will continue to enjoy visiting the shrine."