The Akita Dog Preservation Society in Odate City, Akita, will hold its Spring Headquarters Exhibition at the second parking lot of Omagari Civic Hall in Daisen City next month. Akita dog owners from all over Japan who plan to exhibit their dogs are making final adjustments during this period. One of the participants, Hyoji Endo, lives in Iijima, Akita City and is a member of the Akita Dog Preservation Society and has been raising Akita dogs for about 40 years. With all his heart and soul, Mr. Endo is highly motivated to win the top prize.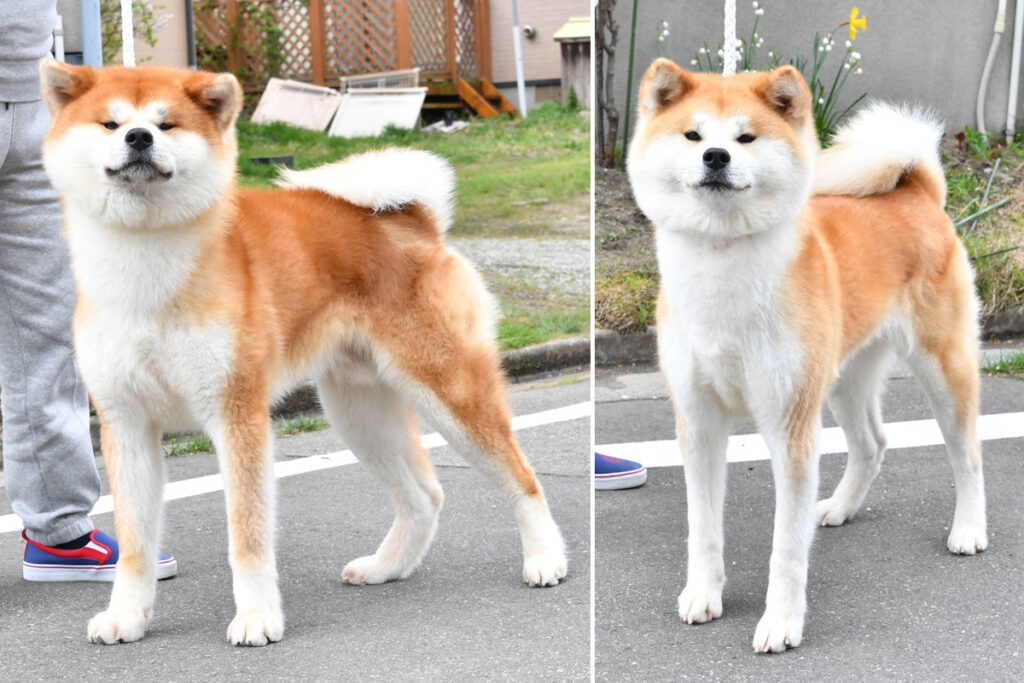 In the middle of April, we visited Mr. Endo's home. As we approached the kennel behind his house, four red-haired Akita dogs greeted us with their fluffy fur.
Kanade (two-year-old female) will be entered in the Adult B Female Division (30 months – 48 months), and Kitataiko (one-year-old male) will be entered in the Young Male Division (18 months – 30 months). The two dogs have won "Isseki" at past Headquarters Exhibitions and Tohoku Hokkaido General Branch Exhibitions, which is equivalent to first prize in each division.
In raising Akita dogs, Mr. Endo places the greatest emphasis on "cleanliness." He shampoos them once every two weeks to keep their fluffy, beautiful fur. Mr. Endo said he got his dogs used to the once-a-week routine from the time they were puppies. After walks, he wipes each dog with their own separate towel and brushes them to keep their fur clean of dirt.
The floor is wiped daily with hot water to keep the kennel clean. Mr. Endo installs mosquito coils every year around May, a lesson learned from the death of a dog bitten by an insect in the past. The floor of the kennel's shed, which he made himself, is lined with mesh to prevent the dogs from eating wooden boards and getting stomachaches. He has applied his ingenuity based on his experiences keeping Akita dogs.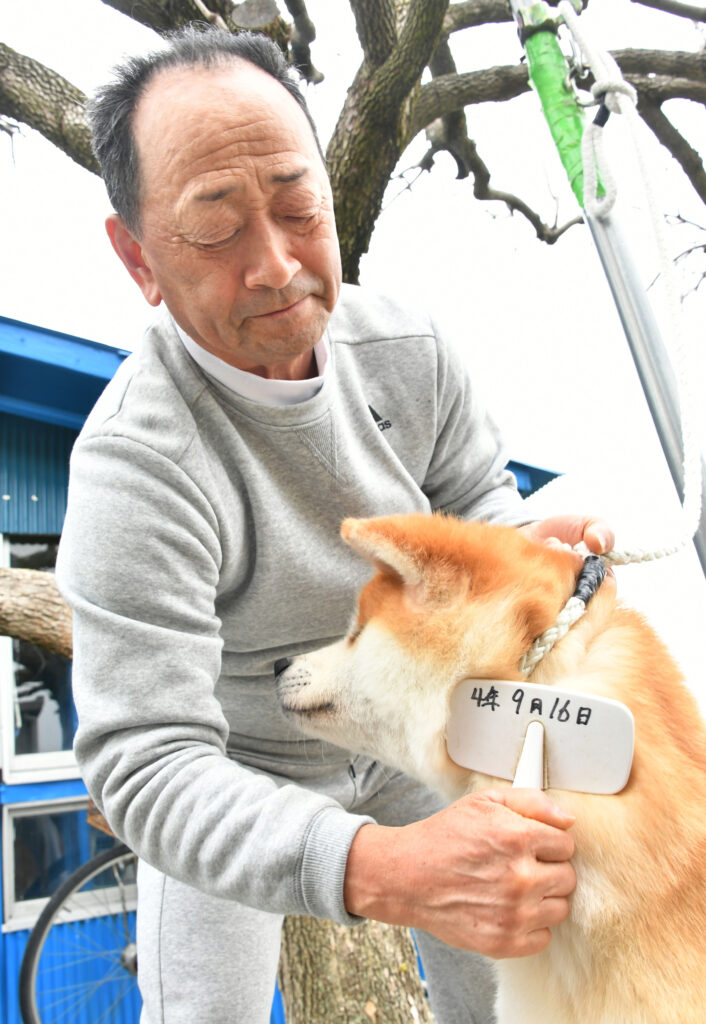 Mr. Endo showed us the "tachikomi," a competition to see how beautiful a dog's standing posture is. It is one of the items judged at the exhibition, and the two dogs looked sharp and serious. They will also continue to practice walking and opening their mouths to show their teeth until the day of the exhibition.
Although Mr. Endo now performs well in various tournaments, he says it was not until he was over 50 years old that he could win top prizes.
Mr. Endo became a member of the preservation society when he was 25 years old. He was influenced by his five-year-older brother, who had been a member of the society and had an Akita dog. At an exhibition they visited together, Mr. Endo saw Akita dogs at the national level and was utterly fascinated by them.
In his 20s and 30s, Mr. Endo didn't have enough time or money to spend on dogs due to work and child-rearing. Even though he started to keep an Akita dog and participated in
exhibitions, he received only lower prizes. At one point, he thought about quitting raising dogs, but every time he went to headquarters exhibitions, he felt his fighting spirit flare up again, thinking, "I want to raise a splendid Akita dog, too."
Mr. Endo worked hard to raise the dogs, referring to dog care methods he saw at the events and getting advice from his brother and other veterans around him. His wife, Kyoko, also helped him care for and walk the puppies.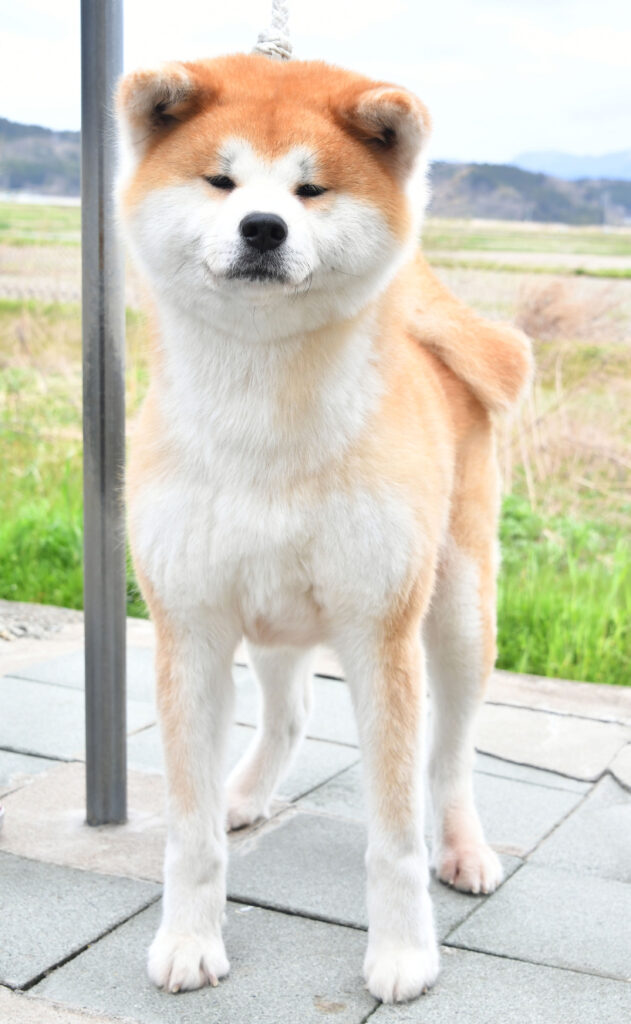 The most significant turning point came when Mr. Endo was 57 years old. He received an Akita dog from his veterinary clinic in Odate City, that said, "We have a nice female dog." He named her Fu, and she won one of the top three places at the Headquarters Exhibition and the General Branch Exhibition in rapid succession. Kyo (six-year-old female), who is now in the kennel, is a granddaughter of Fu and has inherited her good pedigree and won many prizes.
Kanade and Kitataiko are great-grandchildren of Fu and are the children of Kyo. Mr. Endo confidently said, "Their faces show female and male characteristics, respectively, and their tails are curled well." Kennels from other parts of Japan will also exhibit more of Kyo's puppies, and Mr. Endo looks forward to seeing their results.
The Headquarters Exhibition, which brings together people like Mr. Endo, who has been passionately involved with Akita dogs for many years, is open to all visitors free of charge. Go and experience the fascination of Akita dogs on a national level!