Two leading figures in Odate City, Akita Prefecture, have been at the forefront of the Akita dog breeder industry. The two figures are Hisae Hikage, 73, a 50-year veteran who retired this spring from Shakanai, and Shoji Hatakeyama, 80, from Hinai, Nakano, who has often made headlines by giving away dogs to celebrities. We asked them about their memorable episodes with their dogs, their future goals, and their encouragement to the younger generation.
Retired after Half a Century, Hisae Hikage – "A Life Being Taken Care of by Dogs"
This spring, Mr. Hikage retired after giving the last Akita dog he raised to a new owner. Since he suffered from stomach cancer three years ago and has no successor to the kennel, he decided to end his 50-year experience as a breeder. "In the past, there were many members of the Akita Dog Preservation Society around here, and in the fall, we used to have kiritanpo parties," he recalled.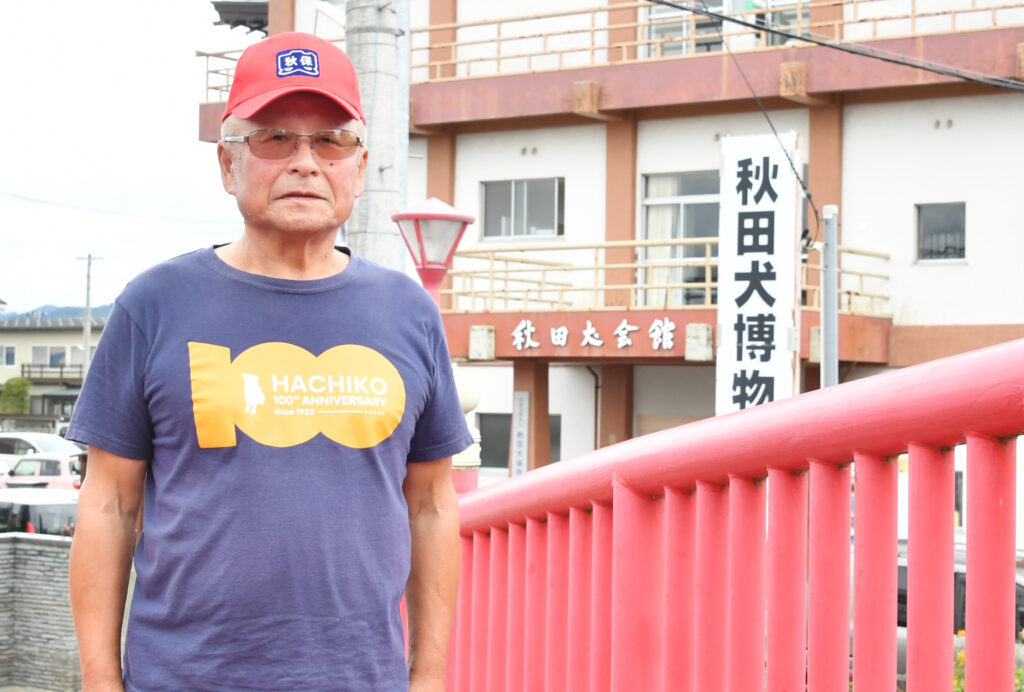 Mr. Hikage joined the Preservation Society in 1973. At the time, he was 23 years old and was well-liked by the senior members. He even invested in constructing the Akita Dog Hall in Sannomaru, Odate City, in 1977.
One of the things Mr. Hikage learned from his predecessors was the importance of dog food. He has always insisted on feeding fish and vegetables cooked in a broth mixed with rice, saying, "Food from the sea and mountains is the best." He says this helps the dogs' chests become thicker, and their bodies grow taller and more robust. Another thing he insists on is raising his dogs with both voice and care. "When I call their names, they respond," he laughed.
Of all the dogs raised with great care by Mr. Hikage, the most memorable for him was Arashi (five-year-old male). Arashi had a handsome face and was very popular when taken to events. In April of this year, when Mr. Hikage decided to retire, he entrusted Arashi to a new owner outside of Akita Prefecture, but just three months later, Arashi died.
A few days before Mr. Hikage was contacted about Arashi's passing, Arashi came to him in a dream. He said he would never forget calling out to him, "It's hot out there, so take care and do your best!"
Looking back over the past 50 years, Mr. Hikage said, "It was a life being taken care of by dogs. I think the senior members of the Preservation Society will say, 'Hikage, you've worked so hard, well done.'"
Mr. Hikage has a sense of crisis about the future of the Akita dog industry. He said, "If we don't train young people, no Akita dogs will be left in Odate. We need more opportunities to watch and learn from other people's dogs and more opportunities for breeders to get together and reflect on their work."
"I Hope You Are Well" – Shoji Hatakeyama, Who Raised "Yume"
In front of Mr. Hatakeyama's kennel stands a red flag with the words "Akita Dog" and "Yume" written on it. Yume was born at Mr. Hatakeyama's kennel and isthe female Akita dog Akita Prefecture presented to Russian President Vladimir Putin in 2012.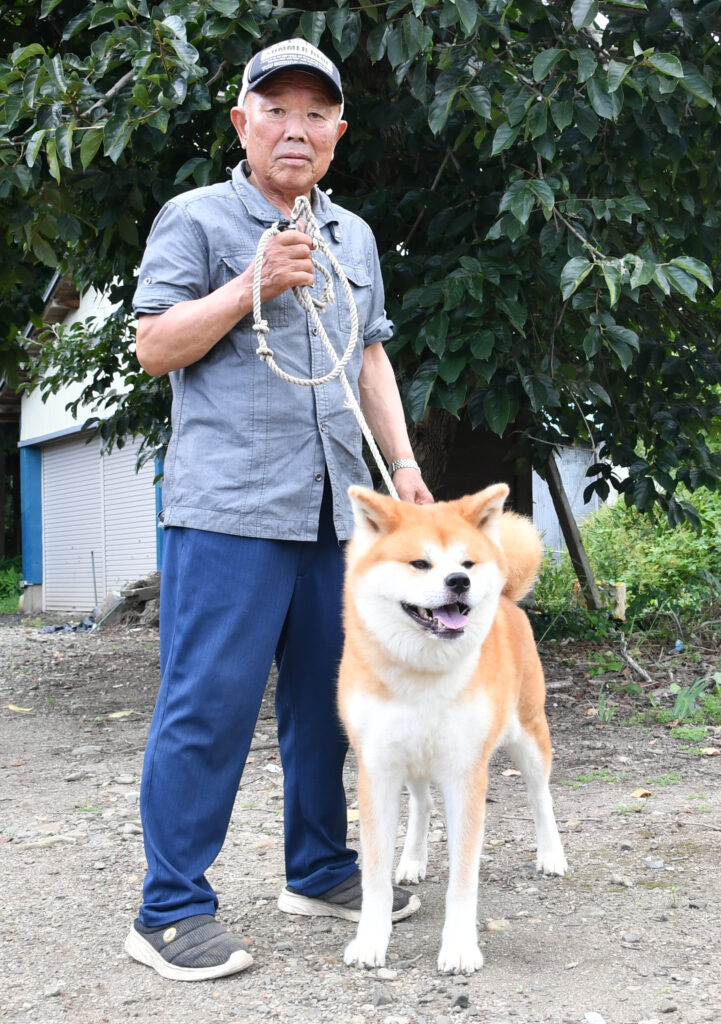 Mr. Hatakeyama recalled, "When I was selected, I thought, 'No way.'" Just around when Yume was born, the Akita Dog Preservation Society consulted with him, saying, "Someone is looking for a red-haired female Akita dog." A short time later, the Preservation Society decided to present Yume to Russia. Amidst the surprise, Mr. Hatakeyama carefully washed Yume's body using shampoo suitable for Yume's sensitive skin. He cared for her for about a month before she left for Russia.
After Yume was sent to Russia, Mr. Hatakeyama had several opportunities to learn about her recent activities through news reports, but this ceased after the invasion of Ukraine. Yume is 11 years old this year, which is considered elderly in dog years. "I hope she is doing well," Mr. Hatakeyama said, praying for her safety from far away in Odate.
In addition to Yume, Mr. Hatakeyama sent other Akita dogs to former sumo wrestler Yokozuna Asashoryu, Dolgorsürengiin Dagvadorj, and Minamisoma City, Fukushima Prefecture.
Mr. Hatakeyama entered the world of Akita dogs in earnest when he turned 60 and handed over his rice farming business to his eldest son. He had always been a dog lover, and when he went to a car dealer to buy a new car, the owner showed him an Akita puppy. "I had a gut feeling that it was a dog that can be showcased at an exhibition. Before I knew it, I was buying an Akita dog instead of a car," he laughed.
At first, Mr. Hatakeyama did not intend to become a breeder, but watching other dogs ignited his competitive spirit. He entered his dogs in various exhibitions nationwide and won many prizes.
Mr. Hatakeyama is currently raising four dogs, ranging in age from three to seven years old, and plans to take up puppies one or two more times before calling it quits. After that, he intends to concentrate on submitting his dogs to exhibitions. Mr. Hatakeyama plans to submit his dogs to the Headquarters Exhibition in Tokyo this December, hoping to win top prizes.