UGO HUB, a rental space and guesthouse in Nishimonai, Ugo Town, Akita Prefecture, has a six-year-old male Akita dog named Sun (English pronunciation) as its signature dog. From February to March of this year, Sun traveled by car to 43 prefectures with his owner Yuji Muraoka, the owner of UGO HUB. The charming Sun brought smiles to the people everywhere they went.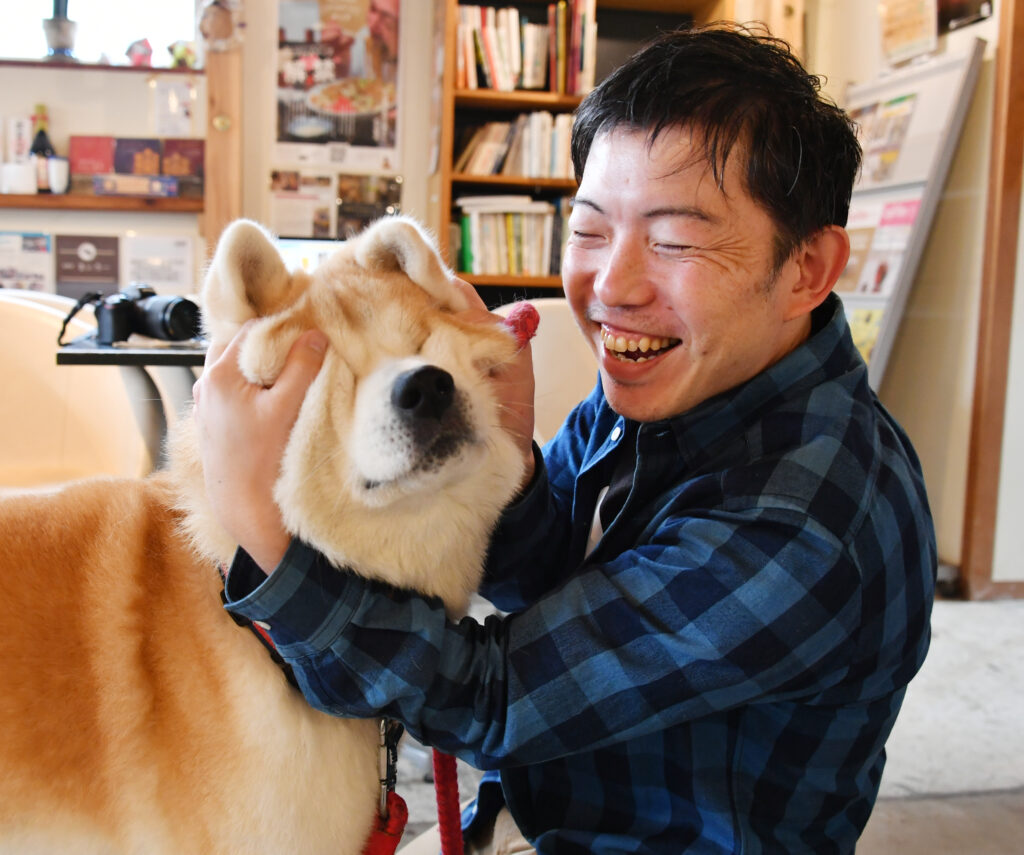 "He is like my only son, and recently, I have been told that I look more and more like Sun," said Mr. Muraoka, smiling as he petted Sun lying in the rental space on the first floor. He has lived with Sun for the past six years, and since the opening of UGO HUB in 2020, Sun has become UGO HUB's signature dog, appearing frequently on its social media. Sun is gradually becoming a well-known Akita dog.
At the beginning of this year, Mr. Muraoka decided to take Sun on a trip around Japan. He was encouraged by the fact that UGO HUB had almost no reservations in February and March. The dream of "traveling around Japan" when he was young came to mind, so he decided to take off to Kagoshima with Sun by car.
While the trip was meant to be "a trip based on a flurry of activities and spontaneous moments," it might as well be a good chance to do something special. Mr. Muraoka and Sun became otsukai (errand boys) based on requests from residents, friends, and acquaintances to do for them during their adventure around Japan.
Mr. Muraoka was asked to do things like "hand out samples of Akita's local delicacy iburigakko (smoked pickled radish) at various locations," "meet someone who helped me when I was a member of the Japan Regional Development Cooperation Volunteers," and "receive a red seal at Izumo-Taisha Shrine in Shimane Prefecture." While enjoying the interactions on the trip with Sun, Mr. Muraoka performed the requested errands.
People gathered around Sun, smiling, taking pictures, and talking to him. Even in a new place, Sun made conversation easy. Some people were so happy to see an Akita dog up close that they began to cry, and others offered them a place to stay. Thanks to the kindness of many people, Mr. Muraoka and Sun were able to spend a fulfilling time during their travels.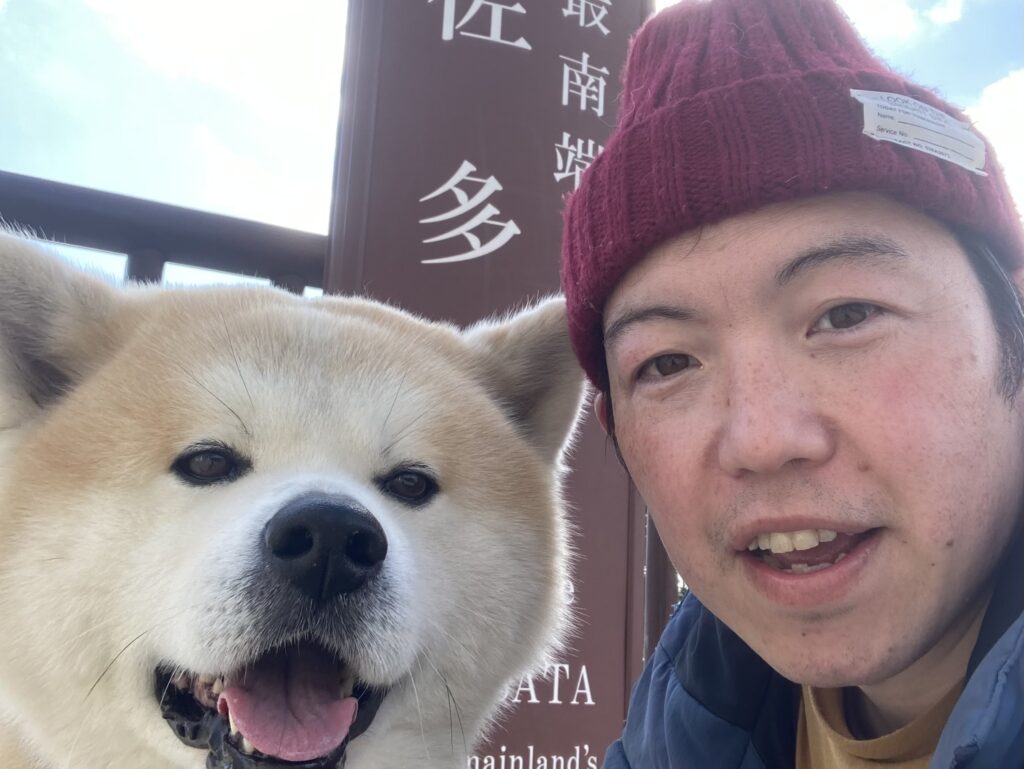 "Thanks to Sun, I met many people and had a warm interaction with them. I realized that Sun is a dog that has the power to brighten and bring encouragement to people's lives, just like his name means," said Mr. Muraoka. They are planning a second trip to Hokkaido around May next year.
Mr. Muraoka first met Sun in September 2017. It all started when a travel agency in Akita City, where he was working at the time, decided to make a PR video featuring an Akita dog. While Mr. Muraoka was looking for a red-haired Akita dog, he was introduced to a kennel in Noshiro City that had just had a puppy. That puppy was Sun. "I fell in love with him at first sight because he was so cute," said Muraoka. He asked the kennel if he could keep the dog.
Mr. Muraoka was originally from Kakunodate, Semboku City, Akita, and moved to Tokyo when he entered university. After graduation, he worked for a company in the Tokyo metropolitan area and moved to Akita City in 2015.
The travel agency Mr. Muraoka was working for at the time focused on planning tours for foreigners to experience Japanese culture in Ugo Town, and he frequently traveled there from Akita City. Gradually, he began to think that he wanted to have a deeper relationship with the residents, and in September 2017, he moved to the town. A few days later, he welcomed Sun into his home.
"He's going to get bigger soon," said a friend of Mr. Muraoka, who has an Akita dog. True to his friend's words, Sun grew quickly, gaining three kilograms a month. Mr. Muraoka took pictures of him every day. From his early days as a puppy with floppy ears to the present day when he is a full-grown dog, he has a good expression in every photo.
After retiring from the travel agency, Mr. Muraoka opened UGO HUB in 2020. "Now, I cannot even remember my life without Sun, and my happiness has definitely increased," said Mr. Muraoka. He continued, "When Sun completes his life, I would be happy if he thinks he was lucky to have me as his master. I want to do my best to support him so that he can keep living a good and healthy life."
Mr. Muraoka and Sun's life journey continues.