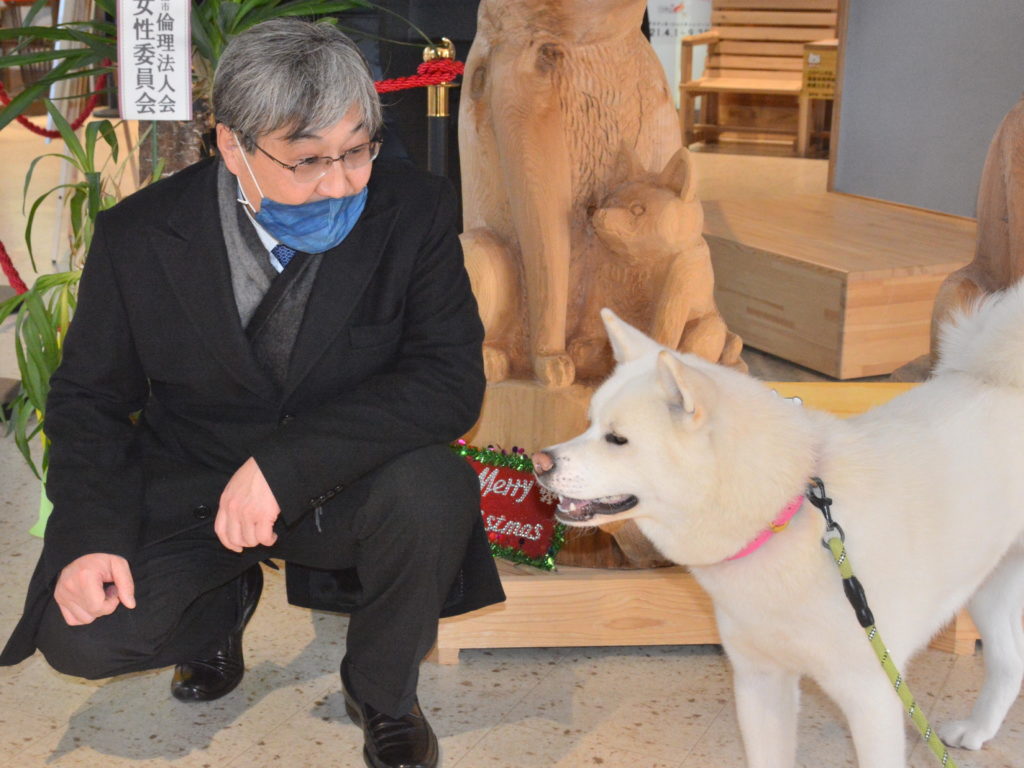 Mongolian Ambassador to Japan, Mr. Dambadarjaa Batjargal, visited Odate City, the hometown of Akita dogs, on December 7th, 2020. Ambassador Batjargal finds Akita dogs intriguing and toured several facilities in Odate to learn more about them. The ambassador believes that Akita dogs will help promote an international relationship between Mongolia and Japan. This was the ambassador's first time to visit Akita Prefecture. The ambassador also met with the mayor of Odate City, Mr. Fukuhara Junji.
Ambassador Batjargal has been pursuing the idea of a government dignitary raising an Akita dog in Mongolia, just like in Russia. In 2012, Akita Prefecture offered the Akita dog "Yume" to Russia and she has been cared for by President Vladimir Putin.
On December 7th, Ambassador Batjargal visited "Akita Inu-no-Sato" and the Akita Dog Preservation Society in Odate City to see Akita dogs and learn about their relationships with foreign countries. The ambassador said after the tour, "I thought there were only brown Akita dogs, but today I learned there are also black (sesame) and white Akita dogs. They are bigger and stronger than I had expected, and I believe people in Mongolia would love them."
In Mongolia, Mr. Dolgorsurengiin Dagvadorj, a former top-ranked sumo wrestler "Asashoryu," raises two Akita dogs, "Masao" and "Sakura." Both Akita dogs were given to Mr. Dagvadori in 2018 and 2019 from the Akita Dog Preservation Society. Just this year, 2020, a puppy was born between Masao and Sakura.
According to the Ministry of Foreign Affairs of Japan's official website, Mongolia aims to develop its "third neighbor" policy further to build stronger diplomatic relationships with countries other than China and Russia. Mongolia wishes to be less dependent on these two geographical neighboring countries. Japan established diplomatic relations with Mongolia in 1972, and it is regarded as an important relationship. Both Japan and Mongolia are strengthening bilateral ties through various exchanges. In 2018, the Prime Ministers of Japan and Mongolia issued a "Joint Statement on Further Strengthening of 'Strategic Partnership.'"
Ambassador Batjargal will visit the Akita City Folk Performing Arts Center "Neburi Nagashi-kan" on December 8th and meet with Akita City's mayor Mr. Hozumi Motomu, and the prefectural governor Mr. Satake Norihisa.