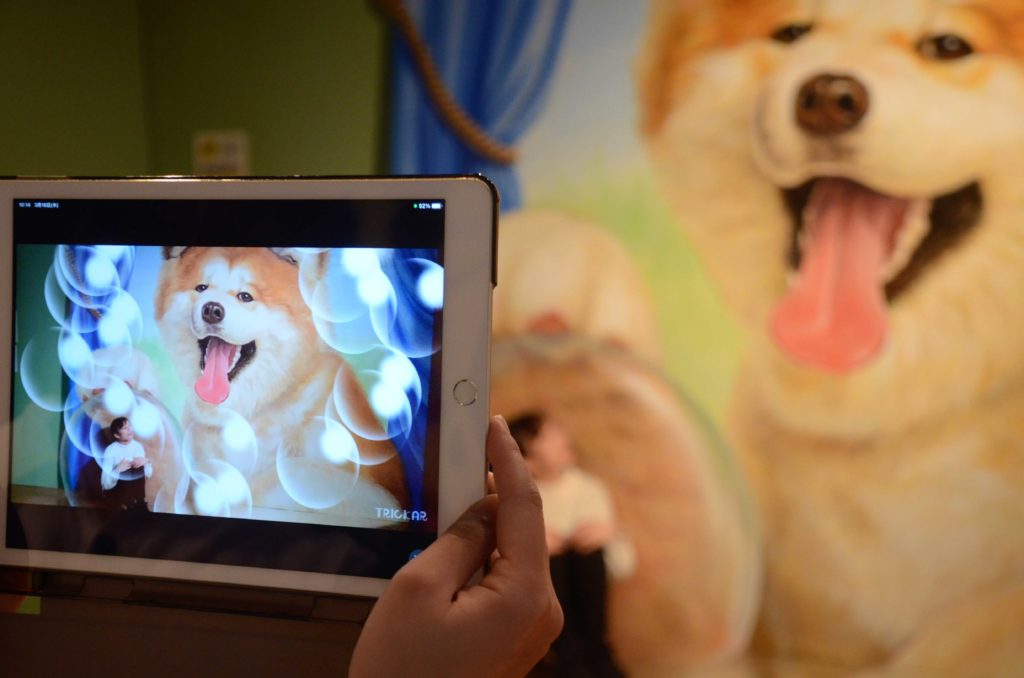 The amusement complex Akita Furusato Mura in Yokote City, Akita Prefecture, reopened on March 20th, 2021.  The renovation involved replacing trick art in the amusement building and installing a state-of-the-art operating system in the planetarium. 
The "Wonder Castle," an amusement building resembling a castle, now has an area where visitors can enjoy various tricks using optical illusions to make flat pictures appear three-dimensional.
Visitors can experience the feeling of riding a swan around Mt. Chokai or climbing a beanstalk to go above the clouds. A zone called "Akita no Matsuri" shows Akita's famous festivals, including Kanto Matsuri and Komachi Matsuri.
Some of the attractions use augmented reality (AR). With a specific smartphone application, virtual balloons appear around an Akita dog in the image. Visitors can capture a photo of themselves in the balloon with an Akita dog. The Akita dog shows amusing expressions on its face, which is also fun and entertaining.
In the "Spacia Starry Sky Museum," the latest systems and high-performance projectors of the planetarium display the constellations and planets more vividly than ever before.
According to the prefectural government's third sector that runs the amusement complex, the project costed about 300 million yen. President Awazu Naoyoshi said, "Our aim is to provide appealing rich expressions including themes about Akita." We are looking forward to welcoming many visitors from across Japan and eventually from overseas once the coronavirus pandemic settles down."
The fee for the Wonder Castle and the Spacia Starry Sky Museum is 600 yen each for high school students and older, 400 yen for elementary and junior high school students, and free for infants.