"I am beyond excited to visit Masaru's birthplace," said Alina Zagitova, who won the gold medal in women's figure skating at the 2018 PyeongChang Olympics.  Miss Zagitova visited Odate City in Akita Prefecture on May 23rd, where she had been hoping to visit ever since the Akita Dog Preservation Society presented her with an Akita dog after the Olympics.  She was thrilled to finally meet Masaru's sibling, Shodai, at Akita Inu no Sato, an official museum facility in Odate City.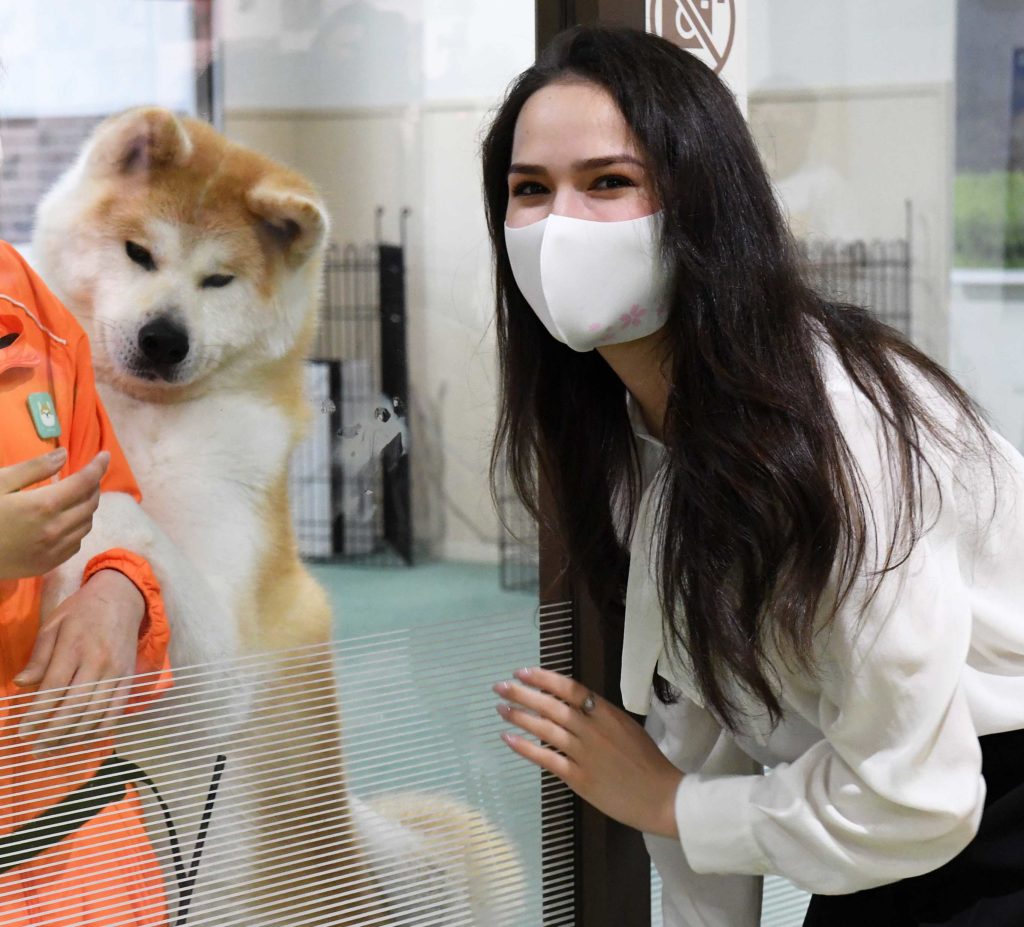 Miss Zagitova makes a special cameo appearance in the film Palma, which highlights the opening ceremony of Akita Inu no Sato. Miss Zagitova appears in a video message during the scene, saying, "I hope to visit there someday." Upon her arrival to Akita Inu no Sato, Miss Zagitova expressed her gratitude to the people around her, saying, "Thanks to everyone, I was able to visit here."
Though Masaru did not accompany her to Japan, Miss Zagitova met through the glass with Shodai, Masaru's brother, who was born on the same day. She gestured and waved to Shodai, who was inside the exhibition room, and gradually, Shodai approached her as if he had grown fond of her. Miss Zagitova also took pictures of Shodai to capture the moment.
"I am thrilled to see Shodai," Miss Zagitova commented, for she has been looking forward to this meeting. "He looks just like Masaru, but he looks stronger and has beautiful hair. He's also a little mischievous and fun," she said in delight.
Miss Zagitova also shared Masaru's current situation with everyone, saying that Masaru is getting along well with other dogs she keeps. She extended a message to Mr. Hamada Masami, the head of the Akita Dog Preservation Society's Kennan Branch in Daisen City, and who raised Masaru until she was two and a half months old. She said, "Thank you very much for raising Masaru. She has grown into an extremely nice and smart dog now, thanks to you."