A gorgeous statue of an Akita dog decorated with colorful moss and dried flowers was placed at the souvenir shop "Souvenir Plaza A-e-ru" on the second floor of the terminal building at Akita Airport. The statue's unique, imposing stance and colorful appearance have caught the attention of many visitors.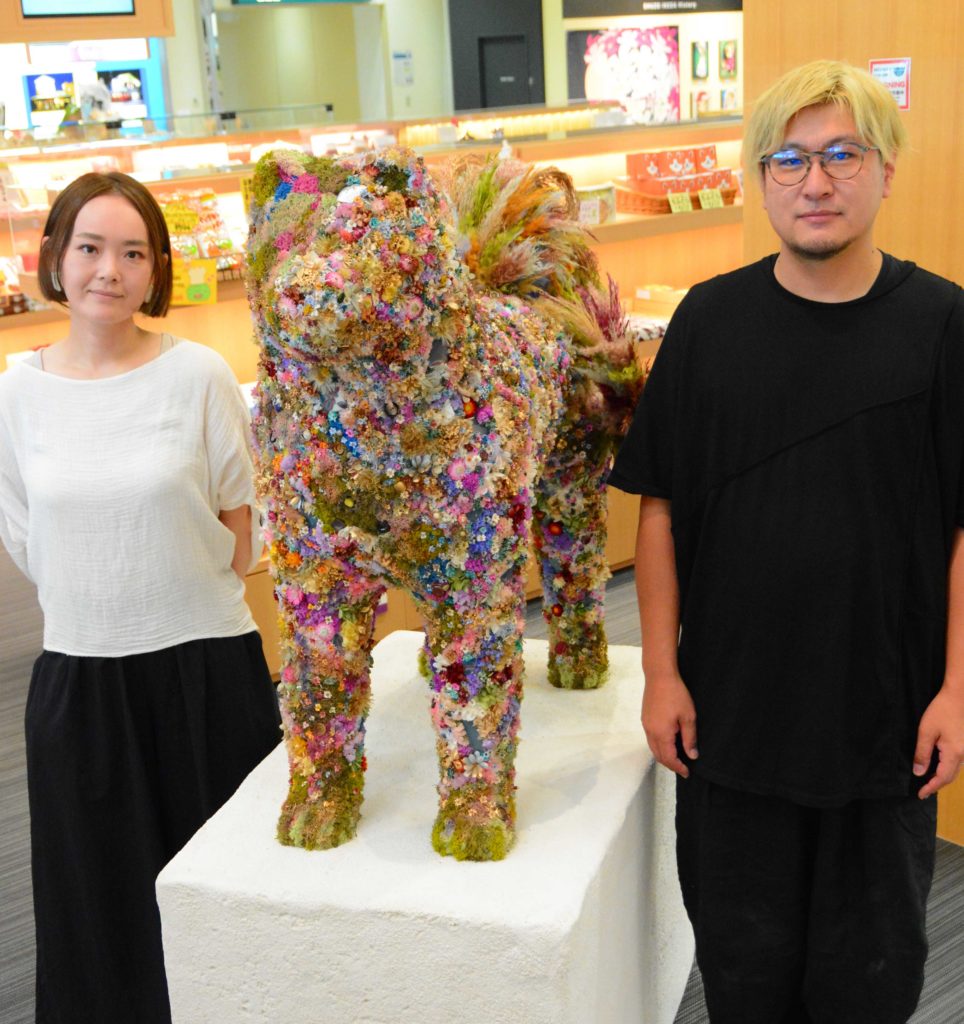 The statue's title is "Stylish Akita Dog," and it has been on display at the airport since July 30 of this year. It is said that the impression of the statue changes depending on the angle of view.
Ms. Sugawara Akiko, a sculptor from Akita City, was responsible for creating the statue. Mr. Kanamori Koji, a representative of greenpiece, a dried flower processing and sales company in Sotoasahigawa District, Akita City, oversaw the decoration and appearance of the Akita dog. The project took about two months to complete.
According to Ms. Sugawara, the main body of the statue (about 40 cm wide, 100 cm high, and 100 cm long) was made from Styrofoam, a type of insulation material. To create a vivid image of Akita dogs, she went to see real Akita dogs and examined their skeleton to collect data for making the sculpture. Once she completed the statue, Mr. Kanamori then decorated it with dried flowers, tiles, antique buttons, and other materials, using pins and glue. The result was a stylish and majestic statue.
Admiring their collaborative work, Ms. Sugawara expressed her thoughts, "The main body shows the cuteness and elegance of Akita dogs, while Mr. Kanamori's flowers gave the piece a youthful yet mature look." Mr. Kanamori also shared his inspiration for the decoration, "In creating this work, intuition and free imagination was my source of creativity. I hope that this Akita dog will leave a deep impression on people who see it."
This year marks the 40th anniversary of the opening of Akita Airport. To attract more people besides passengers to visit the airport, they requested making an Akita dog statue.