"I want him to have a happy life after all the pain he has been through." This sentiment is from a couple that took in an Akita dog from a public animal shelter and welcomed it into their family. Jason Pollard and Yoshiko Morita moved to the Omagari district of Daisen City, Akita Prefecture, from Seattle, USA. Our reporter visited the family, who live peacefully together and strengthen their bond day by day.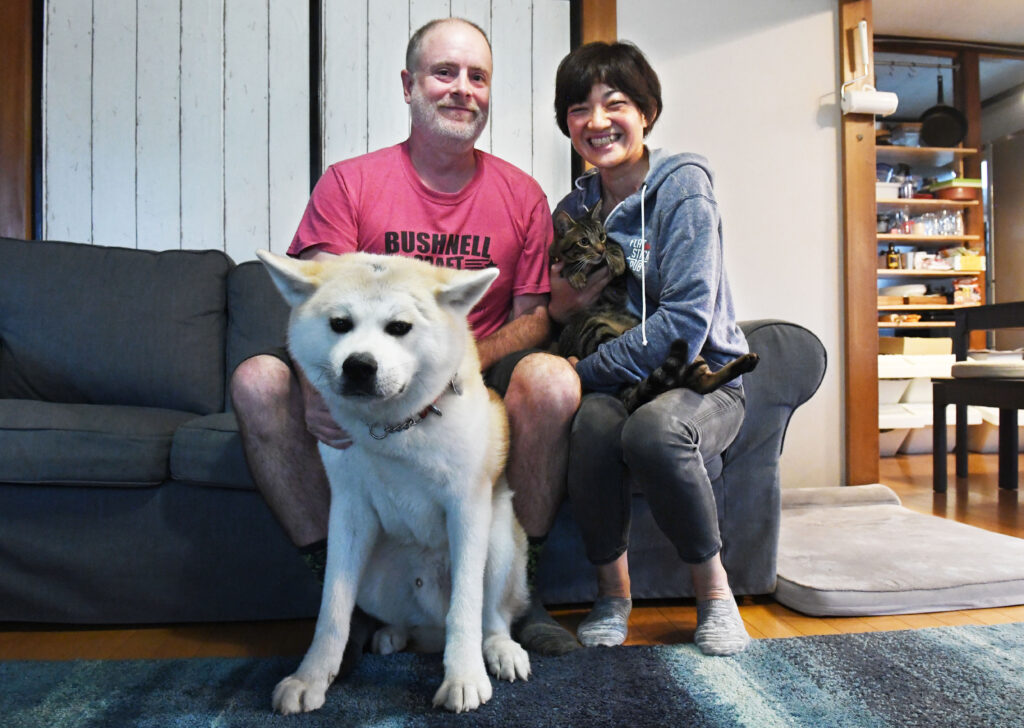 When the reporter arrived at their house and opened the sliding door, their Akita dog, Mugi (male, estimated to be four years old), appeared out of nowhere. He led the reporter down the hallway like a guide, leading her from the front door to the living room. Though this was the first time he met the reporter, Mugi was not nervous at all but looked calm and at ease. Meanwhile, Jason and Yoshiko were gazing at Mugi with love in their eyes.
Yoshiko was born in Chiba Prefecture but had been living in Seattle with Jason after they started dating. Both fell in love with the city of Daisen after her parents moved there years ago. They had been planning to move to Japan for a long time, and in 2019, they finally managed to make that dream come true.
As animal lovers, Yoshiko and Jason thought, "If we are going to live in Akita, we should get an Akita dog," and began to gather information about rescue dogs that were looking for owners. They did not choose to buy an Akita puppy because, in the United States, it is more common to take in dogs and cats from shelters. As a result, they met Mugi.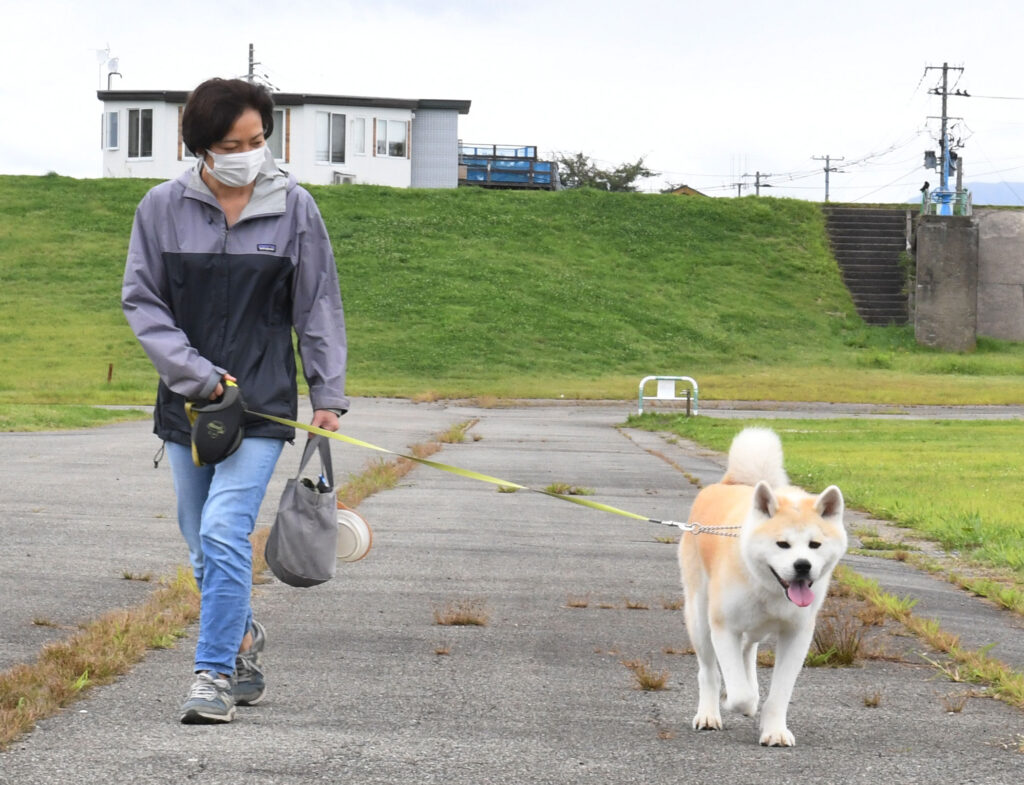 A few years ago, Mugi was cared for at a public animal shelter in the northern part of the prefecture. In January of last year, the shelter transferred him to the prefectural animal protection center, Wannyapia Akita, in Akita City. A staff member at the center recalls, "Mugi was an innocent boy and didn't have any behavioral problems from the beginning, such as barking at people."
Jason and Yoshiko went to Wannyapia many times to get to know Mugi and build trust with him. Mugi was timid at first and very alert when interacting with them. There was a time when Jason and Yoshiko got worried if it was okay to bring him home. Fortunately, they gradually got to know each other and began to build a close bond. In March 2020, they were officially chosen as Mugi's new owners. Even though they successfully brought Mugi home, it wasn't all smooth sailing from there.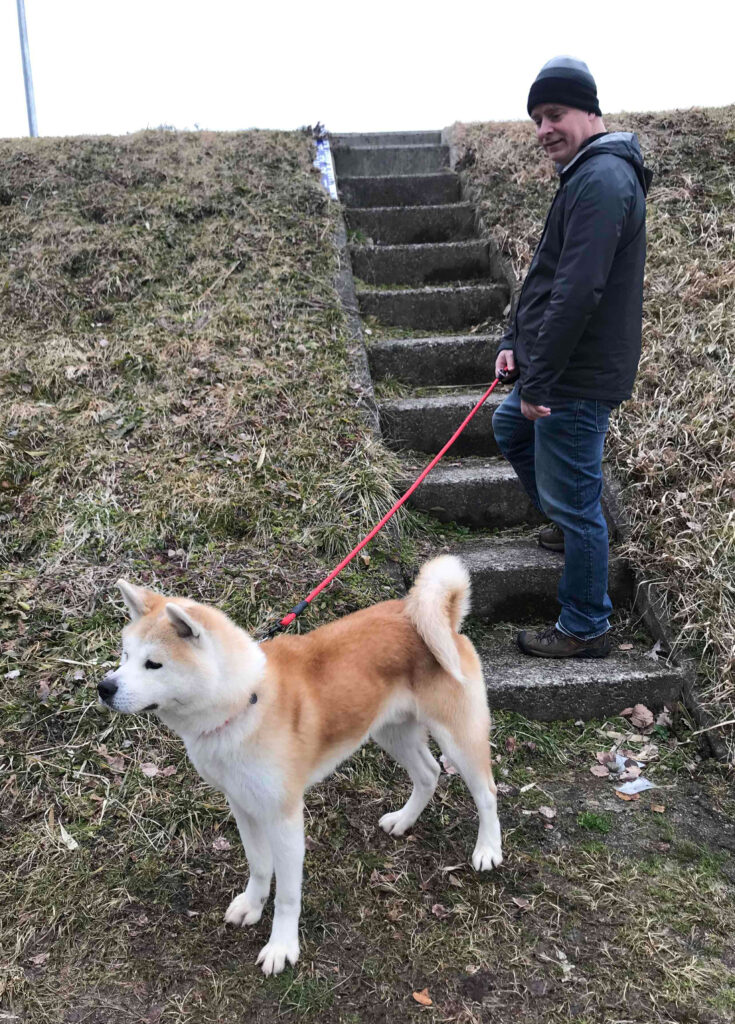 Mugi loves to play in the river, but the couple disliked the distinctive smell that filled the room every time they came home. So, they decided to put a basin filled with water in the yard to let Mugi play in instead of the river.
However, Mugi's reaction was not good. He did not jump in instantly but rather hesitated. Jason couldn't just stand and watch, he decided to hold Mugi up and put him in the basin. Immediately, Mugi's tail dropped, and he couldn't help jumping out and running away.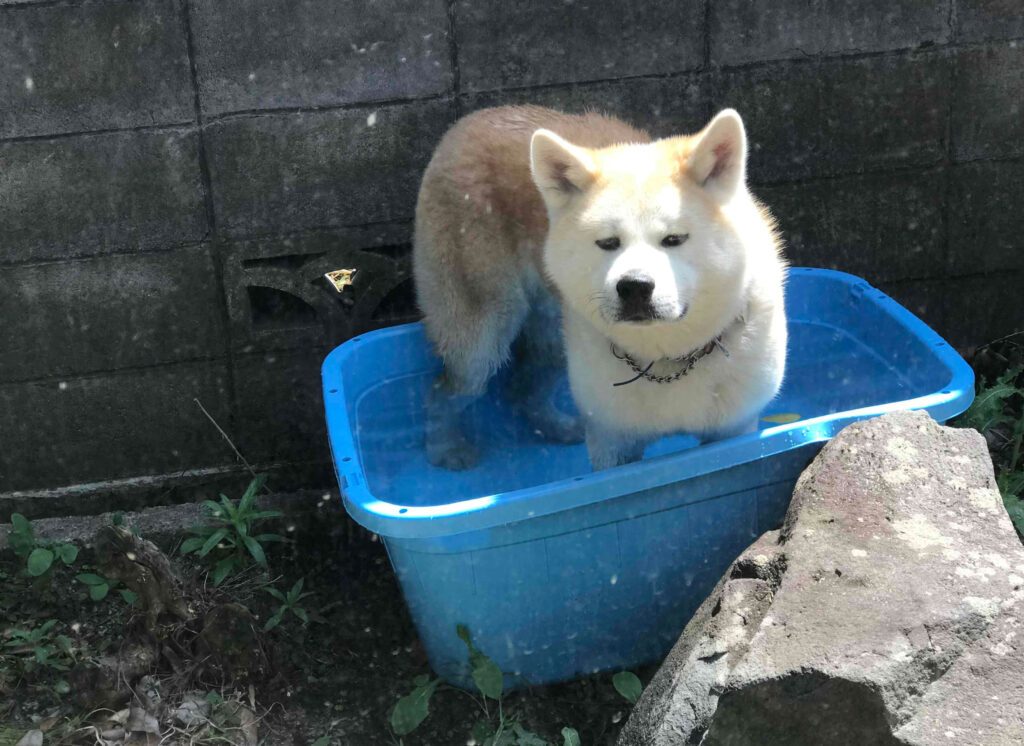 Luckily, Jason could catch up with Mugi not far from the house, but Mugi resisted moving from the spot and returning home. Eventually, Jason had to carry Mugi back, but Mugi still seemed upset from the incident. The couple regretted they had done something that Mugi felt uncomfortable doing.
Since then, they have considered Mugi's feelings as their priority. Yoshiko told us, "When we take Mugi out for walks in various places and see Mugi walking cheerfully, it makes us happy. After all the ups and downs, I think we are slowly becoming a real family."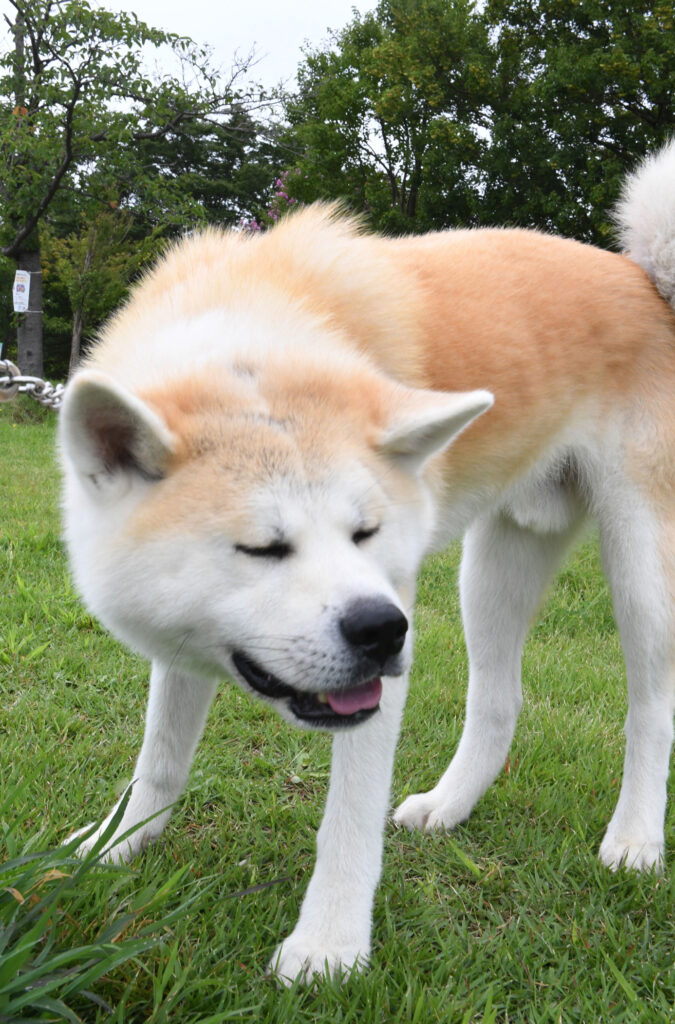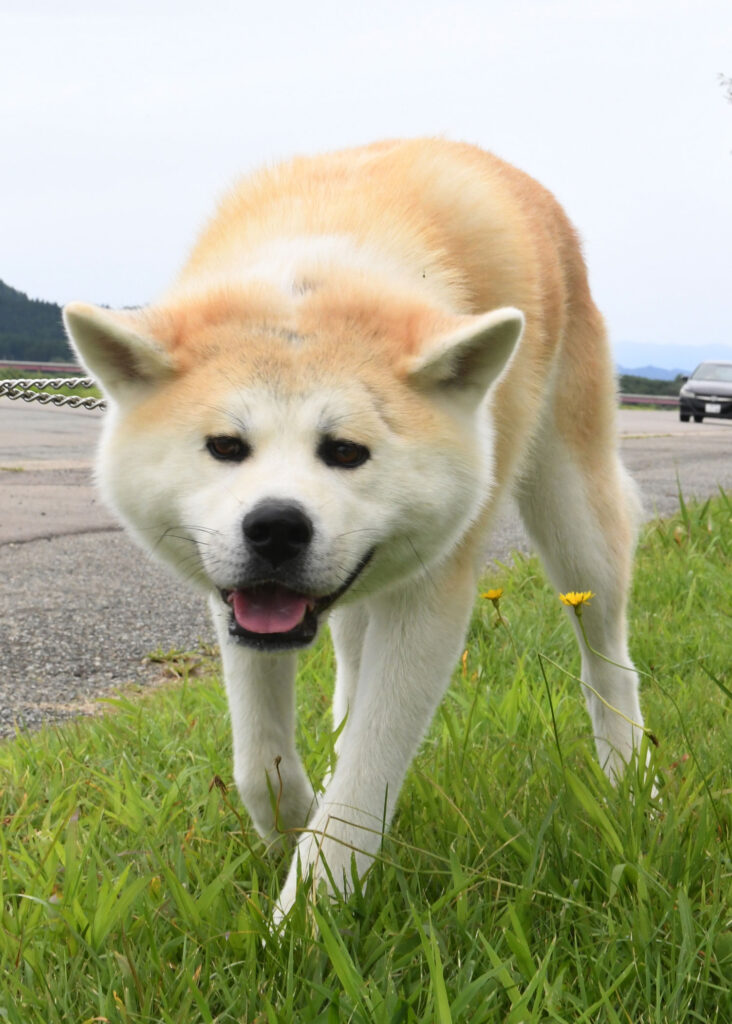 Mugi's "past" that the couple does not know about comes to light from time to time. For example, he is terrified of the garage with the door open. Yoshiko said, "There is no way for us to learn about Mugi's past. If Mugi could talk, I would really like to hear what he has been through."
The name "Mugi" (麦) comes from malt (麦芽), one of the raw ingredients for beer. Jason is a beer lover, and he plans to open a craft brewery with a bar next spring. They are looking forward to the day when Mugi will interact with customers as the store's signature dog.