Rocky, a 5-year-old male Akita dog, made his debut at the Akita Inu Fureaidokoro, a spot designed for people to meet with Akita dogs at the roadside station Ogare, Oga City, Akita Prefecture.  He made his first appearance in front of visitors during an event in October and immediately entertained them with his adorable expressions and gestures.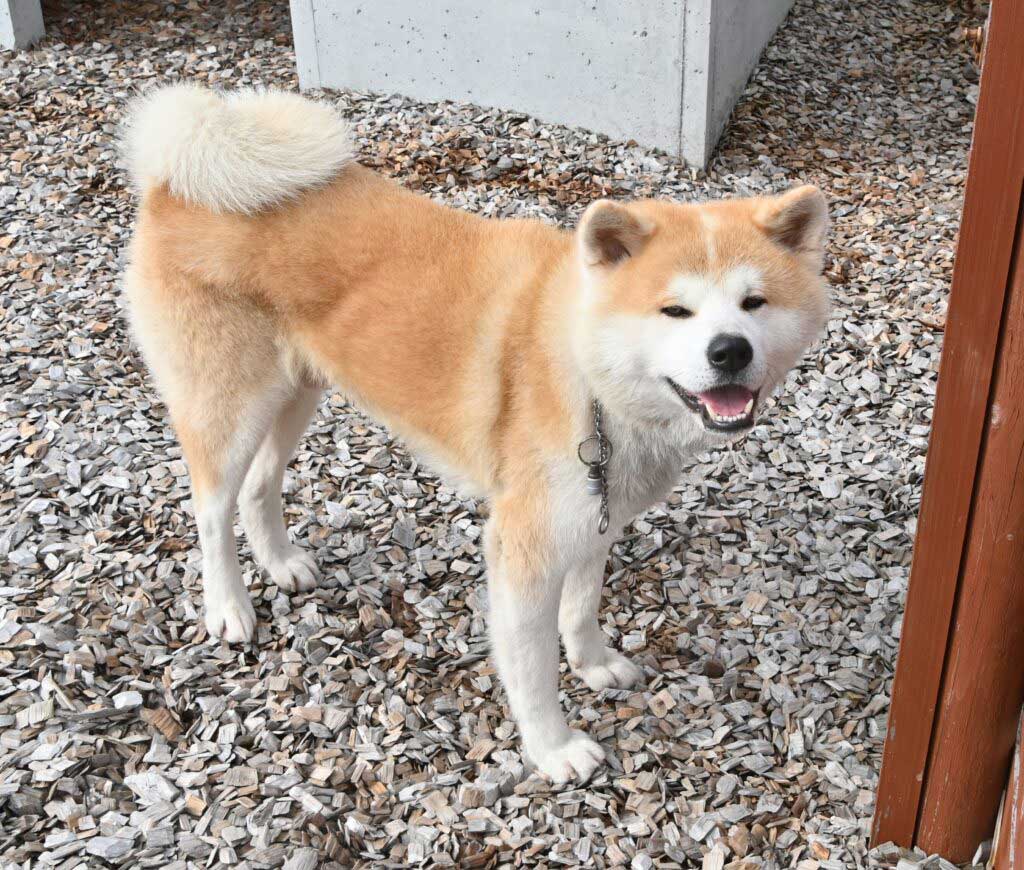 Rocky is the beloved dog of Mr. Susukida Yutaka, who lives in Iriaishibikawa of Oga City. Rocky, who weighs about 35 kilograms, has a quiet, laid-back, and self-paced personality with red hair. Rocky loves companionship and gets lonesome quickly, running to Mr. Susukida as soon as he returns home.
A female dog named Tsubaki had been the signboard dog of Ogaare until May of this year. After Tsubaki's retirement, Ogare had to pause the exhibition in Akita Inu Fureaidokoro while trying to recruit a new Akita dog. Mr. Susukida applied for the opportunity, and Rocky was chosen as the new signboard dog of Ogare.
Rocky made his debut at the Shinmai Matsuri (New Rice Festival) held on October 23 and 24 in Ogare. He seemed to be nervous as many visitors stared at him. Still, he ran around the exhibition space covered with wood chips and stood with his paws on the fence from time to time, peering at the onlookers. Visitors were deeply charmed by his cuteness.
At the Akita Inu Fureaidokoro, visitors can only watch over the fence and cannot touch the Akita dog inside the exhibition area. But they can take photos of the dog freely. Rocky is scheduled to appear at more events in Ogare in the future. Mr. Susukida hopes that many people will come and enjoy seeing Rocky.
In addition to Rocky, Ogare is looking for two additional Akita dogs from Oga City and beyond to help with the regular exhibit.
The Akita Inu Fureaidokoro is open on Saturdays, Sundays, and holidays from 10 a.m. to 11 a.m. and 1 p.m. to 2 p.m., mainly held outdoors. Owners are invited to introduce their dogs and their dogs' temperaments and characteristics to all visitors. In return, they will earn 1,500 yen per hour. Exhibitions are canceled on days with inclement weather or when Ogare is closed.
The main requirements for all applicants are that the Akita dogs must be well trained and regularly vaccinated against rabies. The period of employment will last until the end of March next year, after which Ogare will renew the contract annually upon mutual agreement.
For those who would like to apply for attending the exhibitions in Ogare, please download the form from the Ogare's website (http://michinoekioga.co.jp/), fill in the necessary information, and mail it to Oga Corporation (1-19 Funagawa Shinhamacho, Funagawa Minato, Oga 010-0511, Akita). The application deadline is December 31, 2021.  For inquiries, don't hesitate to get in touch with the company at TEL 0185-47-7515.