Wasao, a long-haired Akita dog, was the signboard dog of Kikuya Shoten, an Ikayaki (grilled squid) shop in Ajigasawa-machi, Aomori Prefecture.  Even after Wasao passed away last June, he continues to be loved by many people.  His owner, Mrs. Kikuya Setsuko, who passed away in November 2017, left the following words before her death, "It would be nice if Wasao became a statue.  It's up to you."
"You" refers to Mr. Kudo Takeshi, who took photos of Wasao for many years. He is also the head of the Wasao Project, an organization that manages Wasao's estate and other related merchandise.
In Mr. Kudo's opinion, he believes that Wasao is the modern-day loyal dog Hachiko. He said, "I think everyone feels the charm of Wasao differently, so it's impossible to generalize it in one single word. But I believe Wasao and Hachiko are the same in the sense that they are both heroes made by the times."
After Wasao's death, there was a desire among the townspeople to honor Wasao for his contribution to raising the town's profile. Soon, volunteers from the town formed the "Thank You Wasao Executive Committee," chaired by Mr. Sugisawa Yasuharu, and began to raise funds to build a bronze statue. The committee raised about 5 million yen through donations and tax payments to the town, and the statue was completed in November of this year.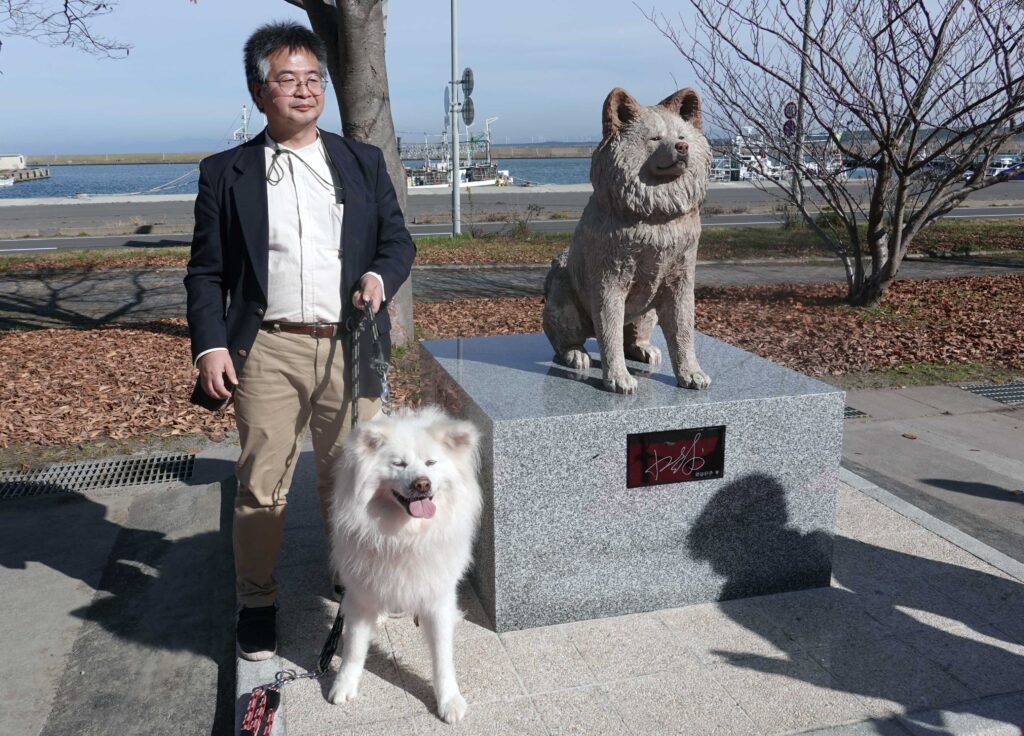 With Mrs. Kikuya's last wish completed, Mr. Kudo felt a burden had been lifted from his shoulders. At the same time, he also found it sad because "this is the end of Wasao's story."
The statue of Wasao was built by Kurotani Bijutsu, a company based in Toyama Prefecture, which has erected many statues over the years. Their most recent statue included one of Mr. Shimura Ken, a famous comedian who died of COVID-19 last year, in Higashimurayama City, Tokyo. The company introduced Ms. Hashimoto Mio, who resides in Mie Prefecture, to the committee to carve the original wooden statue.
Based on the photos of Wasao sent by Mr. Kudo, Ms. Hashimoto created a vivid Wasao statue that looks as if it is about to start running. She shared her thoughts, saying, "Through making this prototype, I realized once again how popular Wasao is. I tried to create a universal image of Wasao by imagining the way each person sees him."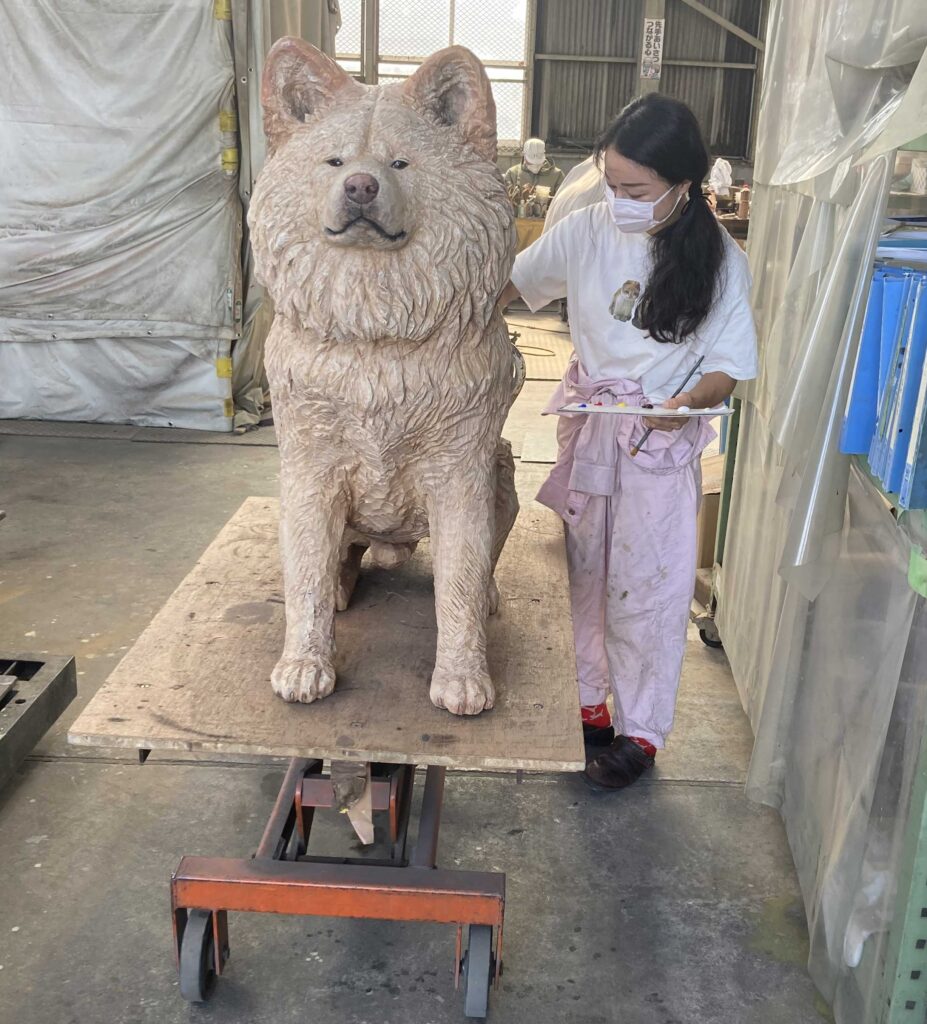 Currently, Wasao's "fostered daughter" Chome (a five-year-old female) is taking over as the signboard dog at Kikuya Shoten. Her long pure white fur quickly reminds people of Wasao.
Out of the concern that Wasao might feel lonely after her death, Mrs. Kikuya tried to create a "family" for Wasao. In the fall of 2014, she brought in Tsubaki (who died suddenly in May 2019, aged six) as Wasao's wife. In the spring of 2016, she welcomed Chome to the family. However, it was difficult for the Kikuya family to take care of three Akita dogs independently, so Mr. Kudo took over Chome's care.
Wasao was full of curiosity and could act proudly anywhere if Mrs. Kikuya was by his side. But according to Mr. Kudo, Chome is "self-paced and timid." In comparison, Chome often becomes skittish when many people surround her. But Mr. Kudo is not bothered by their differences at all. He said, "No dog can be like Wasao. I am fine as long as Chome is living her life the way she enjoys."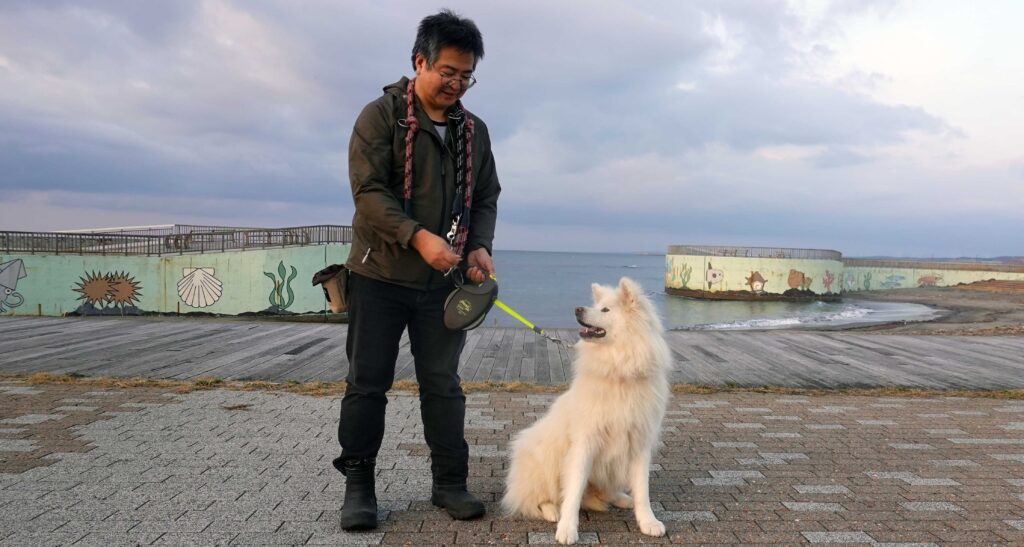 Just as Wasao was the sightseeing chief at the JR Ajigasawa Station, Chome is welcoming tourists upon their arrival. Now, Chome has little opportunity to greet people at the station as the number of tourists has dropped dramatically due to the COVID-19 pandemic.
Mr. Kudo expressed his wish, "Chome is a dog that had a relationship with both Wasao and Mrs. Kikuya. I hope that when people see Chome, they will remember Wasao and the Kikuya family."
In this small town facing the Sea of Japan, the story of the long-haired Akita dog continues.