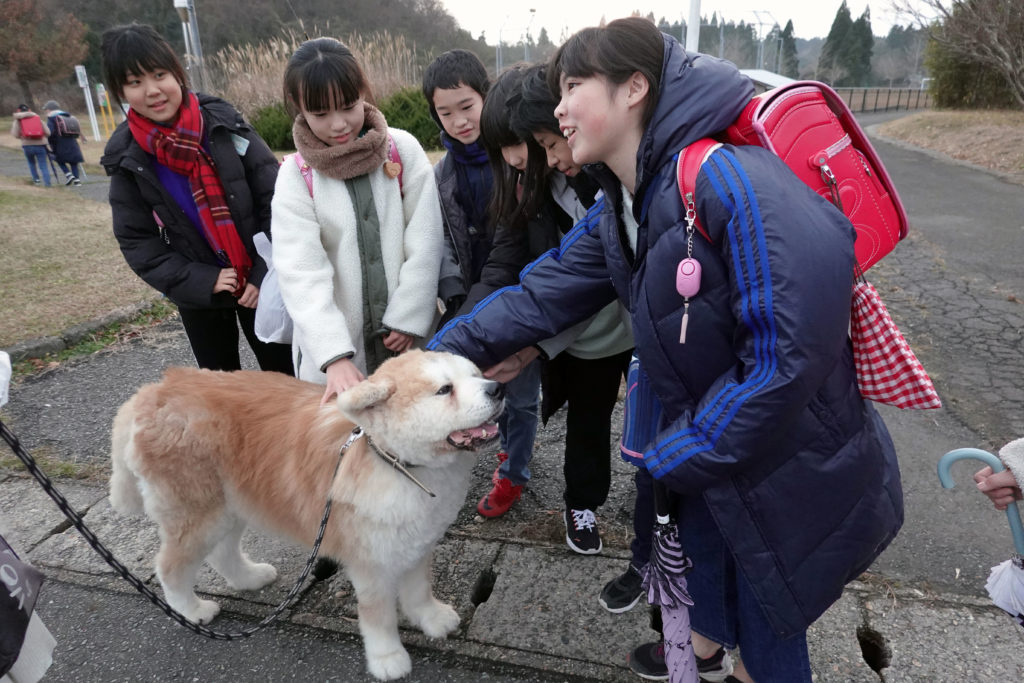 Mr. Matsuhashi Toru and Mrs. Matsuhashi Akiko live with their 11-year-old long-haired male Akita dog, Bantaro, in Funagawaminato, Oga City, Akita Prefecture. He is an extremely quiet dog, and even Toru and Akiko rarely hear him bark. Bantaro is not a suitable watchdog, but he acts like a healer and strengthens the family bond.
Bantaro's usual walking route takes him to Funagawa Daiichi Elementary School, where he sometimes meets children along the way. On December 11th, the interviewer followed Bantaro on one of his regular walks and witnessed the joy he brought children running up to him.
"He's so adorable."
"He's so fluffy!"
"He's really large!"
Bantaro was comfortable when the children rubbed him.
Bantaro became a member of the Matsuhashi family in 2010. One day, Akiko suddenly felt that she wanted to be healed by a large, fluffy dog. Toru agreed to the idea since he heard that big dogs generally have a generous personality.
The type of dog Mr. and Mrs. Matsuhashi had wished for proved to be challenging to find. They visited several pet stores and breeders and gathered information from online sources. Finally, they met a long-haired Akita dog from a family that kept dogs.
Akiko said, "I did not persist in having an Akita dog, but I loved him at first sight." Toru recalled the day, saying, "We were so happy when Bantaro approached us the first time we met."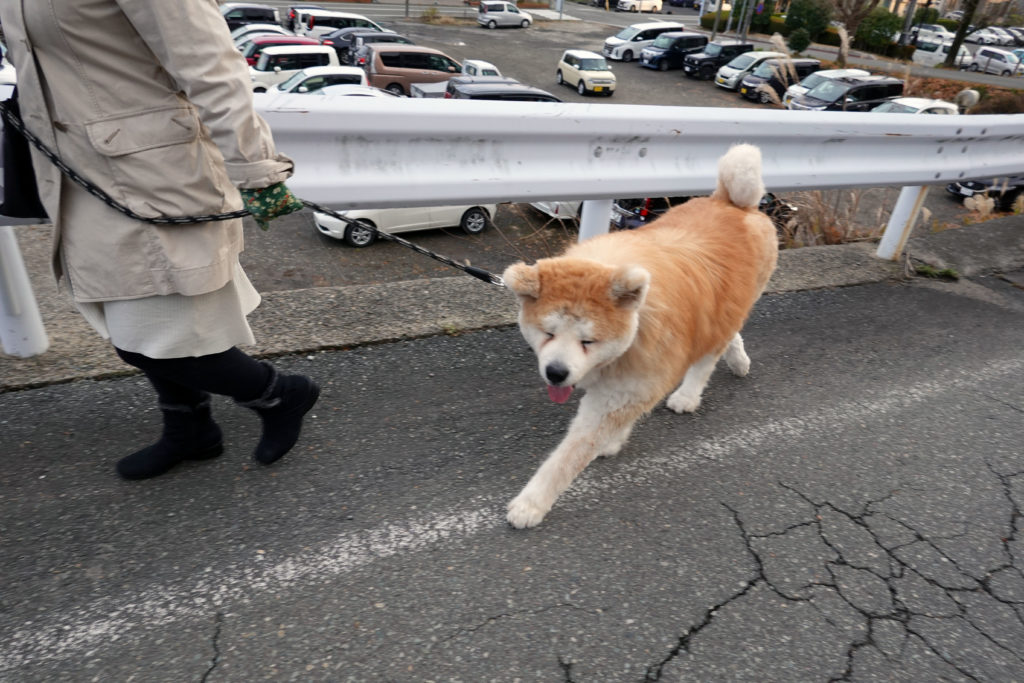 His name "Bantaro" came from the Vancouver Olympics held that year. Akiko and Toru named him after "Vancouver," using the sound "Van" to remember when they first welcomed him.
When Bantaro came to the Matsuhashi family, the daughter was a junior college student, and the son was a high school student. There had become fewer family conversations as the children grew up. Akiko's unexpected joy was that both the daughter and the son found happiness in taking care of Bantaro.
Akiko said, "Bantaro became the main topic of family conversations, and we started to rebuild our family bond."
Their children have moved out and now live independently, but they stay in touch with their parents using social media to check on and talk about Bantaro. Toru shared an episode, saying, "One time when I walked with Bantaro, someone mentioned that we looked like each other."
Since Bantaro is extremely quiet, Akiko wondered if he had any disabilities. She said, "He goes for walks effortlessly, and he eats every meal without any problems. It would not matter to me even if he has handicaps. I had never known him to bark, so when my husband told me that he was barking, I could not believe it."
Akiko and Toru have visited several places in Akita Prefecture with Bantaro and post their pictures on Instagram. Bantaro is attractive in every shot, showing different faces in various locations.
Although Bantaro is calm and quiet, he is a large dog and weighs 50 kilograms. The couple repeatedly took dog-training classes held in Akita City before keeping him. Akiko emphasized, "Although dogs typically are just playful, they could try to climb on people, making them surprised and sometimes fall over. We have to train dogs well to have a joyous life with them."